National Decree 49, which was issued last year, stipulated that all mobile phone users in Vietnam were required to register their phone with photo identification by April 24in order to avoid having their phone service cut off.
At least 38 million mobile phone subscribers – over 31% of the country's total – still had not registered by the deadline, according to VnExpress. Telecommunications carriers MobiFone and Vinaphone officially granted an extension to May 15, although there was no word from Viettel.
The Ministry of Information, the owner of MobiFone, reports that 95% of the 120 million mobile subscriptions in Vietnam are for prepaid customers, which makes it difficult to identify exactly who is using telecommunications services. The new decree was considered a solution to this issue, but the law, according to several Hanoians, is confusing, and there has been much speculation about what will happen to the millions of users who have not yet registered.
Hanoi citizen Quoc An Mai shares that on May 15 he received a text message from Vinaphone informing him that he must register his SIM card or risk being disconnected. It remains to be seen, however, if the company will carry through with their threat.
This lack of clarity has impacted business owners, too. Bach Dinh, a TV editor in Hoang Mai District, laments to Urbanist Hanoi that he tried to register his SIM, but discovered another person had registered with his number. "I tried to give [the Viettel service center] additional identification, however, they said I would need to come back with more paperwork. It seems like such a big hassle, so I will just wait and see what happens."
Others are no less confused. "I think I have heard about the new law with Viettel, but I really didn't bother to do anything. My staff checked my phone and says it was all good so I just ignored it," says Linh Hai, a dance studio director in Tay Ho District. She admits, however, that her dance studio does not necessarily need a phone system since most of their business is gained through word of mouth or Facebook.
Business owners that depend more on phone calls share Hai's confusion. "The law in Vietnam? Still too complicated. It's totally inconclusive what will happen," says Hang Tran, a boutique tea shop owner in Ba Dinh.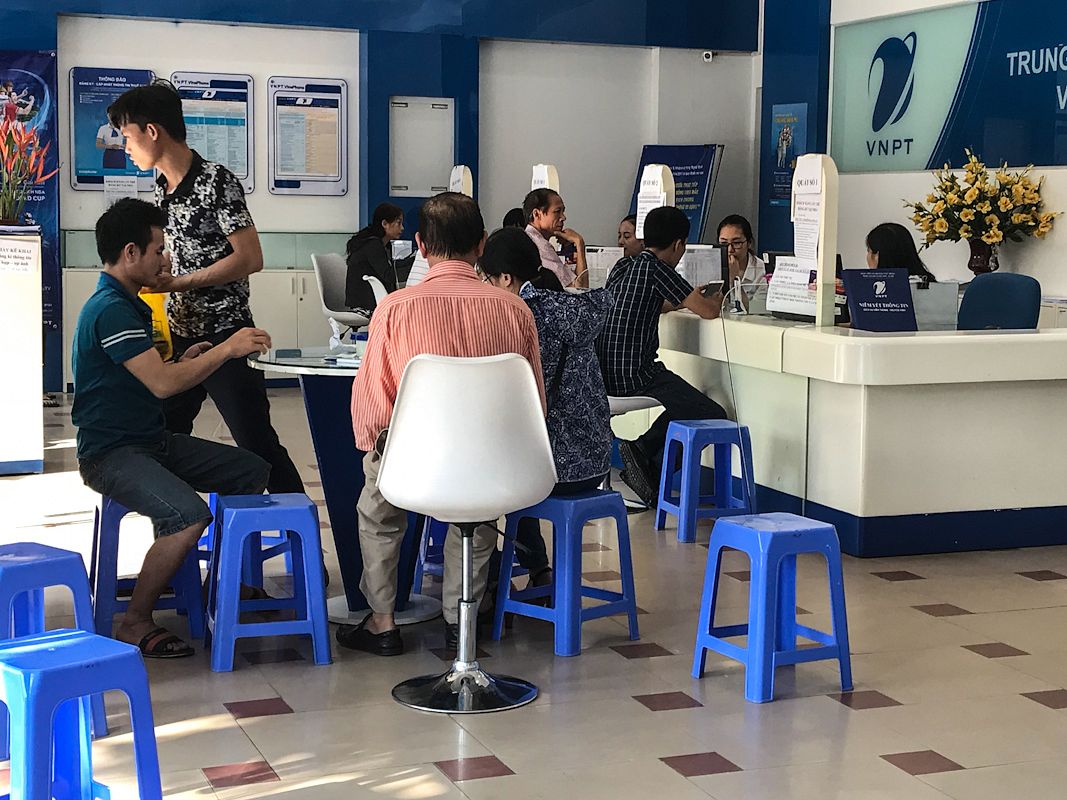 Thanh Nguyen, who runs a wedding planning service with his wife in Hai Ba Trung District, refused to queue at a local service office in the heat. "We went to two Vinaphone offices just minutes ago, but it was way too crowded. So we decided to go back home and wait to see what happens … We've been using the account for more than 15 years so we believe they just can't cut [the service] off," he explains. "Otherwise we'll find solutions later."
Some are more positive about the decree. DesignBold CEO Hung Dinh reports that his company does not use SIM cards. "[We] contact our customers through SMS, but we have other internet companies that provide SMS service for us," he says. "I think the new law is necessary because it can help reduce the junk SMS from unidentified SIMs. The quality of SMS ads will be improved."
Hoang Nguyen, who runs a natural foods company in Hoan Kiem District, is of two minds: "The good point is that when we register, no one can take our SIM card from us without our permission. That is the most important thing. Because when you use the number for work like I do, it is important to not lose it. The not good point: we lose our privacy."
There are also those who don't believe the new law will deter criminals. American Kiara Signe, an English language center owner in Cau Giay District, has decided not to register her SIM card. She is adamant that "thieves and spammers will find ways to circumvent the system. That's what criminals do."
When pressed on what she would do if the business lost its phone service, she advocates a more practical approach: "Business phones would be registered under my assistants, I would buy phones for business and just use my personal phone on WiFi networks only. It might end up being a boon for cell phone and SIM sellers."
In the end, business might indeed end up trumping legal requirements. According to a May 16 Zing article, telecommunications companies appear hesitant to act on their threats for fear of losing customers.
At the time of publishing, Urbanist Hanoi could find no reports of service interruptions or additional extensions from the carriers. For now, phone users will just have to wait and see what happens.
---

Related Articles:
---