The Alliance for Safe Children estimates that 35 children drown every day in Vietnam. Water Safety Vietnam, an Australian charity founded in 2011, strives to reduce this frightening figure.
At a pool located on the grounds of the local People's Committee in Ho Tram, the breezy late afternoon air is punctuated by children laughing and their teachers offering encouragement.
About 30 kids, some swimming under the watchful eye of their parents, have been broken up into three groups: older children who can swim from one side of the pool to the other with minimal assistance, a younger group using kickboards and noodles, and even younger kids in the shallow end where they can stand if needed.
Nguyen Van Men, Le Thi Thu Huong and Caitlin Sposito are leading the respective groups; diligently ensuring that each child is looked after and not in danger.
Huong, who goes by Sophie, hails from the Mekong Delta and was a national junior swimmer before majoring in sports management in university. She first learned about Water Safety Vietnam (WSV) in 2012.
"I helped them with swim classes in Saigon and got certified as a Teacher of Swimming and Water Safety under AUSTSWIM [Australia's national swimming teaching organization] that same year," she tells Saigoneer.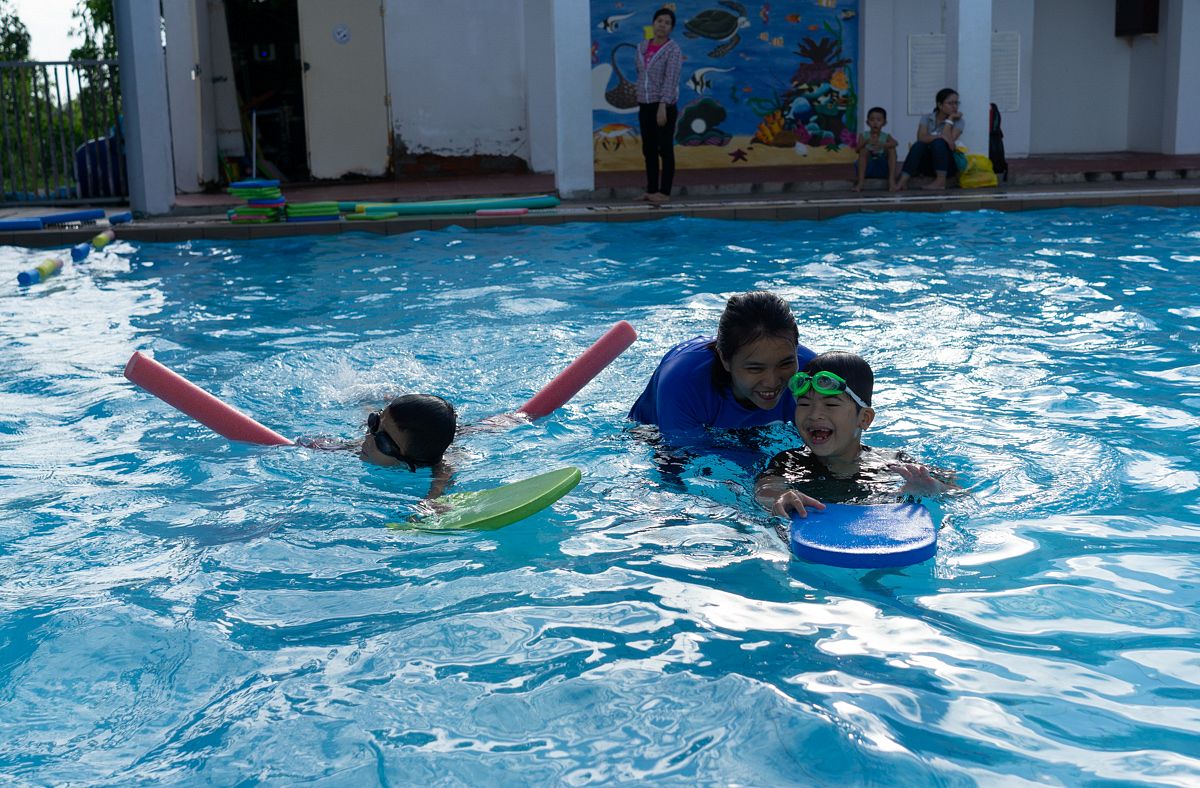 At first she simply helped WSV manage the pool they were running in Saigon, but eventually, she decided to do more. "I saw how they were doing the courses and letting the kids learn through fun, along with all the water safety and survival aspects, and I really liked it," she shares.
"I never learned those things before even though I was a swimmer and went to university, and I thought it was a great thing."
Sophie realized that swimming education in Vietnam did not impart skills needed to thrive in the water.
"How kids in Vietnam learn swimming is that they all focus on stroke development, rather than survival skills," she explains. "They can do 25 meters, but then they panic, while kids who have good survival skills can stay in the water, they can float on their back or kick or tread water. They're relaxed and happy in the water."
Judging by the smiles and laughter throughout the pool, it was clear that Sophie, Men and Sposito were achieving their goal of teaching the children vital skills while also having fun.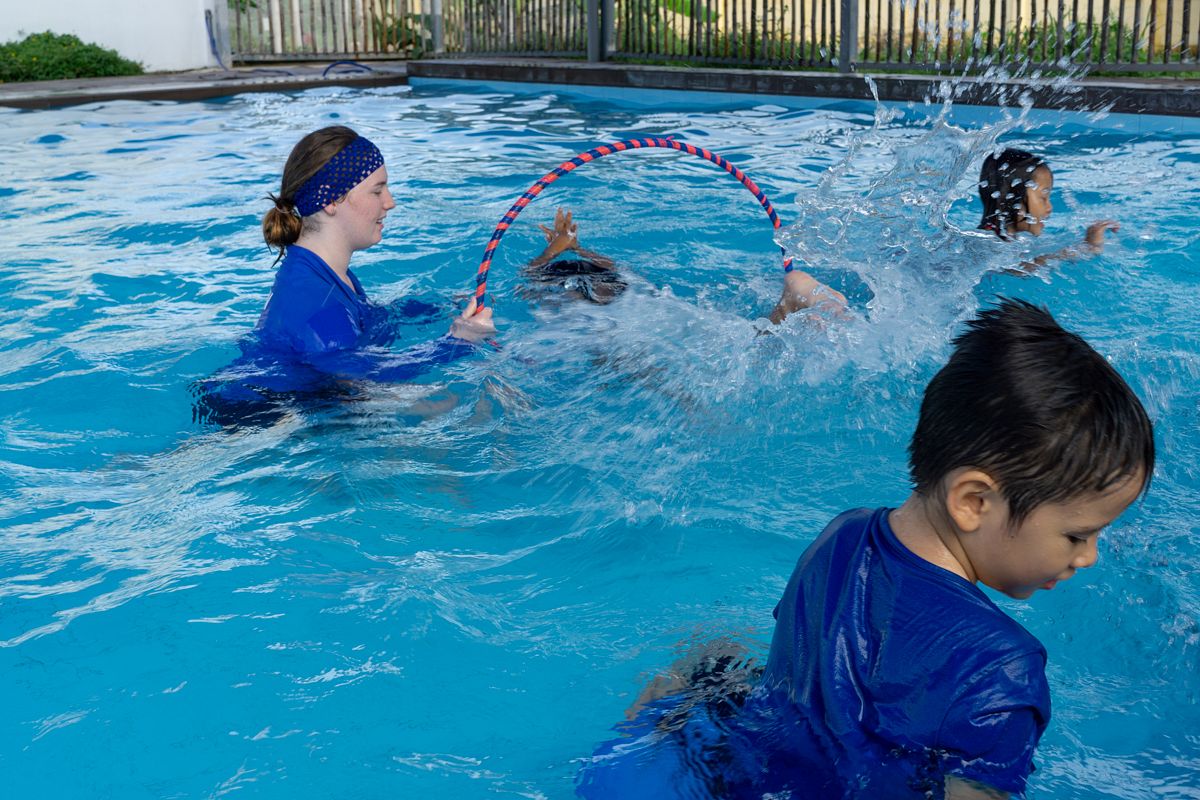 Sposito, a volunteer from outside of Melbourne who is spending one month in Vietnam, became a swim teacher right out of university. She is also licensed to train people in CPR, a lifesaving skill which WSV is passing on to resort staff and parents who live in the area.
Before arriving in Ho Tram, Sposito spent two weeks teaching in Vinh Long Province. "I was assisting in teaching teachers to teach swimming," she says. "We taught 24 teachers and 60 children."
She was shocked at the lack of swimming skills when she first arrived but has been humbled by the experience. "It's been amazing. To see from day one how a lot of people are really scared or nervous and they don't have the confidence in themselves that they can do it, to the end where these teachers were being given larger classes," she shares. "To see them go from teaching three kids to six or seven confidently, where the kids are all smiling and they're all progressing, was amazing."
Both teachers agree that another challenge is getting more adults to learn how to swim in order to make these skills stick. "The next thing to work on is to start encouraging adults to partake in swimming lessons and help teach adults so that they can pass it on to children," Sposito says.
Sophia adds: "I think the more we pass water safety and swimming classes on, the more people pay attention to it, and that's a big thing."
When asked how they turn a child who is terrified to even touch a pool, let alone swim in one, into a confident swimmer, Sposito breaks down the process.
"You build confidence first," she shares. "You have to get them to trust you and know that you're here to support them, and as long as you're here, that they will be ok. A perfect example is yesterday, I took a little boy who was petrified and he would not take his feet off the ground at all. We started with walking, and just getting him to feel the water, and then put a noodle under him so he could feel the water and how it's moving, to then just jumping to feel what it's like to take his feet off the floor, to three seconds of kicking then stand up, to five seconds of kicking and then stand up. Every child is so different, but the basic process is letting them be comfortable and letting them trust you, rather than forcing it."
Seeing this work first-hand is incredibly encouraging, and it was clear how much these children trusted their teachers. From the youngest group playing games that also taught skills, to the older group perfecting their freestyle strokes and treading water, everyone was focused on the goal of being comfortable in the water.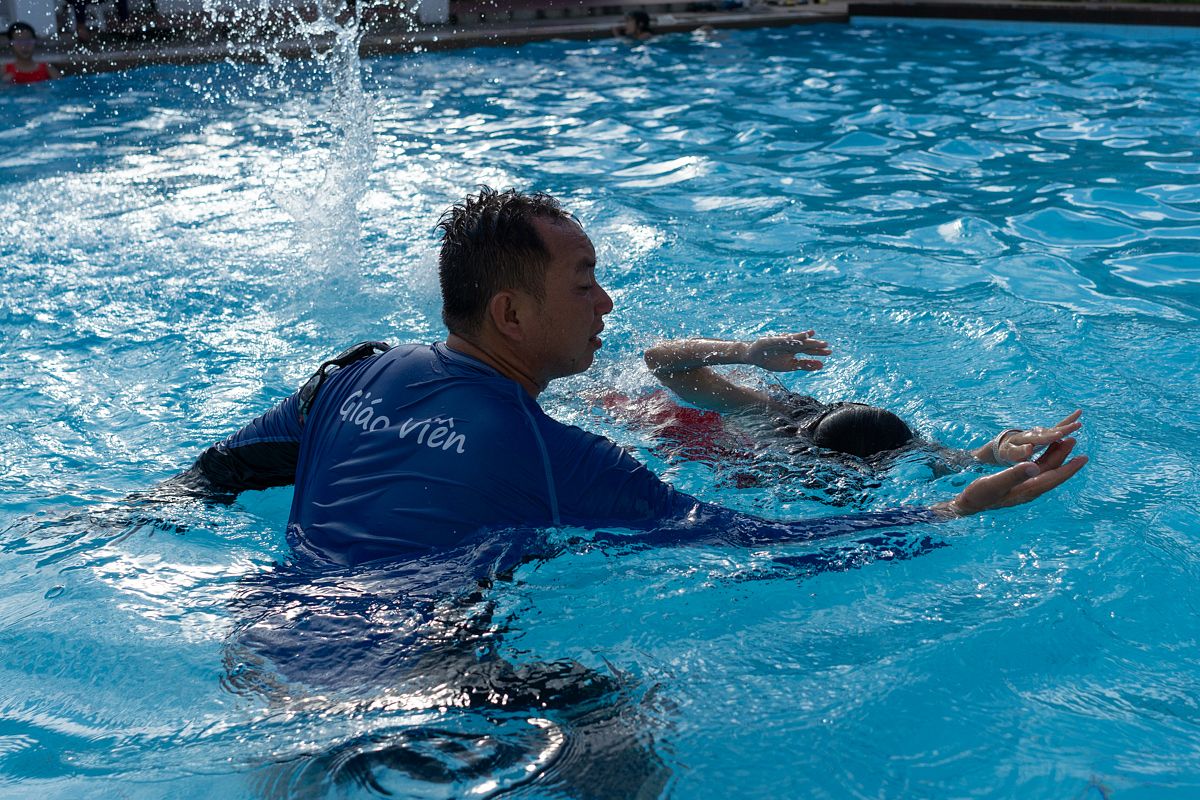 Moving forward, Sophie plans to continue her current work, as she is now an official member of the WSV team. "Our long-term goal is to build sustainably in Vietnam and build our volunteer teacher base," she says. "We've been training a lot of teachers here, and we want to support them to teach more kids." This is vital work in a country with over 3,000 kilometers of coastline and countless rivers, lakes and reservoirs on shore.
Sposito, meanwhile, wants to return to Vietnam in the future. "I hope next year to be able to volunteer again, and I'd recommend for any volunteer swimming teacher in Australia to take this opportunity," she states. "Not only are you broadening your own skills, but you're potentially saving lives."