Located in the center of Hanoi's Ba Dinh District, Chau Long Market stands in stark contrast to the surrounding urban residences and bustling streets. It is one of the last remaining traditional markets in the capital, where traces of the past can still be spotted on the decaying walls and corroded rooftop that houses at least 200 vendors and dried food shops.
At the beginning of 2014, the municipal People's Committee announced plans to transform Chau Long Market into a modern shopping mall based on a model that had been applied at Mo Market, Hang Da Market and Cua Nam Market.
The project was recently held up, however, due to objections from market vendors and local residents. The fact that the three modernized markets have seen a sharp decline in business and profits is a contributing factor to the postponement of the plan for Chau Long, but there are many other reasons why, despite the growing number of modern retail stores, traditional markets like it remain.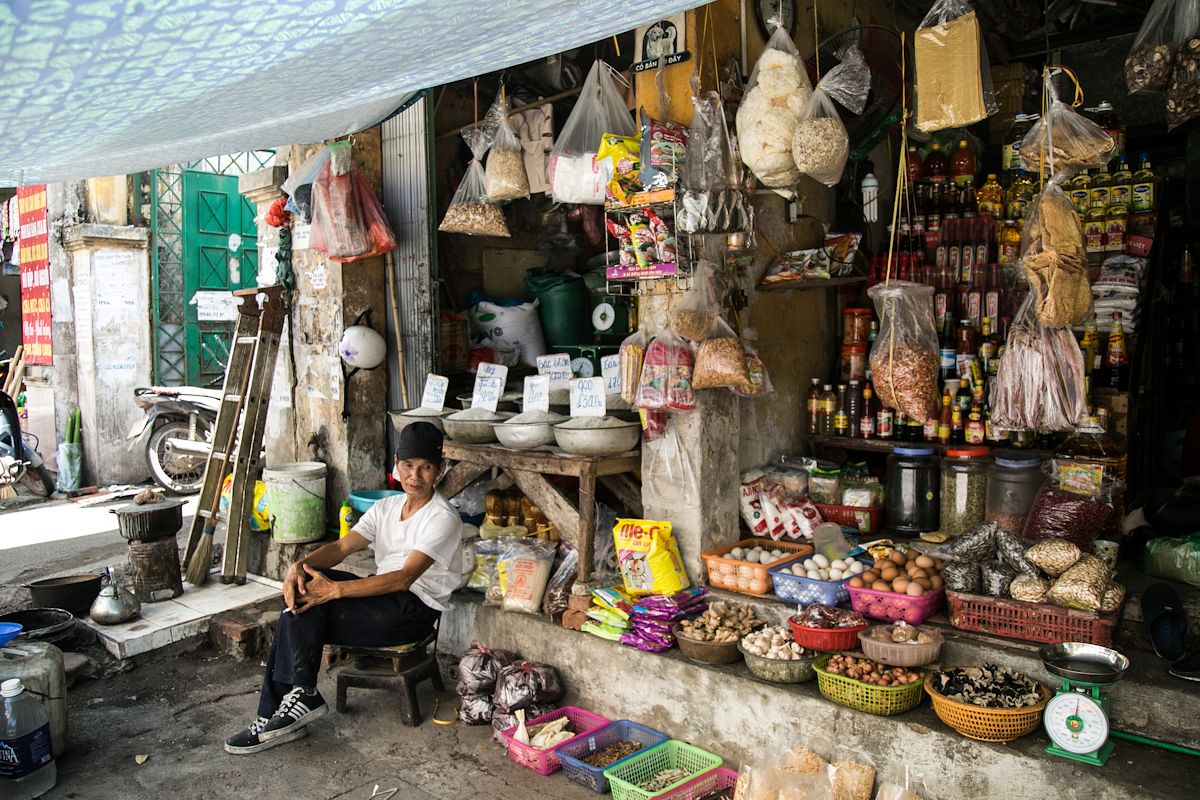 Hanoians love going to the market. It's a habit that runs through generations and carries with it some significant cultural and social values. According to Nguyen Tuan Minh, a researcher and expert on street vendors in Vietnam, locals are used to buying fresh produce from either wet markets or chợ cóc, impromptu markets which consist mainly of street vendors.
Going to a traditional Vietnamese market means embarking on a sensory experience that exists nowhere else: the overwhelming smells and aromas of dry ingredients, fish swimming in tanks and meat being butchered early in the morning; the sounds of knives clapping on wooden counters; the wet touch of fresh vegetables dripping with water; the taste of diverse street dishes made on the spot; and the colorful sight of fruit vendors and their stalls.
This leads to the term "wet market," an apt way of describing the freshness of these places. The local markets are also where people can catch up and exchange news, where vendors know their customers so well they can talk about each other's families and work, or simply pass the time.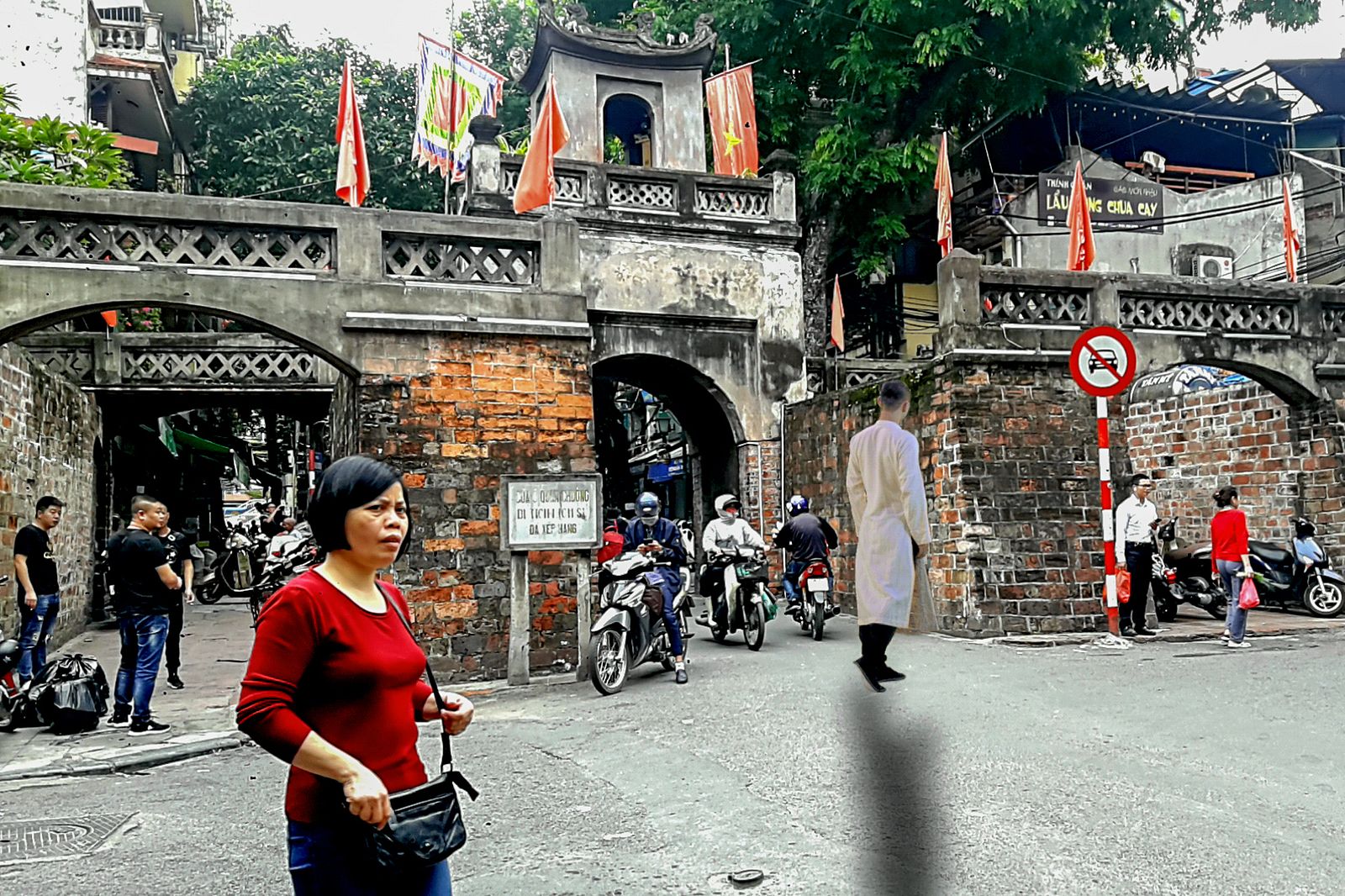 "Vietnamese people buy fresh groceries a few times per day, which is very different from other countries where people go to the supermarket maybe once or twice per week. Wet markets are also more convenient because people don't have to park their bikes in order to buy food," Minh, the researcher, tells Urbanist Hanoi. "Shopping at wet markets is also a matter of economics, given the average income of Vietnamese."
"Rich people go to supermarkets, poor people go to street vendors, and the middle-class come here, to Chau Long," said a vegetable vendor at Chau Long, who spoke under the condition of anonymity. "I think there is a specific class categorization here."
It would be impossible to completely eradicate traditional wet markets from Hanoi, continues Minh. "The transformation needs to take into consideration various factors such as local culture, consumer demands and urban planning."
The last time Chau Long was renovated was in 1998. During Vietnam's subsidy period from the late 1970s to the mid-1980s, it was an impromptu marketplace with front-row kiosks specifically assigned by authorities to sell subsidized goods that could only be purchased with coupons.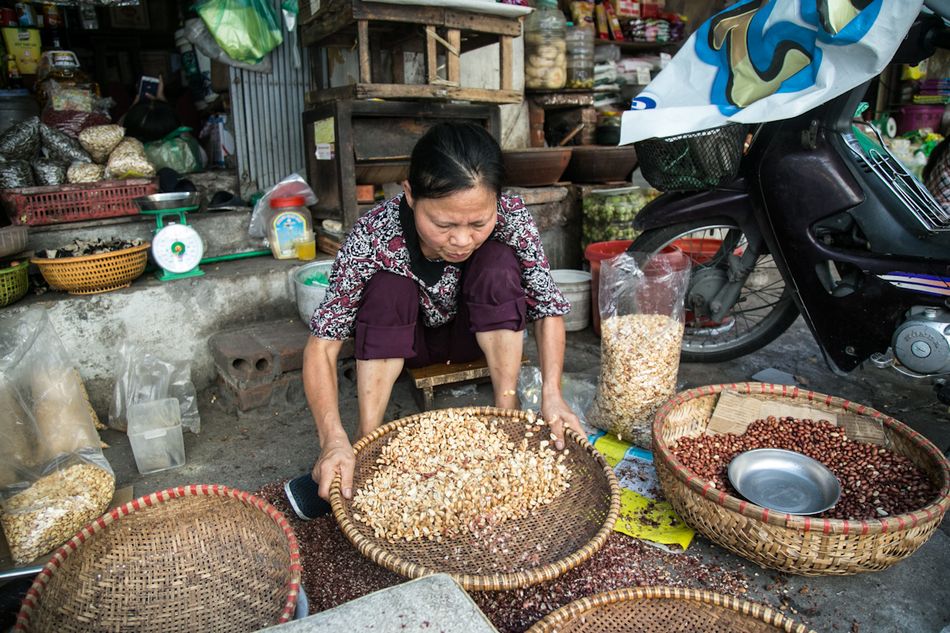 Dung, who has been working at Chau Long since 1975, said she used to sell vegetables for coupons, but after the subsidy period ended and family businesses were authorized to work on their own, she started selling dried goods, which she still picks up from Dong Xuan Market today, such as rice, eggs, nuts, fish sauce, oil and other cooking ingredients.
"Business has been slowing down lately," she adds. "Since the sidewalk cleanup campaign started, officials have been coming to check on us every day and we have to move all our stuff inside. It's a real hassle in this burning weather."
Given the shrinking community of vendors in Chau Long Market, everybody knows each another. There is a bond that connects the vendors, the majority of whom have been working here for 20 to 30 years, as their livelihoods all depend on the market.
"Our lives are here, we know each other well. I know most of my clients," Viet, a pork vendor at Chau Long, shares. Viet has been working at the market for 35 years. She starts her day at 4am at the Thinh Liet abattoir to pick up fresh pork, then she comes to Chau Long and works until 7pm, which is when the market closes.
"I toil from four in the morning to seven in the evening every single day, even at the weekends," continues Viet. "I know it's a tough life, but I have no other choice. In my family, one person works for seven others."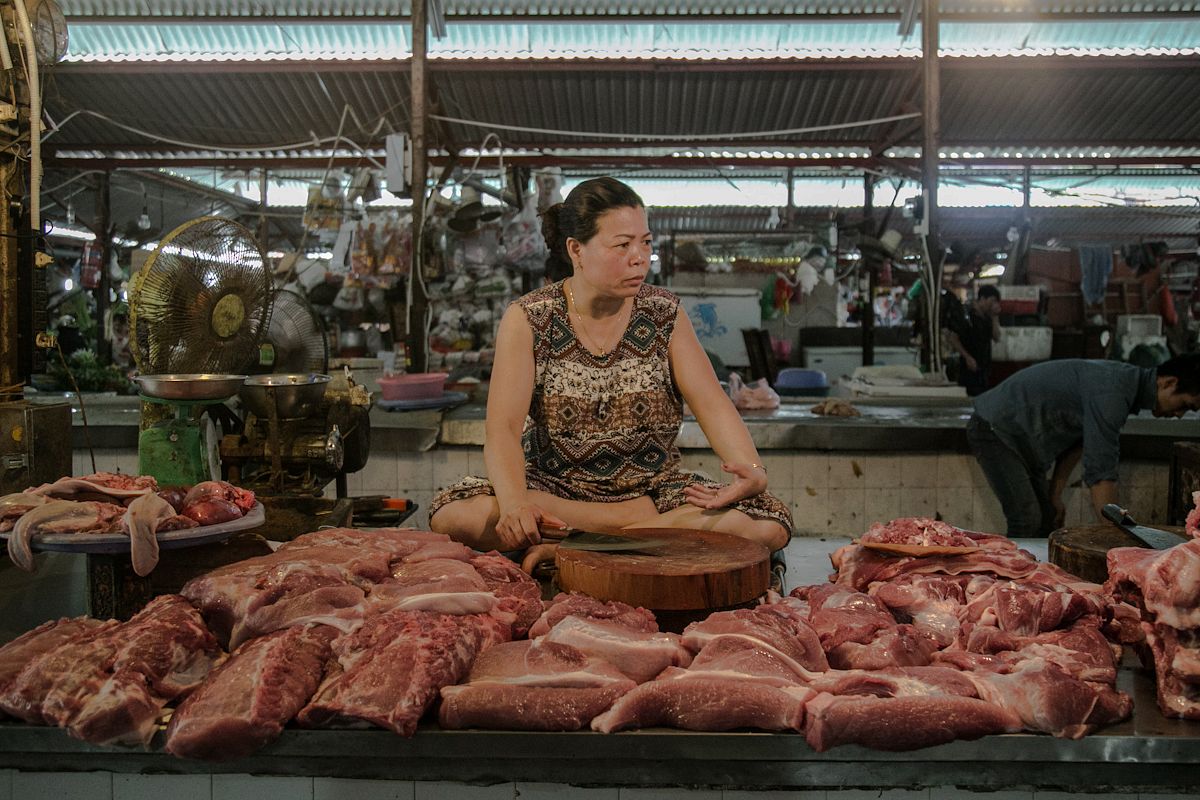 What's particularly interesting, though, is that it may be the strange tale of Chau Long Market rising up around two graves that ultimately saves the vendors. Allegedly, the families of the dead were said to have allowed the market's first vendors to use the sacred ground around the graves to sell their wares.
Every first day of the lunar month, the families would come to pay tribute to their ancestors. Little is known about the two graves — the stories behind them or why they are here, but it has become an unspoken tradition for vendors at Chau Long to light incense and pray at the gravestones, wishing for good health and prosperity.
---

Related Articles:
---