Bánh trôi tàu are elongated rice dumplings filled with mung bean paste, black sesame paste or grated coconut and served in a hot ginger syrup that warms one's belly during cold winter months.
I'd been walking past Banh Troi Tau Pham Bang, a street-side shop that specializes in bánh trôi tàu, for months. I wandered by, as Hanoian winter slowly crept in, with the hope of seeing this seasonal snack finally on offer, as most vendors only sell it during the year's coldest season.
Bánh trôi tàu's main ingredient is glutinous rice flour and, while there are several choices of filling, the most popular in Hanoi is mung bean paste. In China, red beans, mung beans, sesame, sweet osmanthus, rose petals, jujube red dates, hawthorn berries, peanuts, almonds and walnuts are used for the inner filling, combined with lard and sugar. Plain versions, which have no filling at all, come served with flavored syrups such as fermented rice wine. There are also savory options, which are filled with minced pork or ham.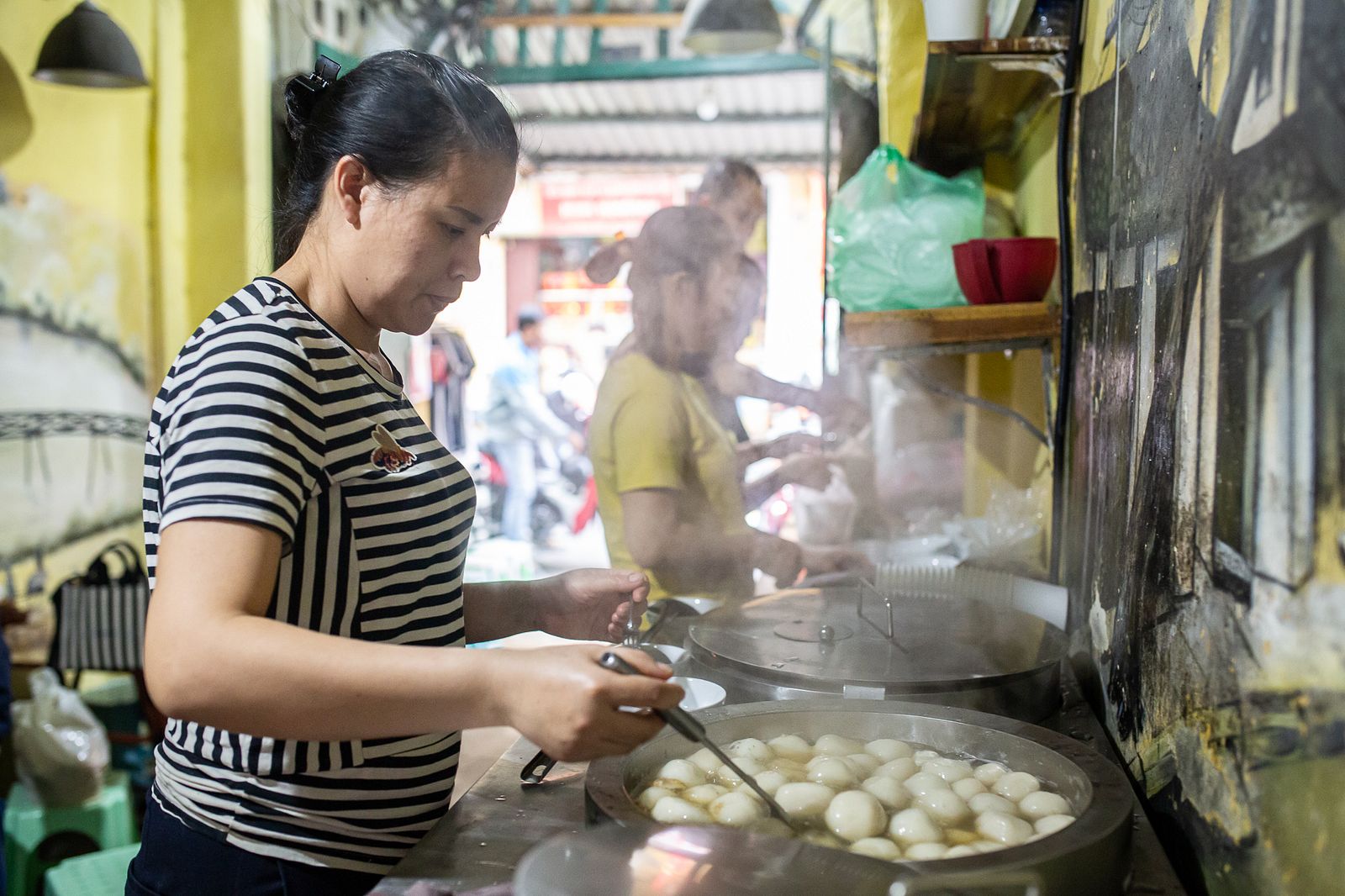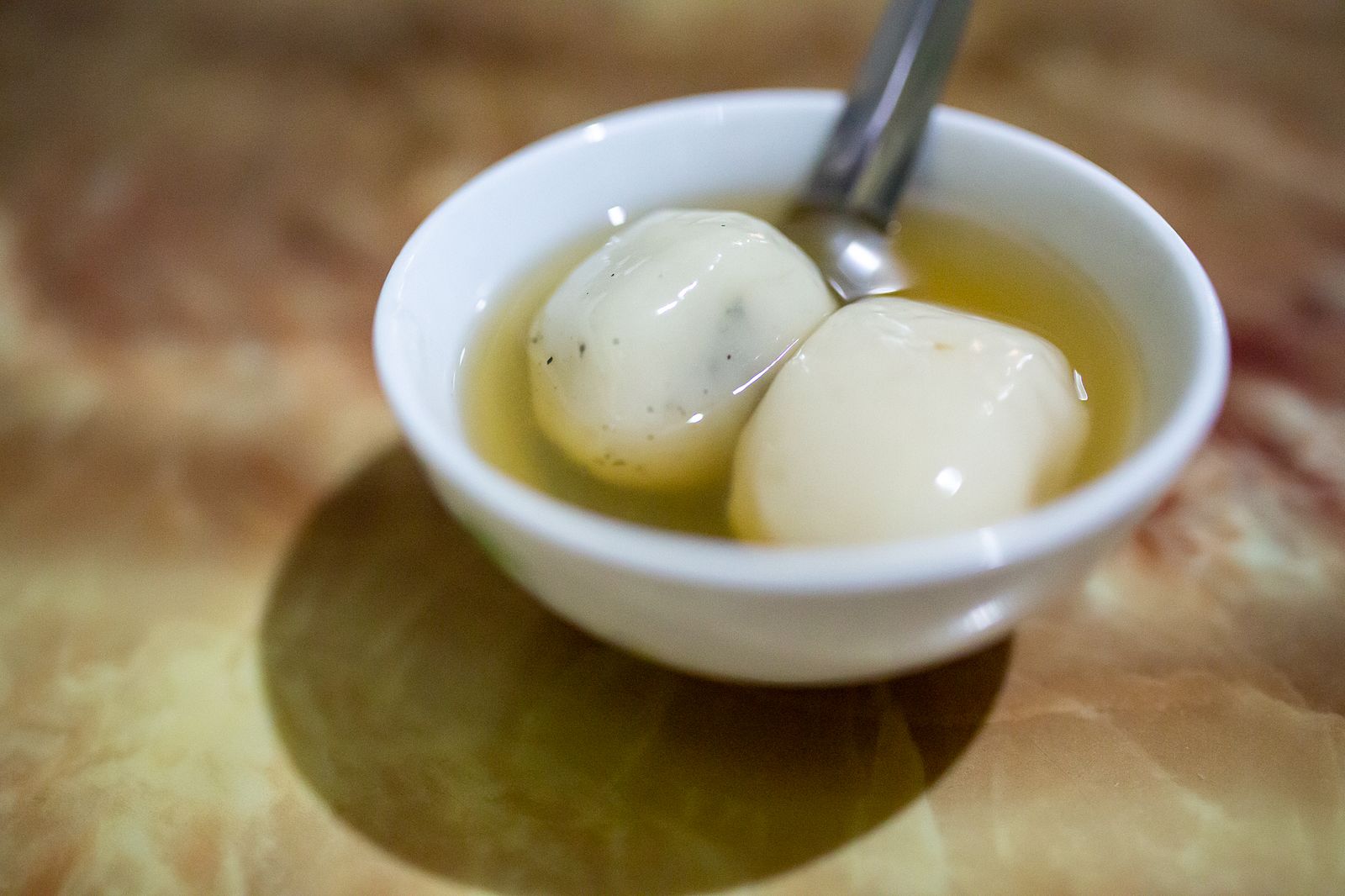 Recently, my heart skipped a beat when I finally saw the neon-lit sign hanging outside a small, Old Quarter alleyway, which brightly lists the items offered: 水圓 (shui yuan, the Chinese name for bánh trôi tàu), lục tàu xá (mung bean milk) and chí mà phù (black sesame milk). The zesty, citrus flavor stimulated my taste buds as soon as my tongue came into contact with the creamy lục tàu xá. This dessert is a Cantonese classic; citrus peel (chenpi in Chinese) is one of the key ingredients in Cantonese kitchens.
The ginger's hot, pungent scent wafted down the alley each time the owner lifted the lid of the large pot and ladled delicious syrup into bowls. I first sipped a small amount, savoring the mellow, subtly spiced flavor of the concoction, which had been brewing for hours. I then bit into the rice dumpling and almost swooned as the black sesame paste oozed out of the bánh trôi tàu.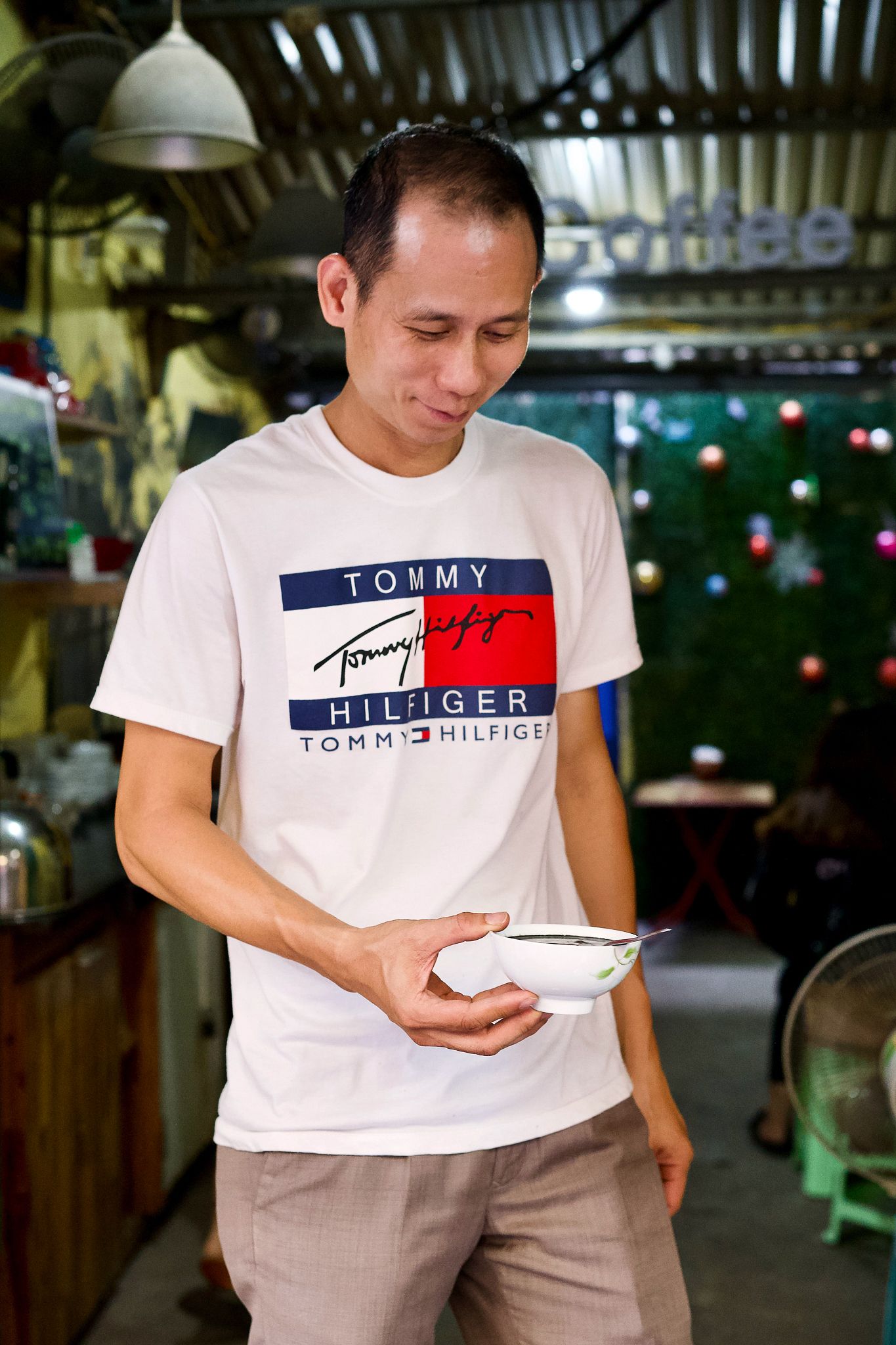 In Hanoi, I feel ecstatic being able to eat such authentic shui yuan outside of China. Upon feasting, my brain raced at once to a well-known Chinese proverb: 'qīng chū yúlán ér shèng yúlán,' which means 'the color blue comes from the indigo plant, but is bluer than the plant itself' – in other words, the student has surpassed the master.
Banh Troi Tau Pham Bang nails it with these historic old treats, especially the bánh trôi tàu. Xoi Ba Thin on Bat Dan Street is perhaps the most famous chè stall making bánh trôi nông, but Banh Troi Tau Pham Bang is a serious contender in terms of authenticity. This small snack shop sticks to the original recipe. That said, the difference between here and other places is minor. For example, at Pham Bang, the bánh trôi tàu is served in ginger syrup without any additional coconut cream or crushed peanuts. I was impressed with their ginger syrup, which is so subtle it doesn't need any extra toppings.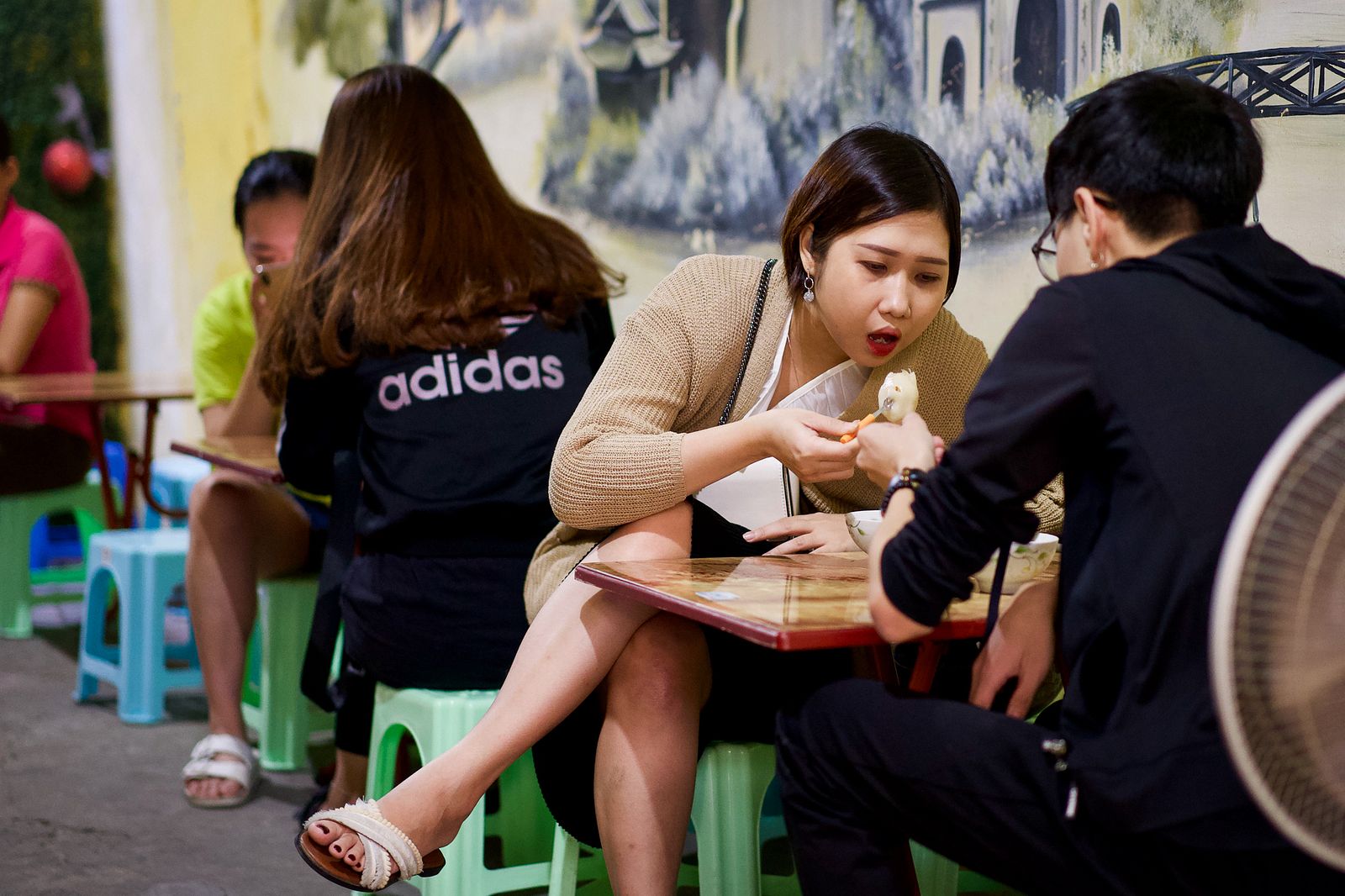 In China, the earliest recorded mention of bánh trôi tàu dates back to the Song Dynasty (960–1279). These sweet dumplings were eaten during the Lantern Festival (the same holiday is known as Tet Nguyen Tieu in Vietnam), which is celebrated two weeks after New Year's Day, on the 15th night of the first lunar month, a day that marks the end of the Spring Festival.
The sweet snacks were once known as floating rice dumplings as they rise to the surface when cooked in boiling water. This name also evokes a poem written by Ho Xuan Huong (1772–1822), a Vietnamese literary figure dubbed "The Queen of Nôm poetry," who is also considered one of Vietnam's greatest classical poets. Her writing shows how Hanoians have been enjoying bánh trôi nước since the Lê Dynasty (1428–1788) and that they craved this treat each year as the winter solstice approached.
One of Huong's poems reads as follows:
Thân em vừa trắng là vừa tròn (My body is both white and round)
Bảy nồi ba chìm với nước non (In water I now bob, now sink.)
Rắn nát mặc dầu tay kẻ nặn (The hand that kneads me may be rough)
Mà em vẫn giữ tấm lòng son (I still shall keep my true-red heart)
Huong's poetry always comes to mind whenever I eat bánh trôi nước. It's also a reminder to all of us about how Vietnamese women have gone through so much in their lives simply because of their gender, but still remain true to themselves.
Banh Troi Tau Pham Bang is located on Hang Giay Street, right in heart of the Old Quarter. The stall appears in the entrance of an alley that leads to a tube house. Yellow-washed walls on both sides are covered with scenes of traditional houses with curving roofs, lending a rustic village atmosphere to the eatery. Banh Troi Tau Pham Bang is also very clean and cozy — you'll feel right at home.
You can find Banh Troi Tau Pham Bang at 30 Hang Giay, Hoan Kiem District, Hanoi. They open from 4pm to 10:30pm.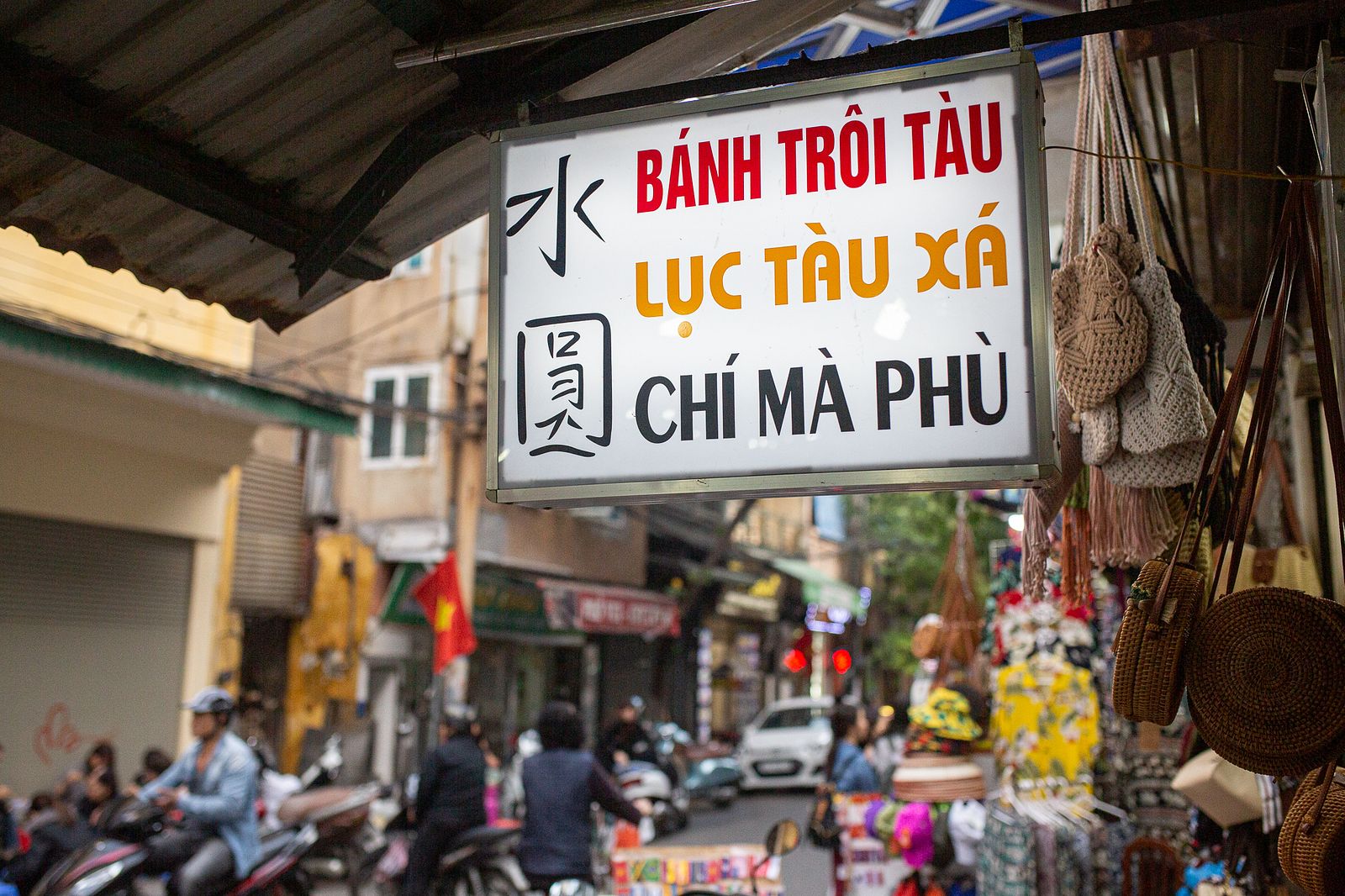 To sum up:
Taste: 5/5
Price: 5/5
Atmosphere: 5/5
Friendliness: 5/5
Location: 5/5
Sweet Rice Dumplings
30 Hang Giay, Hoan Kiem District, Hanoi