With most of my life having been spent living in Saigon, the concept of bánh đa was first introduced to me by a mass-produced instant crab noodle soup package.
BeiBánh đa đỏ (red noodles) — a type of broad, dark brown noodle made from rice with added gấc pigment — is a Hai Phong specialty that can often be found in many northern dishes. Bánh đa is not a rare sight in eateries around Hanoi, as the reddish noodles are often sold alongside miến trộn (glass noodles) and other types of mixed noodle dishes and soups. I, however, wasn't expecting to get bánh đa on this day: my two colleagues and I had been strolling down Au Co Street hunting for a lunch spot recommended by a friend.
Tucked away in a ngõ that branches off from Xuan Dieu Street, the eatery we found has no name, except for a sign listing all the dishes they offer and the address. Absent-minded folks should take care to prevent walking past without noticing the place. Along the exterior walls are childish paintings that seem to be the remnants of an old kindergarten, which lend a peculiar personality to the place.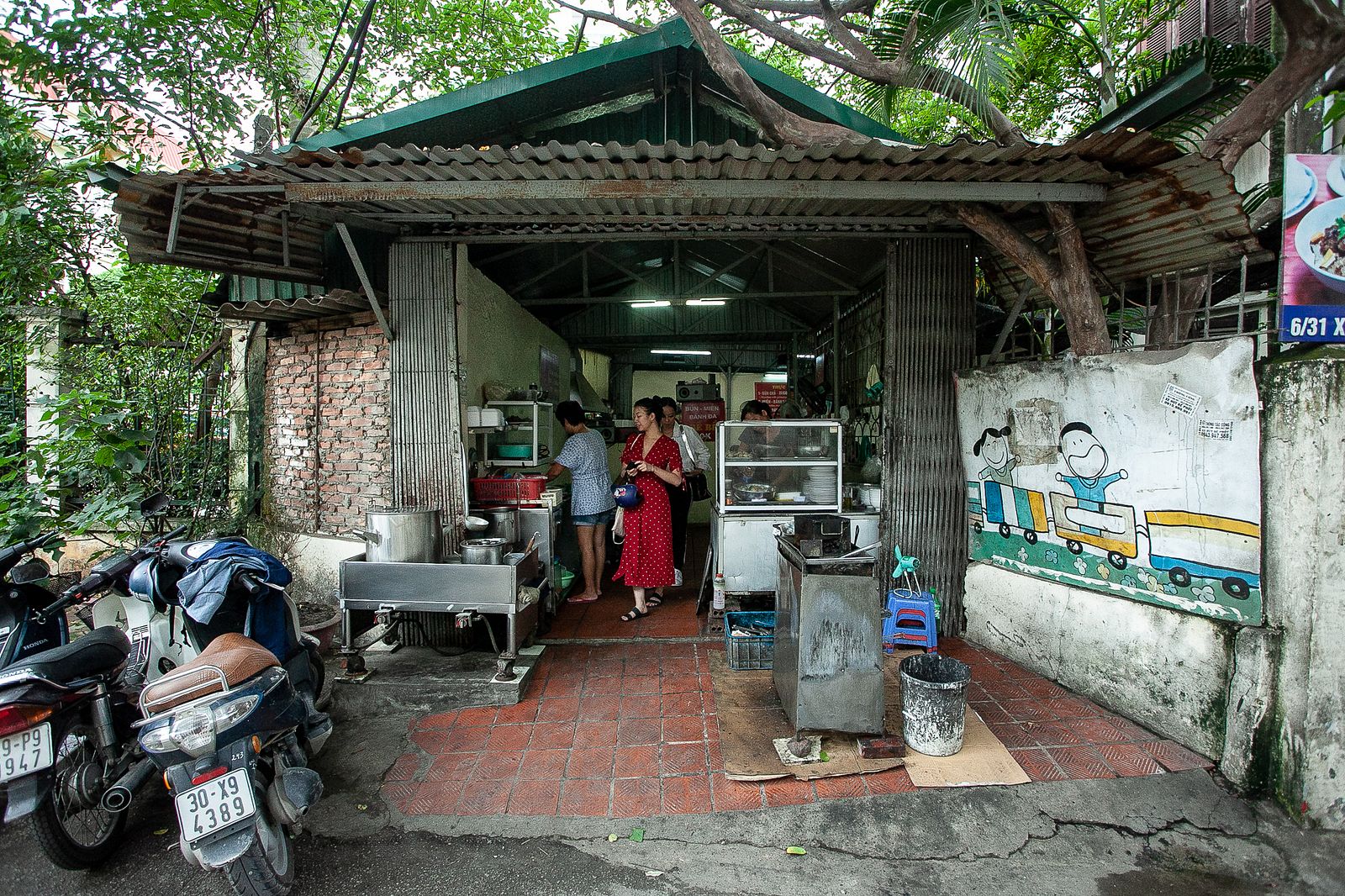 The eatery's interior resembles someone's backyard — modest, yet spacious enough to shelter a small army of strangers from the heat. The menu offers five options: bánh đa trộn (mixed bánh đa), miến trộn (mixed glass noddle), bún chả, bún cá (fish noodle soup) and bánh đa cá (mixed bánh đa with fish). Though not listed on the menu, one can order a miến trộn with bún chả pork balls as well. A lexicon mix up led me to interpret bánh đa as bánh tráng (rice paper) and so I ordered miến trộn by mistake.Thankfully, one of my colleagues was kind enough to switch dishes with me.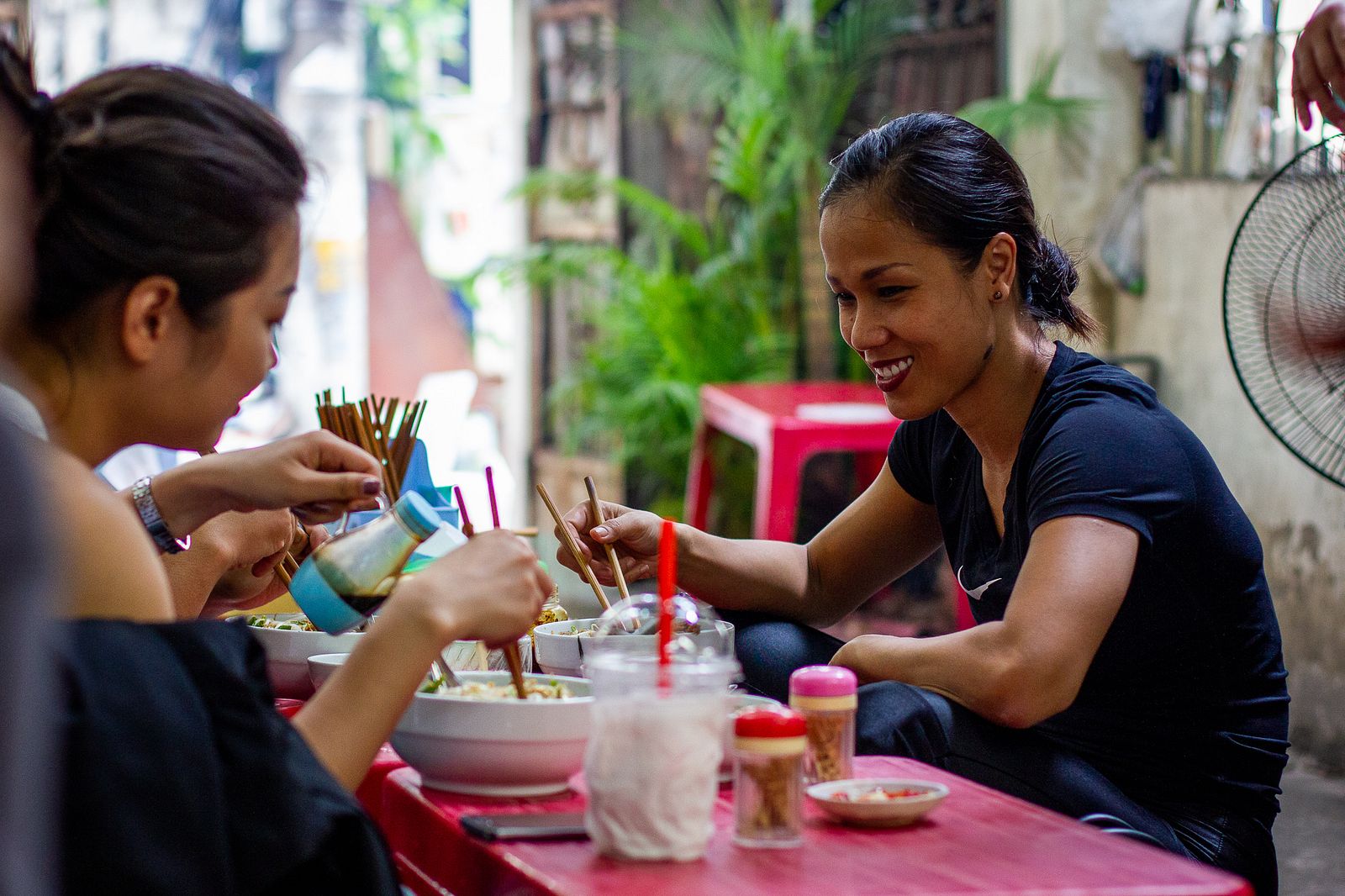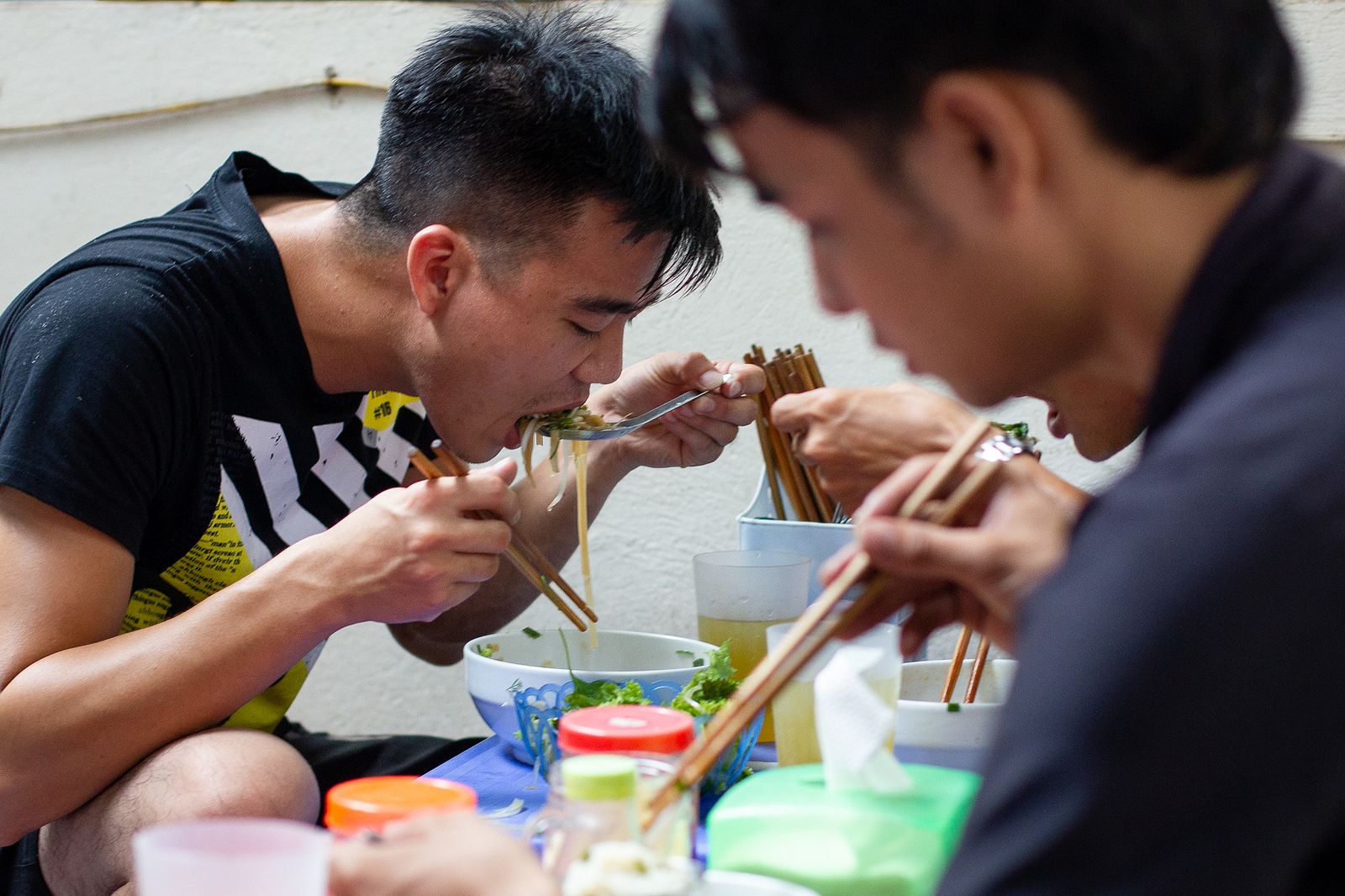 Unlike other dishes based on bánh đa, such as bánh đa cua (bánh đa crab soup) or bánh đa cua trộn (mixed bánh đa with crab), the stall uses a thinner type of bánh đa that is equally delicious: chewy, fragrant and soaked with flavors. The toppings include slices of fried tilapia, fish cakes stuffed with dill, water spinach, mung bean sprouts, cucumber, crispy garlic oil and peanuts. The bowl of bánh đa can satisfy a hungry eater during most seasons and at any time of day as it straddles the line between lightheartedness and decadence without going over to either extreme.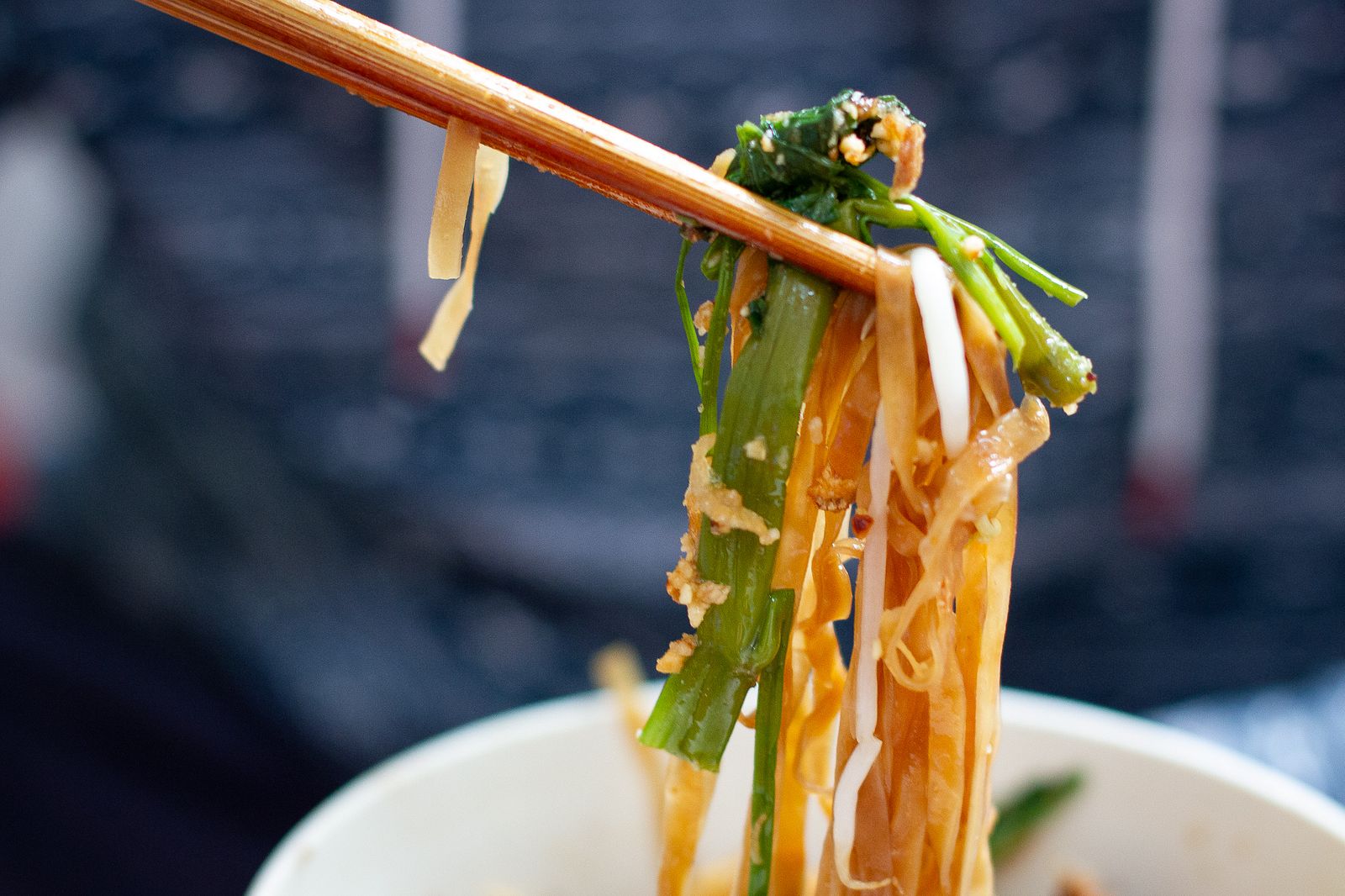 The slices of fried tilapia are tender, and the dill in the fish cakes is added sparingly so that flavors from both the fish and the herb are evenly distributed. The water spinach is an antithesis to the stereotype that vegetables are often bland - the greens are juicy and well-seasoned. For eaters who enjoy an extra tang in their food, pickled garlic is available on every table.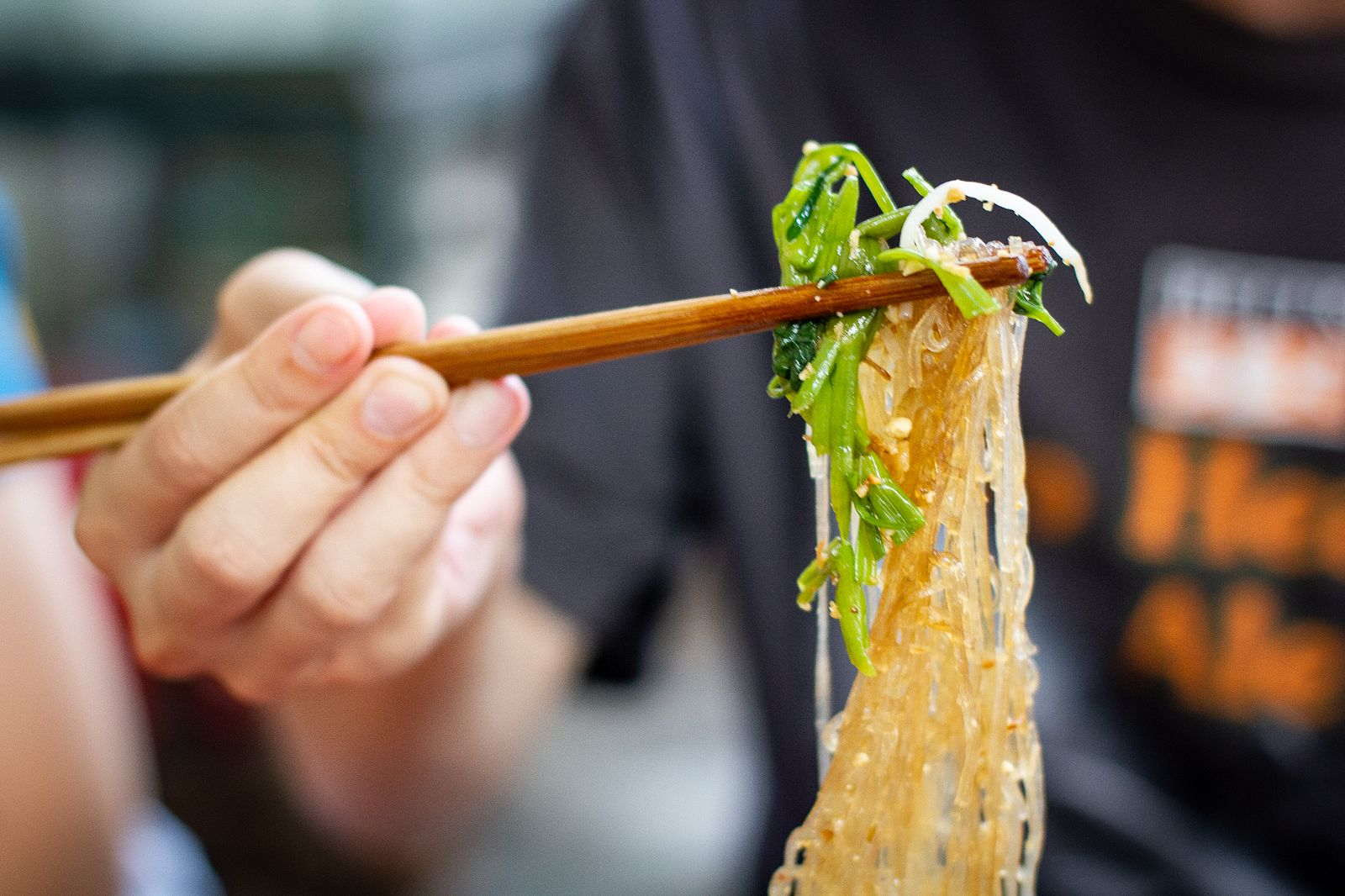 The eatery opens from 10:30am until the food runs out. A standard noodle dish runs from VND30,000 to VND35,000.
To sum up:
Taste: 5/5
Price: 5/5
Atmosphere: 4/5
Friendliness: 5/5
Location: 4/5
Thi is a mushroom-loving weirdo. In 2002, she was introduced to noodles and the course of her life was changed ever since.
Bánh đa trộn
6 Ngõ 31 Xuan Dieu