The music of Hanoi based duo Limebócx can be quite difficult to define. By taking elements of modern musical genres such as drum & bass, hip-hop, beatboxing and dub and combining them with traditional Vietnamese music, folk and poetry, Limebócx has managed to create a sound that is entirely their own.
As avant-garde as they are eclectic, Limebócx consists of two members. Trang Le (aka Chuối) shares vocal duties and arranges most of the band's string instruments. As seen while she's performing, Le is flanked on all sides by her guitar, bass and the traditional Vietnamese instrument known as the Đàn Tranh. While onstage, she effortlessly switches back and forth between all of them numerous times during the course of any given song.
Not to be outdone, Nguyen Huy Tuan supplies the rapping and beatboxing. As the band's percussive backbone, Tuan commands the BOSS RC-505 Loop Station, which is a small device that records snippets of the band's performance in real-time. The sounds are then digitally repeated and layered over other instruments and vocals. This is what culminates together to create the band's unique tapestry of percussion and sound.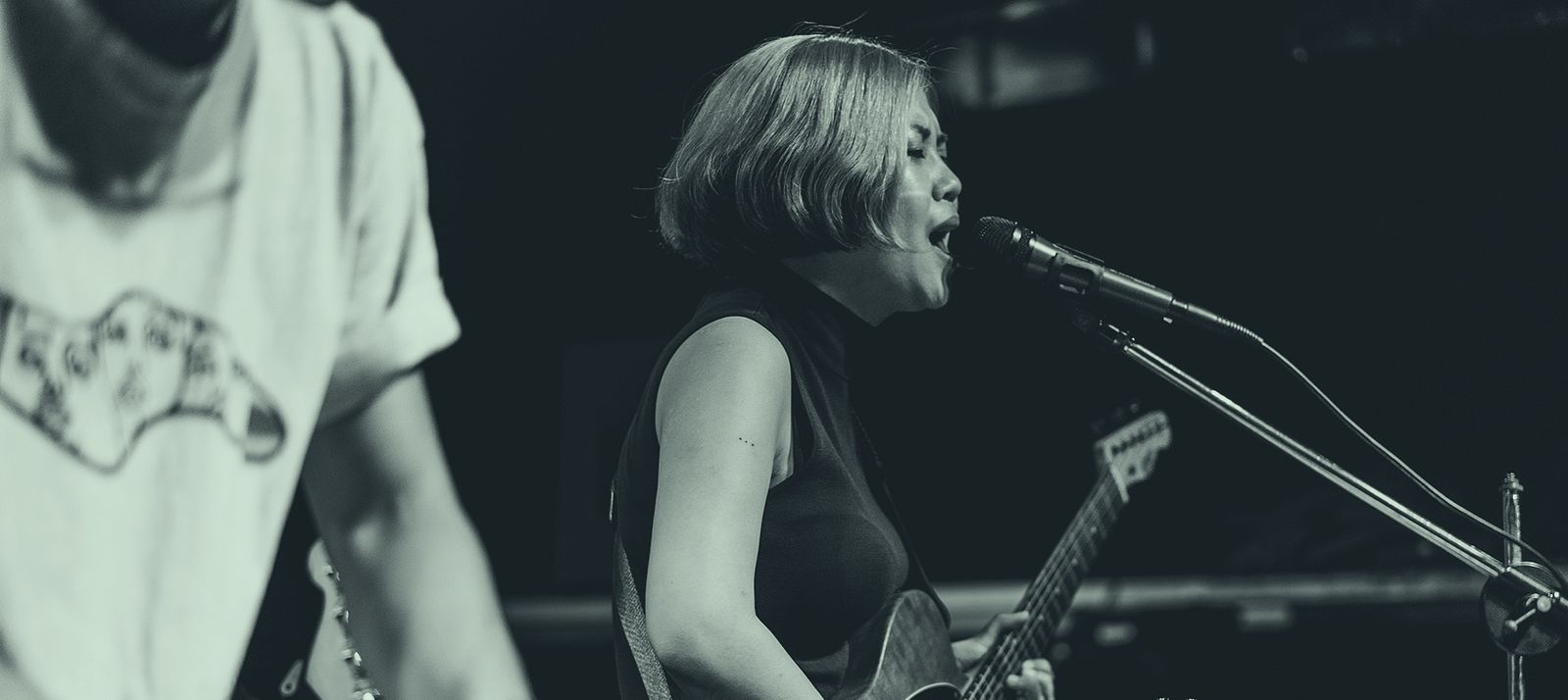 Think outside the bocx
A perfect example of Limebócx's diverse influences can be heard on their song 'Chiều Trù Nhật,' which the band is currently in the studio recording.
Soon to be the band's first single on their yet to be titled upcoming EP, 'Chiều Trù Nhật' is a beat-laden track exploring Trang's fascination with people watching on a Sunday afternoon. The song perfectly encapsulates all of Limebócx's musicality firing on all cylinders.
The burning question still remains, however, just how did these two musicians come to discover this diverse mixture of genres?
"It just came naturally." Tuan explains, "We started this band because we wanted to play together. At first, we began by using Western influences, but then Chuối started singing and adding Vietnamese poems overtop of the songs. We saw that it fit really well with our music."
Besides adding spoken word elements, one can argue that of all of Limebócx's repertoire of instruments, it is the sharp plucking of the đàn tranh which stands out above all else. The 16-string zither, which has been prominently used in traditional Asian folk music dating as far back as the 13th century, doesn't seem a likely addition to Limebócx's heavy drum & bass musical style."I was given an old đàn tranh as a gift," Trang says, on how she came to acquire the time-honored instrument. "I wanted to learn it, but I found that it was too difficult and I ditched it for a long time. It wasn't until I tried it out with Tuan that I got back into practice."
When compared to other stringed instruments, such as an acoustic guitar or bass, the strings of the đàn tranh sound more stringent and sharper when they are plucked. Trang, who had learned how to play the guitar before trying her hand with the đàn tranh, found her previous knowledge of stringed instruments was somewhat of a detriment.
"I wanted to have formal training in the đàn tranh, but a friend, who was a professional, told me that if I practiced it as something formal, it would put my mindset in a very different state," Trang explains. "I wouldn't be able to think of the đàn tranh as an instrument for modern music and I would be spending a long time breaking out of its traditional roots again."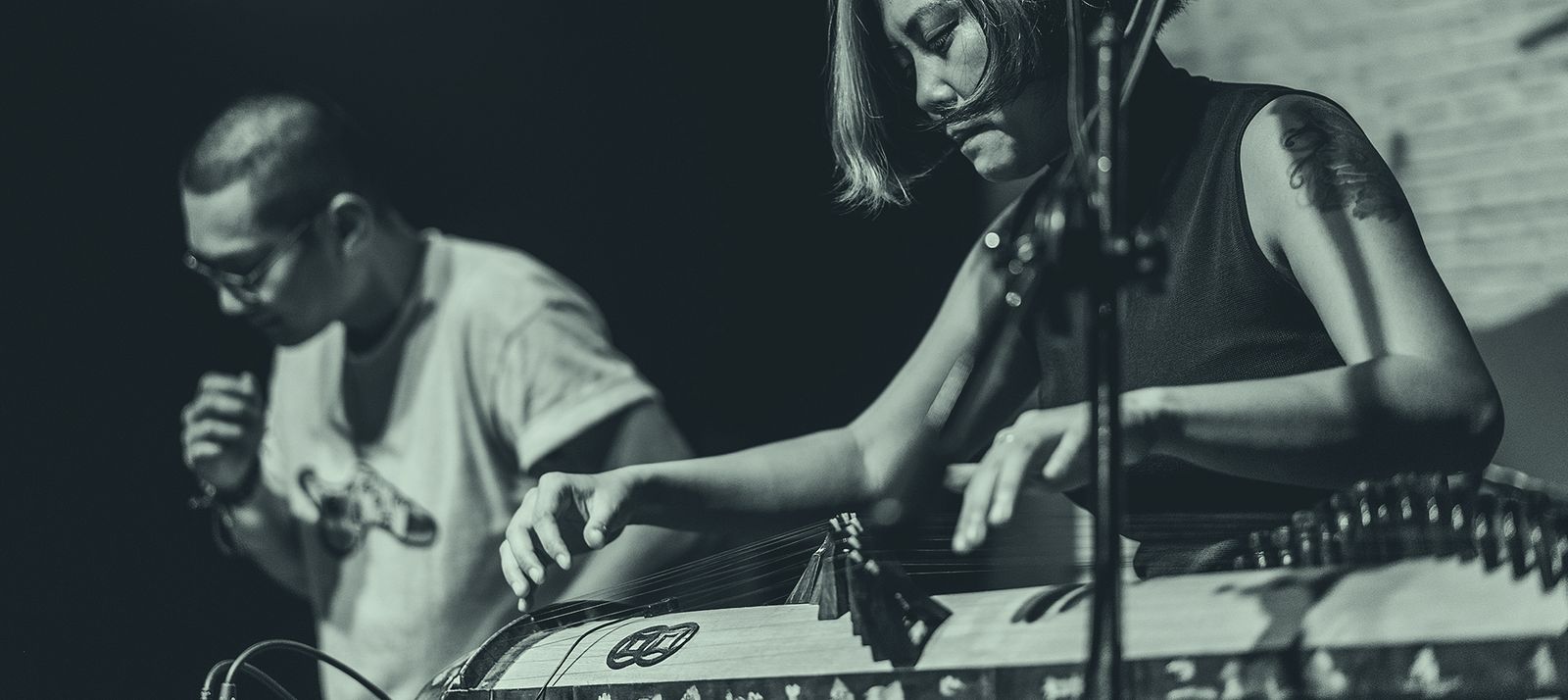 In with the old, as well as the new
The đàn tranh is not the only element which the band uses rather unorthodoxly. The duo also plays very loosely with another of Vietnam's most traditional music genres: the old-fashioned singing style known as ca trù.
Incorporating theatrics, as well as singing, traditional ca trù is usually performed in groups of three or more. The musical pieces use a call and response approach between the main characters and often explore timeless themes of family, war, love, and love lost.
The ca trù singing technique is performed using soprano and tenor registers, with soaring operatic melodies which help to convey the emotions of the characters in the story. "It's a northern Vietnamese traditional singing style, much like the propaganda stuff we see on TV, but we twist it in a funny way to sound like our daily conversations. It's much fresher and less…tragic." Trang says with a pause before she looks over at Tuan and laughs.
"Sometimes traditional Vietnamese music is just too tragic." Trang continues. "They're usually stories of people who can't get together because of life, family or war. We just want to make it a little funnier, because I think pure ca trù might not be very approachable, but I really like the elements and I want to put it into modern music."
Often joking to one another, the chemistry between Trang and Tuan is undeniable. At times, they even finish each other's sentences. This playfulness and joyful banter also translate directly into their stage presence and performances.
The end result of this chemistry culminates into a musical style that is like no other. Limebócx has successfully taken a series of centuries-old institutions and somehow managed to make it fun, fresh and, most importantly, danceable. For that, we have to give them credit, because that is not an easy feat to accomplish.
This article was originally published on Son Tinh: Original Ruou. Read the original article here.
---

Related Articles:
---