On their debut album, Con Đường, the much loved Hanoi outfit bring a darker yet more mature sound that speaks as much about the depths of heartbreak and loss as it does hope.
At The Children's (Những Đứa Trẻ) three-year anniversary concert at the beginning of 2018, lead singer Bui Xuan Loc writhed topless as he stage-dived into a wild, raucous crowd at Hanoi Rock City. Since then, the band has lost their drummer to military service, gone through the crush of heartbreak and raised VND28.5 million through crowd-funding for their new album, the latter of which even earned them a TV interview.
Previously released EPs Những Đứa Trẻ Trong Ngõ and 2.0 featured frenetic, post-punk tracks that earned them a reputation as one of the capital's most promising young bands. Slated for digital release on November 18, their new LP Con Đường (The Road) is a concept album that takes listeners from the excitement of those earlier years and along the difficult road they have taken since, of which one first vital step was replacing their former drummer.
"When Quy left the band we lost a driving force," says Loc. "A person who has been working with us on ideas and shows for three years. His performing style is distinctive. We never wanted to replace him."
In the end, they brought in not only 18-year-old drummer Cao Le Hoang but also art director Nguyen Trong Dat, creative director Duy Dao and producer Le Cong Thanh, who has been so influential on the new album he's become affectionately known as the band's '5th member.'
Sitting together in the verdant, hipster surrounds of Lac Tam Antique, the band are at ease, somewhat gawky, and yet earnestly passionate about what they do. The bubble of a thuốc lào is never far away, nor are discussions about how life — and their music — has shifted. "The new songs," says Loc, "are a necessary step to show people that we have changed."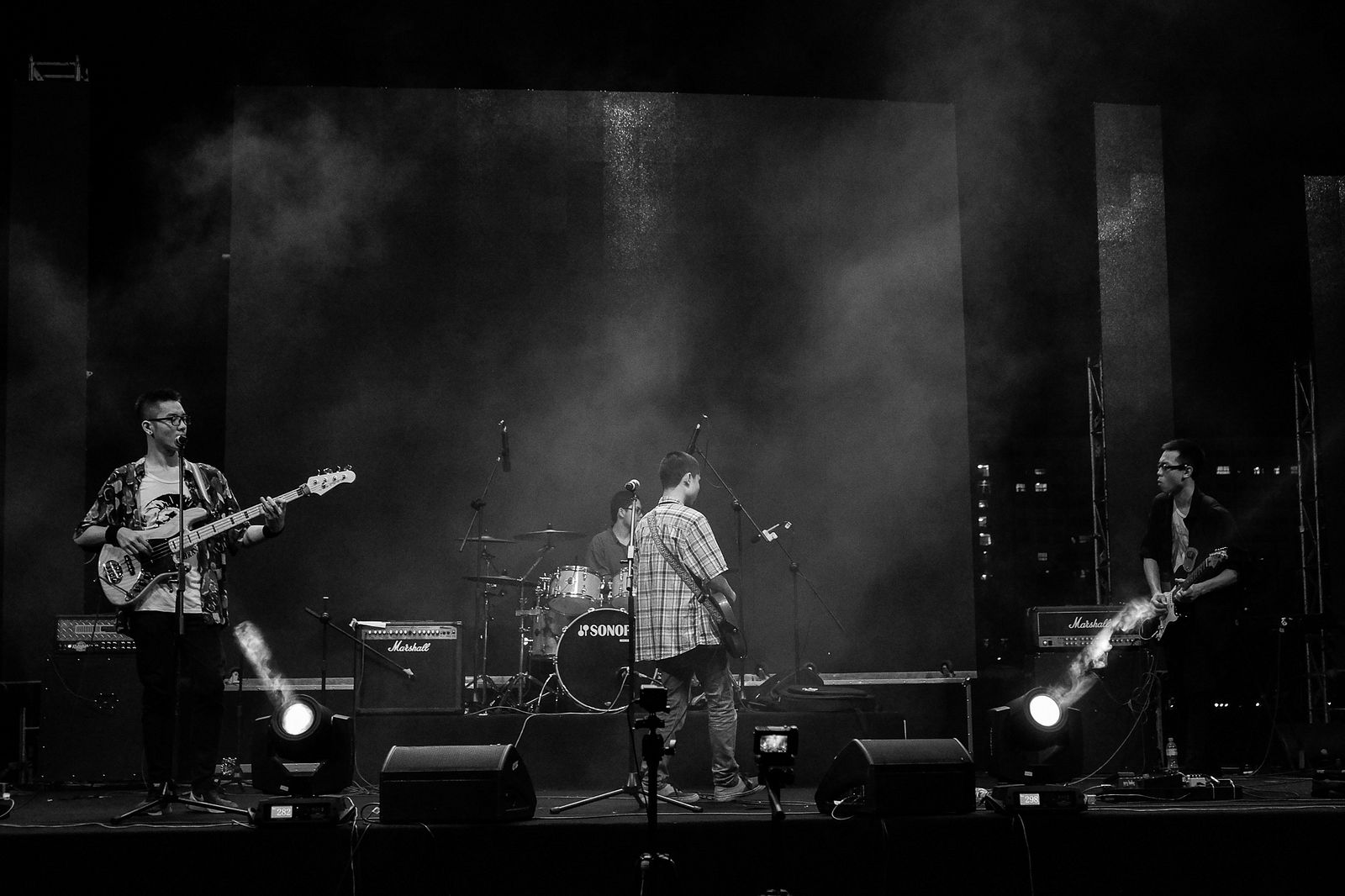 Even on the old songs, that shift is evident. Straight from the crisp drums and cavernous bass of opener and crowd favorite 'Không Sao Đâu,' the most striking difference on the new album is the drastic improvement in production — something Thanh and the rest of the band are keenly aware of.
"The production on their old recordings... it's bad," claims Thanh. "I knew how well they could play. I knew it could be done better. I'm not sure if they had someone in charge on the first EP but, for the second, they had a guy who mixed and mastered the music and he didn't understand the genre, so he didn't do a great job of it."
Thanh not only mastered the music but guided them through the production process. And while they worked with Katana Records to record the drums, he is quick to assert that they had no influence on the album's sound. Yet, with so many new faces involved and a flood of lived experiences to draw from, a variation was inevitable.
That switch becomes clear on 'Ai Cần,' a Joshua Tree-era U2-inspired song on which the youthful, charged energy of former EP tracks is replaced with a more expansive sound that grows from a soothing beginning to a resounding climax. It's a song Loc wrote long before forming the band and introduces the first of numerous influences. On Con Đường, the band claim to share creative fluids with Hanoi legends Gat Tan Day as much as Red Hot Chili Peppers, Tears for Fears and even The Beastie Boys.
'3 Hoàng Diệu' is a mellow, unhurried song that's rich with longing and reflections about "the street we used to walk on." Lead single 'Thành Phố Người Điên,' or City of the Crazy Humans, is ostensibly about the madness of Hanoi and, although Loc suggests it could really be about any hectic city, the inclusion of found sounds such as thuốc lào tokes and distant swearing at traffic suggest otherwise. On each, however, there remains a warmth in the guitar that gives no hint of the anguish found on later tracks. It's only on 'Interlude,' a short, piano-led piece composed by Thanh, that distorted vocal sampling begins to foreshadow the torment to come.
It was lead guitarist and band leader Nguyen Ba Trong Son's idea to structure the album in this way — to form a kind of chronology of their shared experiences. As a result, the lightness and optimism of earlier songs soon give way to despair, and it becomes impossible not to recognize the extent to which Loc's lyrics become defined by heartbreak.
"You can tell," he says. "You can interpret it as a relationship — you start off being optimistic and ready to get into a relationship and then halfway through the album you get some kind of insecurity about yourself and your lover and then everything starts to fail."
After deftly crafted new versions of 'Gió' and 'Con Ngõ Phía Sau', the anguish really sinks in on 'Huệ,' a track that refers not to the city, but to an onomatopoeic simulation of the sound of being violently sick. The lyrics — "I can't recognize us. I forget everything about us." — are archetypal break-up fare, while the title alludes to someone getting blindly drunk to escape the pain. While recording, Thanh pushed Loc to project his sorrow. "I told him, 'sing like you're going to cry, like a bitch!'… and he did."
Featuring a menacing, end-of-days guitar riff, it's easily the darkest moment on the album, yet also highlights just how much Loc has progressed as a singer. He freely admits that when they first formed the band, the question people asked wasn't whether or not he was a good singer but whether he should be singing at all.
"In this band, I just wanted to express the kind of rage and craziness of rock music," he says, "and I did it badly. So I tried to improve it over time. I realized that it's better to sing without trying too hard to sing and learned the proper techniques to express those kinds of feelings."
That in no way means, though, that as a band they are now immune to doubt. Recording sessions were fraught with insecurity, to the extent that, at one point, Thanh told everyone to take a month off and focus individually on the areas of their music they needed to improve.
It worked, and if any tracks reflect the resolution of that period and of the record's central themes, it's the two final songs — title track 'Con Đường' and album-closer 'Cánh Cửa.' Sonically sparser and more down-tempo than what came before, they represent the sound of accepting loss. All human life is in these songs: frustration and hard-won self-knowledge and frailty and grief and love.
It's a moving end to the album, especially as the inspiration draws as much from personal loss as it does the closure of legendary Hanoi bar The Doors. "'Cánh Cửa' is a song about how something that we've really loved and treasured for years is now gone," says Loc, "and it's time to open a new door for something else. This song is simply about hope."
There was once a time when the band's hope led them to harbor huge dreams, but for now, Loc says, they are content just to "be together as a band and have the music that is truly important — like writing about the truth and personal feelings. There are people who still believe in the music of this band, and we hope we can continue the journey after this first album because there have been many Hanoi bands who release an album and then disappear. We don't want to be like that."
Pivoting naturally from assurance to agony to acceptance, Con Đường is a debut of remarkable depth that captures the band's moment in time. And this period is reflected as much by the music as the album's endearing artwork. Inspired by renowned designer Storm Thorgerson, Dat's cover art depicts all four band members riding together on two motorbikes. "The road is ahead," he says, "and here the street sign says there is no going back. Sometimes you will go slowly and sometimes you might turn around, but you must always go forward."
The Children perform at Hanoi Rock City tonight and in Saigon on November 17. The album will be on sale at their concerts and released digitally on November 18.
---

Related Articles:
---