Underground music in Hanoi is flourishing, and Vietnamese artists are at the forefront. After years brewing at venues like Hanoi Rock City (HRC) and Cama ATK, the city now enjoys huge house and techno parties at the likes of Studio Adventure, Revolve and Savage.
Over the course of the last year, international superstars such as John Talabot, Roman Flügel and Tim Sweeney have all graced Hanoi, which shows how the capital has made a name for itself on the Southeast Asia tour circuit. What's more, international artists arriving here in the past found dance floors flooded with expats, but this is changing. These days, a wealth of Vietnamese talent is driving the scene forward and bringing local audiences with them.
Ouissam Mokretor, Savage's musical director and owner of Hong Kong label Fragrant Harbour Soundsystem, has been pivotal in efforts to bring together local artists and spread house and techno to Vietnamese audiences. "We came here to develop something for Vietnam and say this is Vietnam, for Vietnam, with Vietnamese. Otherwise I would stay in Europe and work with European people," he tells Urbanist Hanoi.
In the beginning, nights at Savage were attended almost entirely by expats. Over the first year, the ratio slowly shifted to around 60% foreigners and 40% Vietnamese. There is now a 50-50 split, and the New Year's Eve crowd was almost 100% local. Mokretor attributes this success in large part to the growing roster of Hanoian artists that perform at the venue.
He compares Hanoi to neighboring China's techno scene, which was populated solely by foreigners a decade ago and is now organized and attended mostly by locals. "Anyone who leaves the country and comes back in 10 years will be surprised to see that clubs will be run by Vietnamese, and on the dance floor it will be Vietnamese with quality music," he says.
Locals are beginning to make this estimation, too. Agreeing that Vietnamese artists help popularize techno is Ha Long-born My Tran Ha, a frequent patron of Savage and its roaming Saigon equivalent, The Observatory. She sees a developing underground music community in the big cities and expects this to continue. People visit techno clubs to "escape from some local, insipid Vina House" she says, while also predicting the scene will grow in popularity among Vietnamese.

One of the most famous locals Mokretor has worked with at Savage is Quan. Hanoi born-and-raised, he started his musical career as a guitarist in a rock band before jamming with a punk group. Friends introduced him to synthesizers and electronic instrumentation, before he eventually met Tim Exile at HRC. Exile is a music producer with records released on the UK's Warped Label, which boasts releases from Flying Lotus and Aphex Twin. It was Exile who inspired Quan and showed him how versatile electronic music can be.
Quan experimented for a couple of years, struggling to find gigs or earn much cash. During this period, he stumbled upon a party organized by the expat DJ Maggie G. He noticed she was playing music with a pumping bass line – techno – and how people were "dancing like crazy," and wondered if he could get more gigs making that kind of music.
Once he began producing techno, Quan quickly made a name for himself in Hanoi's infant underground scene. He landed a slot at Quest Festival in 2015, which is where he met Mokretor. A year later, he found himself with a residency at Savage. Since then, he's performed in Shanghai, Beijing and even played two sets for Boiler Room – a global, online venue which is arguably the most influential and iconic underground music platform in the world.
Quan agrees that the role Vietnamese artists have in the local scene is incredibly important. He, along with Min8, Cong and others, runs the 'Unusual' night every month at Savage. These events showcase local artists, are attended by Vietnamese crowds and give Hanoians the confidence to attend parties that play underground music. When techno first started popping up in the capital, he says, most locals were scared to attend because the music only happened at "foreigner parties." With Savage's crowd becoming more balanced, and local DJs finding their feet, this is finally changing.
He adds that the recent exposure electronic music has enjoyed will help techno grow, citing the popularity of Vinahouse and EDM genres, which are "not that different from techno," as evidence for this. Despite this, he claims the crossover appeal techno enjoys is not yet shared by sister genres house and disco. Kobala resident DJ Viet Anh agrees.
"Vietnamese people want some bass, like tech-house or techno, but disco and funk are old tracks and kind of boring [to them]," he tells Urbanist Hanoi. Kobala is more of a house and disco-driven venue than Savage, which has a heavy techno presence. In spite of this, Anh's enthusiasm for less bass-driven dance music is evidence that these genres can become more popular in Hanoi, just not as quickly as techno.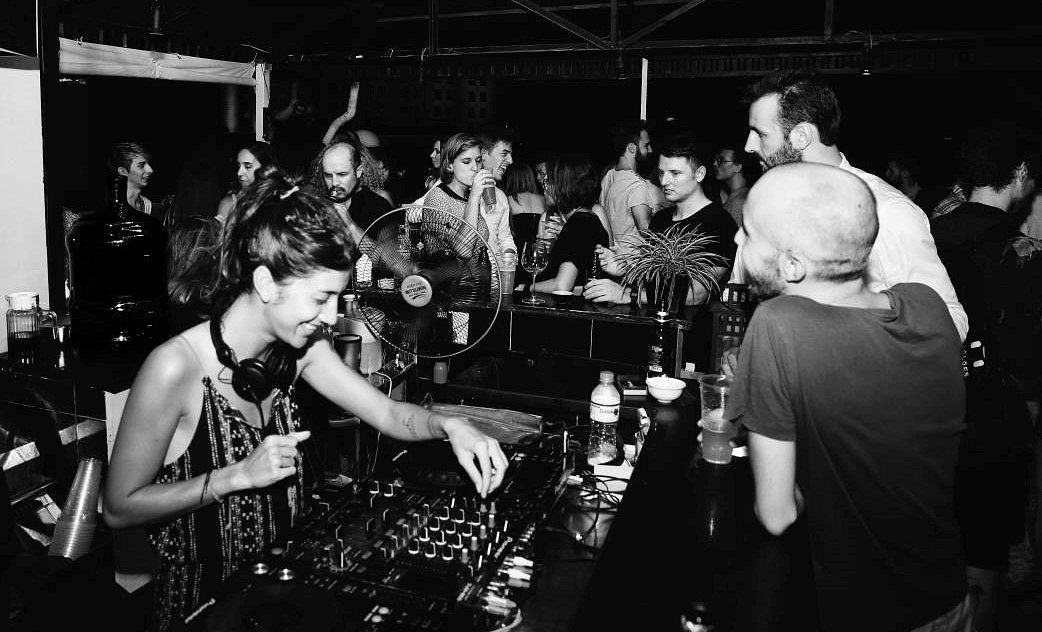 Fellow Kobala DJ Hime is another artist trying to bring house and disco to Vietnamese crowds. She admits that locals love techno and thumping bass-lines and points to the growing popularity of tech-house in the Old Quarter as an example of this. As a self-proclaimed "eclectic DJ," she infuses disco edits with techno beats to showcase funk and groove to Hanoian audiences that are increasingly enamored of techno. Hime is well-received at shows and believes house and disco will see a rise in popularity soon, too. She describes the success of locally run Gùng, which sees mostly Vietnamese crowds, and applauds the involvement of Vietnamese label Haustek, who sign and manage local artists.
Haustek is run by Los Angeles-based Bui Phong and has as many as 16 Vietnamese DJs on its books, according to Hime. They help organize parties in Saigon, Nha Trang and Hanoi and even publish a Vietnamese language magazine called Nyctophilia, which enjoys a cult following. They also help promote events such as Studio Adventure, of which Hime is an organizer. She claims this helps encourage locals to engage with parties that have mostly been marketed towards foreigners in the past.
Underground music in Hanoi is going from strength to strength, with an ever-increasing local flavor. With artists like Quan, Viet Anh and Hime pushing the sound forward, Mokretor's words ring true. In a decade, Hanoi's underground music scene could be distinctly Vietnamese.
See Haustek artists performing at Gung on the May 19, Unusual's 'Tinh Te' night on May 25, and Quan and Viet Anh play at Studio Adventure No. 4 on May 26.
---

Related Articles:
---