Since 2002, a collective known as Meeting of Styles has been organizing street art events around the world. According to its website, it is "an international network of graffiti artists and aficionados that […] aims to create a forum for the international art community to communicate, assemble and exchange ideas, works and skills, but also to support intercultural exchange." Last weekend, over 100 artists from around the world descended upon the city of Hue for Vietnam's second annual Meeting of Styles (M.O.S).
We caught up with one of the artists from the meetup, Textbook Tam, a Hanoi-based sign painter and muralist originally from Edinburgh, Scotland.
Can you tell me about Meeting of Styles?
This is the second one that's been in Vietnam. The first was last year down in Saigon. This time there was a particularly big wall for us to paint [in Hue], and over 100 different artists from all over the world involved, so it's becoming quite a big deal. Anoir, who runs the big spray paint supply company in Saigon, the NC Store, has been supplying the paint and taking it upon himself to organize the event with the help of the international organization.
How did the choice to host the M.O.S. in Hue affect the work this year?
It was an interesting place for it because it's such a historic city. It was quite a bold move to bring a bunch of graffiti artists to an ancient city, but we were all there to try to portray graffiti and hip-hop culture in as positive of a light as possible...and I think we did that. Certainly, for everyone involved, it was an insanely positive event.
We were there for a couple of days beforehand just doing some tours and checking out the city, and we're all visual artists — we've all got a good sense of aesthetic and an appreciation for the arts, and I don't think I'm just speaking for myself when I say we really enjoyed seeing and working in such a beautiful city.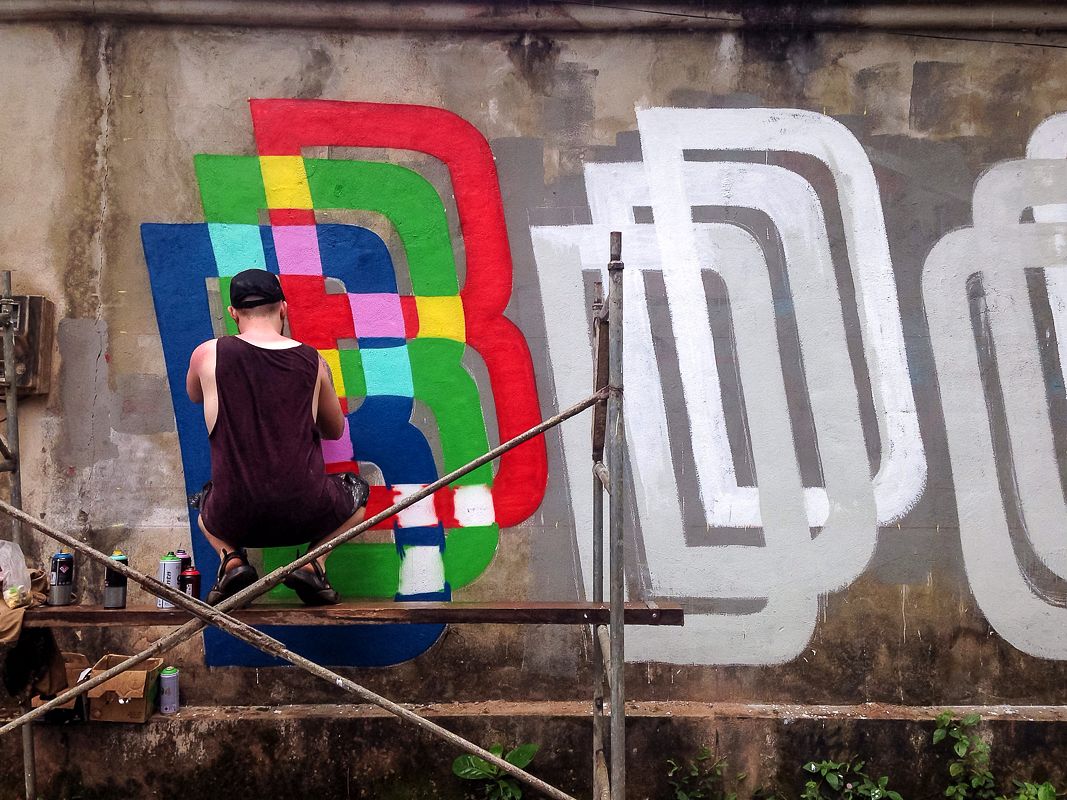 Were the tours geared towards the Meeting of Styles?
Part of the reason that we went on the tours was to get a sense of the city, and actually, we were encouraged to produce some work that reflected on that. The color schemes were set up towards imperial Vietnam, and there were a lot of people painting lucky fish, dragons and symbols from that era and symbols of Hue.
The idea was, you know, we're here painting a massive wall in this city. Let's make it fit in. And I think it worked. A lot of locals were responsive to that idea, and the result was really good. The work was varied and new and fresh, but also not offensive. It was appropriate for where it was set.
How does Meeting of Styles contribute to the street art community in Vietnam and vice versa?
It's just such a nice thing to meet artists from around the world who are like-minded. I don't consider myself a graffiti artist really, but I definitely have that interest in painting walls and lettering and going as big as I can, and that's a strange kind of nerd. That runs through everyone that you meet there. And particularly at this meet, everyone got on so well. There was sharing details, sharing styles, and linking up saying things like "you know, if you're ever in Switzerland hit me up," and it's a lovely bringing together of a community that is pretty tight and like-minded but doesn't typically communicate too much within itself. And that's really valuable. There's no real sense of ego or bravado, it's just "let's get together and paint this wall."
This one was mostly Asian artists from Thailand, Japan, China and obviously loads of artists from Vietnam. And then there were some western guys, some immigrants like me and then people from all over: Brazil, Europe, America, Canada, all over. Everyone got to share ideas and styles. I think it gave the European and American artists some good exposure to the Asian street art culture that they wouldn't have gotten otherwise, and they realized just how much is going on here. Especially in Vietnam, it's so new. And all of this talent keeps coming up out of the woodwork, and it gave everyone an awareness that we're not alone.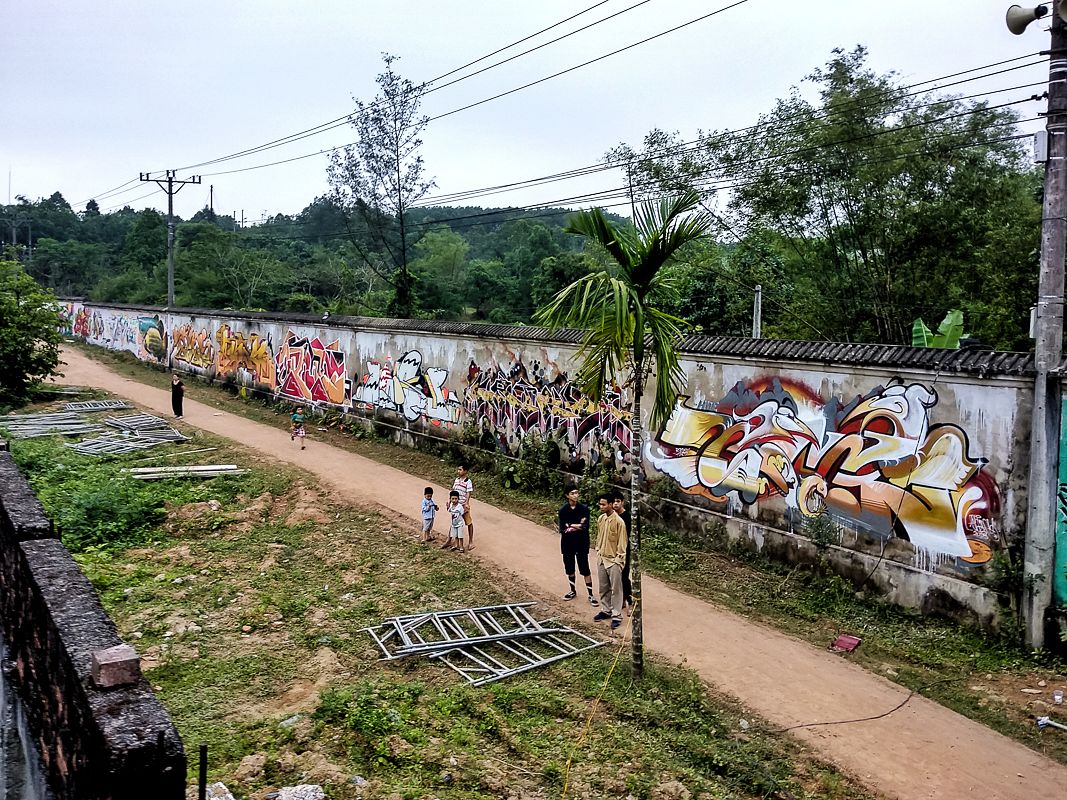 How would you say that Vietnamese street art styles have influenced your work?
There are some definite crossovers. Most of the guys that I paint with are originally from the graffiti scene here, and Vietnam has a very traditional, almost 1970s and 80s New York approach to hip-hop culture and graffiti as a part of that. There are so many b-boys and so much emphasis on sticking with that initial energy that hip-hop had, and they have super classic styles. There's definitely an old-school feel to it, whereas a lot of the foreigners have made it a point to follow a certain progression; in both musical and visual styles, they're at more of an experimental stage. There's a lot more abstraction and weirder characters, and I think that feeds into the local scene as well.
There's an enthusiasm and a drive to the Vietnamese painters, they show a real push to set up events and go paint, and I think that we as foreigners definitely feel that energy. There's this more external force now that's pushing us to get out, and whereas other scenes in other places can be quite closed-off and cliquey, there's an openness here and we're constantly able to nip down and do a painting. And then us bringing fresh styles has led to a lot of development, even just in the time that I've been here. There's people that are getting seriously good, and very technical with their skills.
How do invitations to the Meeting of Styles work?
It was quite informal for us. I hang out with a lot of the guys from the scene, and after buying a lot of paint from Anoir, we got to know him pretty well. As soon as the event was forming, he kind of just assumed that we would get involved at some level. Some people were invited from further afield, some people got in touch with An, and others found it through the international organization. People had to make their own way financially. You definitely have to want to come, and people were really happy to do that.
What does the future hold for Meeting of Styles in Vietnam?
I think it's going to keep going here in Vietnam. Anoir is planning on doing one every year, in different cities. There's more sponsorship coming in from the paint companies, and more interest as the scene grows. So hopefully onwards and upwards. The aim was to present graffiti as a positive movement, and I think we did that.
See a video about the event below:
---

Related Articles:
---