Vietnam is shifting from the old world to the new. As socialism yields to capitalism, waves of foreign investment are reshaping both the nation's values and its landscapes. In rural areas, these winds of change are just a breeze, but in strange microcosms across the country, they're hurricanes. Gated cities are springing up across Vietnam. Exploring them gives a taste of what the nation could become if it does not take steps to preserve its character. They are presented as examples of modernism and grandeur but lack any reflection of Vietnam's rich culture.
Editor's note: The views expressed in this article are those of the author and do not necessarily reflect the views of Urbanist Hanoi.
Splendora is a US$3.5 billion "first-class urban area" on the outskirts of Hanoi. Its towers loom above nearby rice paddies. It's safe to say their website's copywriter took creative license with claims that Splendora is a "symbol of global life" with the "economic dynamic of New York, the sophisticated fashion and culture of Paris, and the excitement […] of Sydney." Hanoi is a true melting pot of cultures; any turn is just as likely to lead you to time-worn temples as it is a Parisian bakery or burnt-yellow, Soviet-era mansion. Splendora couldn't be more different.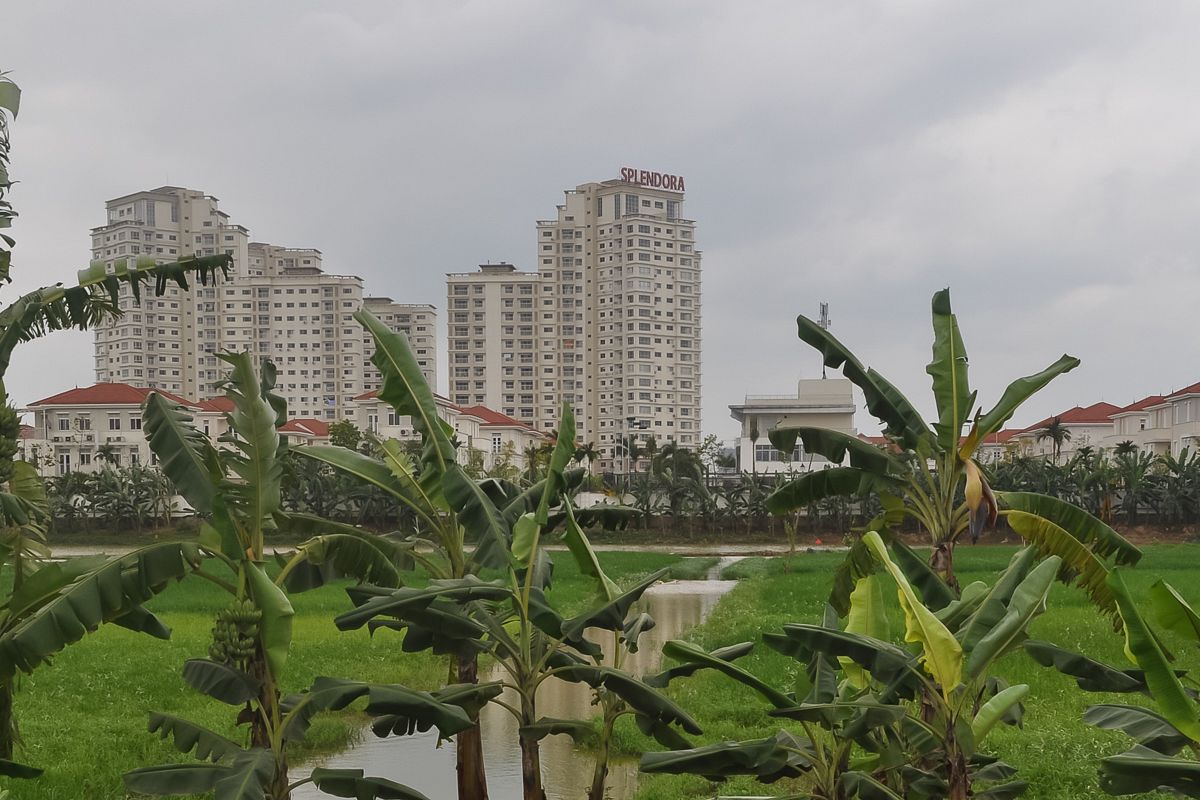 There are none of Hanoi's tree-lined boulevards. No brides fighting for the best romantic photo-spots. Not even a pair of wizened old men ashing cigarettes over their Chinese chess sets. Instead, Splendora's endless highways lie deserted but for the occasional lonely security guard defending his derelict ward. Where Hanoi would have mazes of misty alleyways hiding vine-covered colonial villas or secret oases, Splendora has endless cul-de-sacs of identical houses with perfectly trimmed, unused gardens.
The expected population of 35,000 in nearly 6,500 apartments and 1,300 villas seems like a pipe dream. Fewer than 5% of the properties appear occupied. Construction began in 2009, but only Phase 1 of 6 was completed by 2013. Phase 2 was implemented at the end of 2017 and remains unfinished, leaving a surreal ghost-city filled with nothing but the skeletons of houses and the occasional squatter's light. With nothing but the façades completed, it feels like a giant stage set, never intended for real living.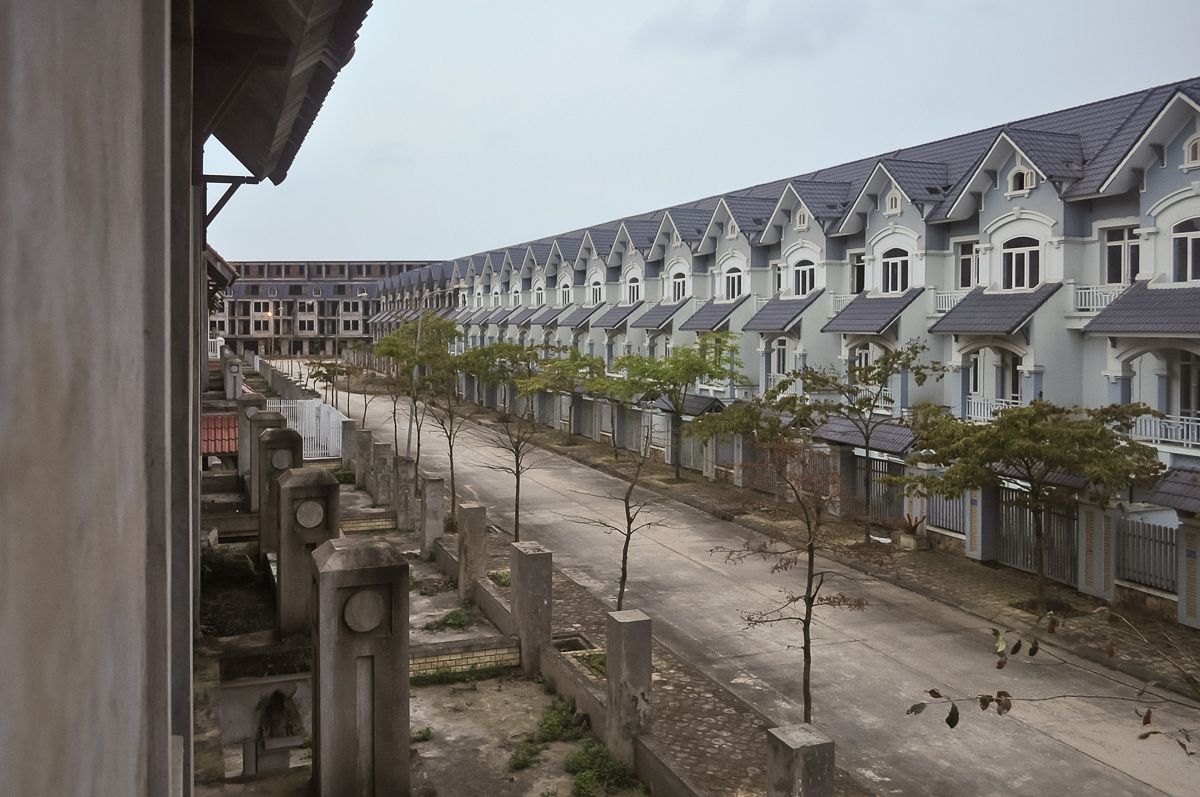 Some Vietnamese gated communities, however, have had success in attracting residents. Vinhomes Riverside is a downsized version of what Splendora aims to be, and most houses look occupied. Nguyen Trung Kien, vice president of the International Building Performance Simulation Association (IBPSA), lives in the neighborhood. "The people who live in Vinhomes – they are all successful," he told Urbanist Hanoi. "So the way they act with other people is different. From my experience, I have many good friends since I went there. They know each other well and have a good business and can share and benefit."
Yet even as a resident, he worried that it damages national identity: "I can't see it reflect Vietnamese culture. Everything is the same." Kien acknowledged that the traditional houses of Hanoi also feature western influences, but argued that unlike the gated cities, these old villas were not mere replicas of western housing, they had a unique "Indochina style."
The capital's chaotic architectural beauty stems from its uniquely liberal planning laws. By turning a blind eye to DIY extensions, the government ensured that no Hanoian house is identical; each has its own unique blend of eras and styles. Any one home can have a traditional stone ground floor, a French-colonial first floor, an art-deco second, a modern glassy third, and a function-less, medieval spire thrown on top. Each home tells a family's story. How many of these stories were destroyed to make way for large-scale modern compounds is a statistic that was unlikely to have been recorded.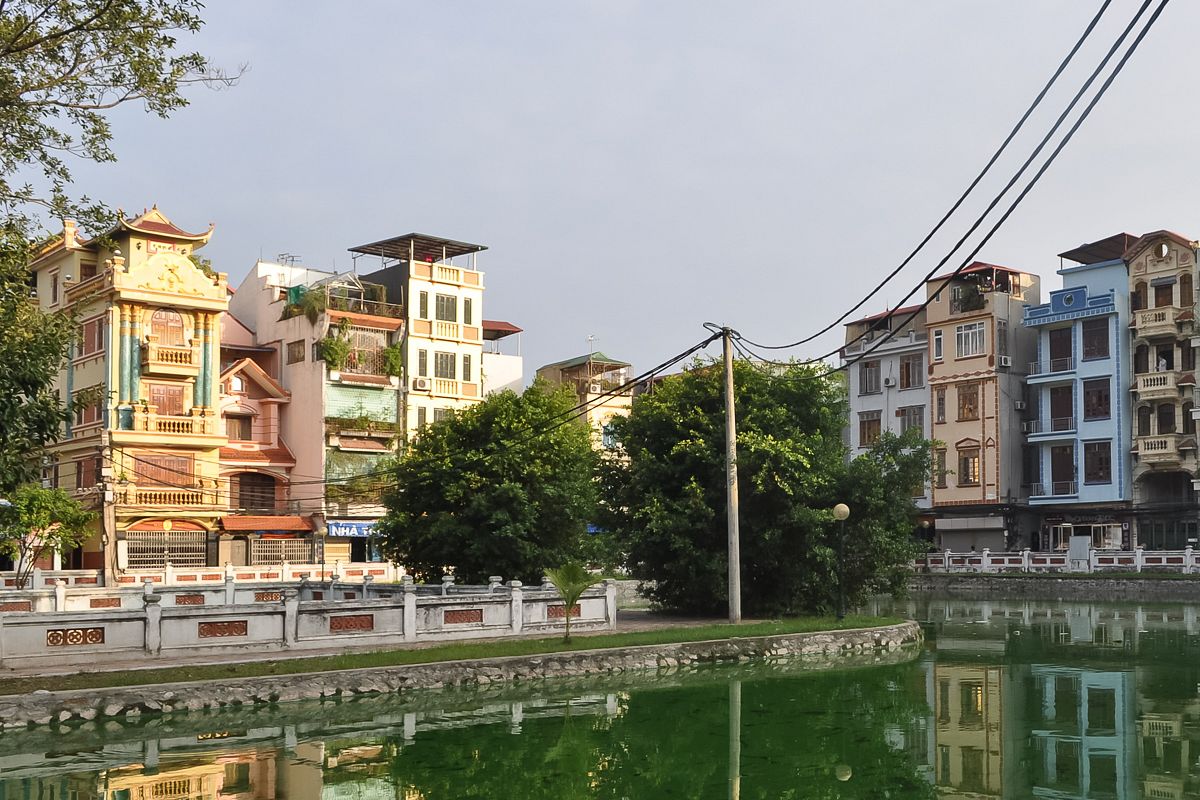 According to Daniel Lisandro Garcia, Hanoi's project leader for Baumschlager Eberle, an Austrian architecture firm, Hanoi's traditional tube housing acts as a commercially viable adaptation of local lifestyles – homes double-up as tea shops, small markets, barbers and restaurants; creating both inward practicality and outward urban community.
In contrast, according to Garcia, the uniform gated developments "not only undermine the traditional architecture patterns, which are a reflection of the lifestyle of the citizens and their culture, but also have degraded the urban quality of life." Even the western-style kitchens are on the wrong side of the house. Their proliferation for the middle and upper-classes is "devouring the real city and its collective memory," he tells Urbanist Hanoi.
Garcia went on to say that these settlements are created as "mere profit-making models," marketed on "a virtual ideal of exclusivity, family-oriented public spaces, 'eco-sustainable' architecture and high levels of security." Yet these developments "not only didn't improve the security of its residents but actually eroded the quality of the street, [eroded the] urban lifestyle of the city's occupants, and secluded the new occupants." The same goes for the eco-sustainability hook. Garcia argues that creating secluded eco-spaces is the "anti-model of sustainability;" while Kien adds that many of these developments are not even compliant to green regulations.
Not all of these communities are on the city's outskirts. A ten-minute ride from the Ho Chi Minh Mausoleum stands Ciputra City, where statues of wild horses and ballerinas dance on top of white entrance arches. Olympian statues hold up the street lights and Roman pillars enclose the roundabouts. Leisure centers, exclusive bars, shops and private schools can all be found in the complex, which is expected to house 50,000 people when completed. The goal, it seems, is to create a "community" that nobody ever needs to leave.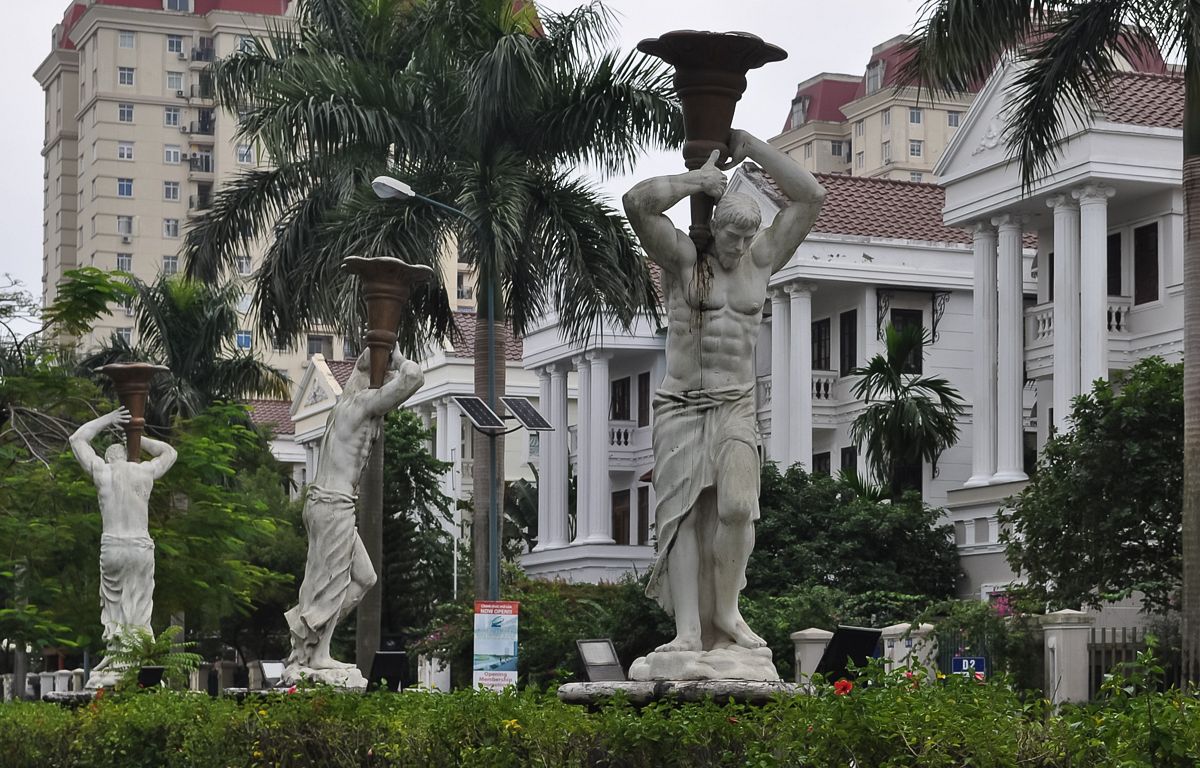 The same tolerant planning laws mentioned earlier have been praised for making Hanoi "a city without slums." Yet these new gated cities run the risk of dividing the country by salary and status. They represent a corrosive opulence and growing inequality that sows division in once tight-knit communities. As the wealthy build their own self-sustaining cities, it seems unlikely that this new money will trickle down to poorer Vietnamese communities.
These developments are happening up and down the country. As wrecking balls tear through Saigon's old villas, the tallest building in the country is soaring upwards. Da Nang, meanwhile, is creating its very own Venice – complete with canals and gondolas. These meta-suburbs are common throughout Asia, and the shores of tropical beaches are littered with half-finished urban behemoths.
In more ways than one, these developments are symbolic of the wider difficulties that Vietnam faces as its economy awakens. The problem goes beyond architectural preference or resistance to change. Change is inevitable, and it should be embraced. But if it is done with such reckless abandon, then Vietnam risks replacing its identity with cheap mimicries of the worst of western culture. Just as the houses of Hanoi tell the stories of families, the architecture of the country tells the story of a nation, and deserves to be preserved.
Alex Sinclair Lack is a writer with a passion for travel, politics, and business - follow his adventures on Twitter and Instagram.
---

Related Articles:
---