A stone's throw away from Cuc Phuong National Park in Ninh Binh Province sits La Library, an education center promoting sustainable living through sustainable agriculture farming, earthen building techniques and the art of chilling out.
Run by a small group of young Hai Phong and Hanoi locals, the project was established in 2016 and has quietly developed to become a regional example of a simple alternative lifestyle.
La sits on a 15,000-square-meter plot, and the team of four friends and housemates collectively run the food forest, while also running La Architects & Construction, the earthen-building design agency. They also lead an array of programs ranging from gardening and organic materials research to sculpture. A makerspace in the communal nhà sàn is available, welcoming artists and creatives to experiment with natural materials.
When asked why he started the project, founder Nguyen Minh Vu says, "We want to put an end to the education of damaging which teaches people to change and fight nature, we want to establish a new education of living in harmony with nature, where human beings are a part of nature and all living activities stick to healing nature, such as building the soil, building homes with natural materials, etc."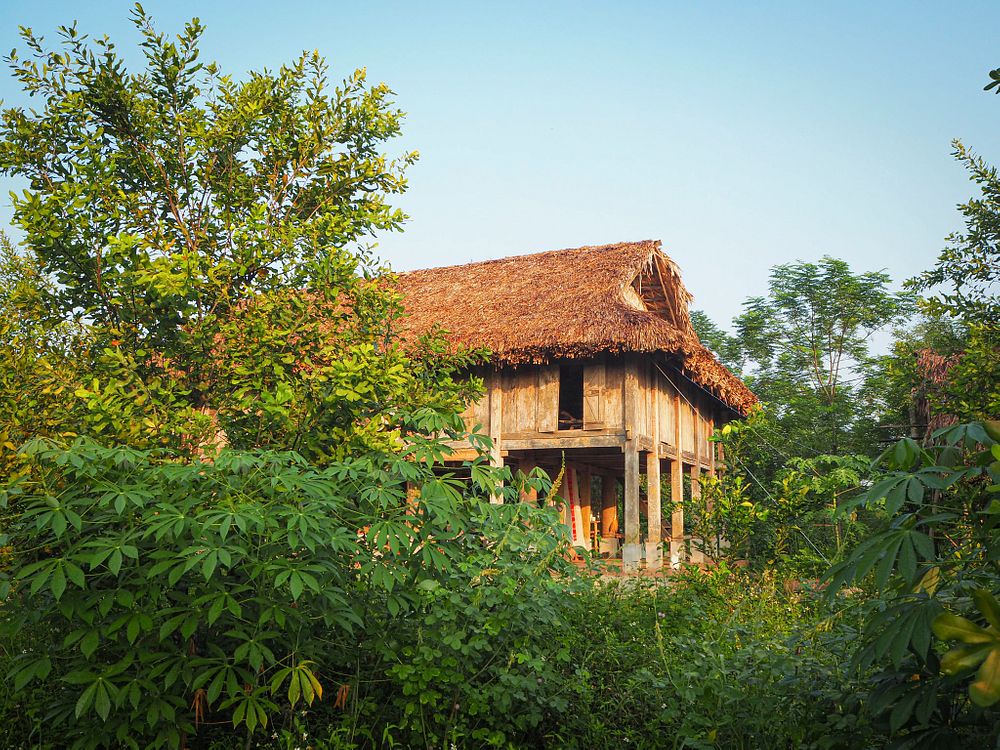 After years spent recovering the soil's nutrients that were depleted by the pineapple farm that was previously located here, the grounds are now dense with stands of fruit, vegetables, herbs, nuts and even honey. The daily rituals include gathering food for woodfire cooking, spotting the broccoli from afar, discovering eggplants hidden under leaves, craning necks helplessly at the ripened pawpaw desperately too high (for the non-tree climber).
All daily chores fall in line with the project's educational philosophy: "Life." Says Vu, "I manage to have a living style of sustainability which connects all living activities with healing nature. We cook with a fire stove, we use organic waste and ashes for the garden. We lead the grey water to a swale near the house, then anytime we wash our veggies or dishes, the garden is watered. I can share so many simple things like these."
Many of the center's activities revolve around the development of earthen-building techniques, and those interested can visit La to learn first-hand skills ranging from bamboo building design and Japanese wattle and daub construction to making compressed earthen blocks (CEB) to adobe bricklaying.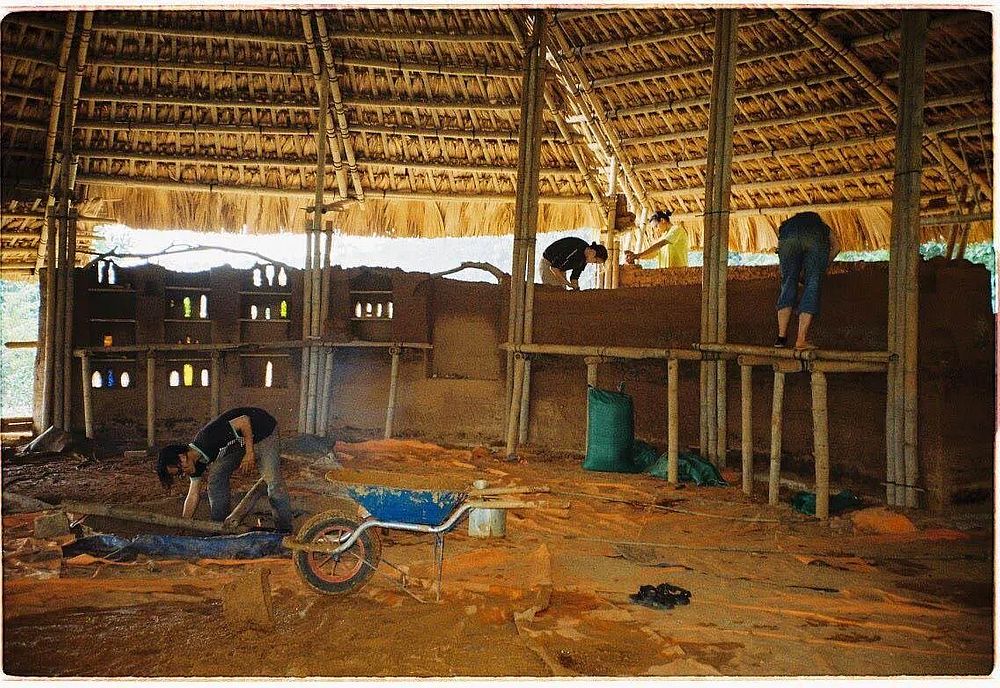 Ellie Shipman spent time at La and recounted her experience: "I learnt so much more than I expected all round, but particularly how the building, the food and the people are all interconnected to the local landscape. The building materials and our food were coming from the ground on site, and to be fueled by this food and use it to turn these natural clays and stone into a structure was an incredible learning experience."
"The workshop I attended at La Library was a five-day course on natural building construction techniques," added Francesco Montresor, another visitor. "It was focused on continuing the construction of the library that had been started by the La Library Team. At that time, the bamboo roof was already up, but some walls still had to be completed, and all of them had to be plastered. The bricks, the mortar and the plaster, were all made of various proportions of soil, clay, and rice husk, and much of our work revolved around digging soil, digging soil, and digging soil. Soil was then mixed with our feet on big tarps and used to make bricks, as mortar, or plaster. A lot of soil, very brown and very orange. By the end of the day we would be covered in soil. It is a good mosquito repellent. Lots of mosquitoes at La Library!"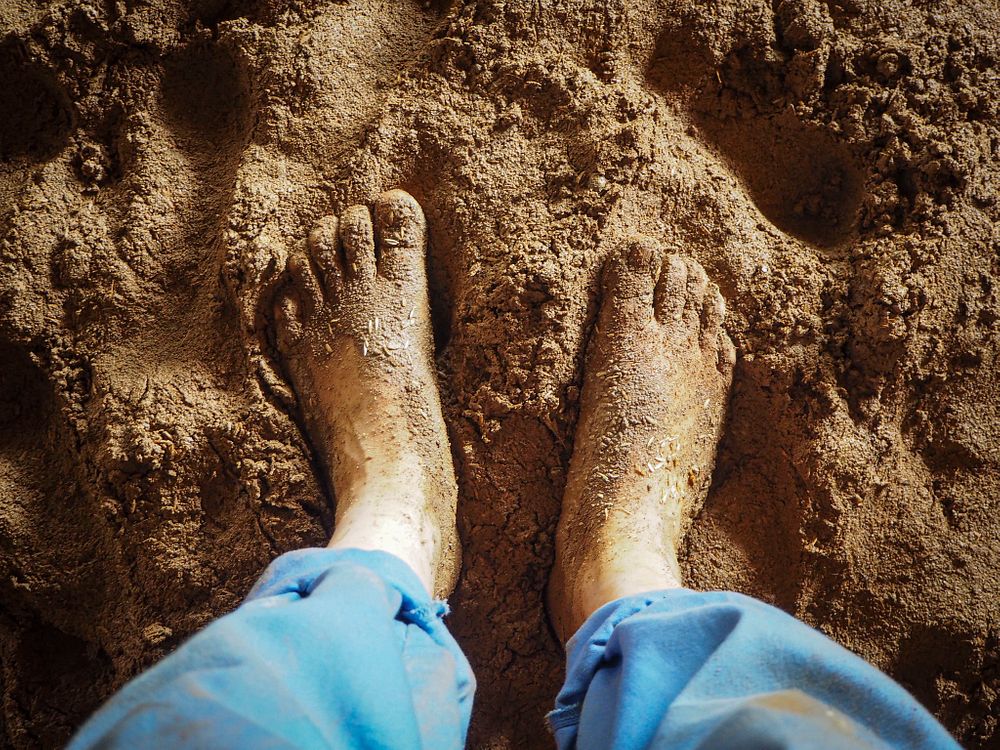 In 2018, La Architects & Construction, the group's architecture agency, was established to provide consultancy and construction services for external clients. This was an important milestone for the group, and now with some projects constructed around Hanoi, it gives them more opportunities to share their knowledge and philosophy.
"We consider ourselves as connectors, between people and nature; and as successors of ancient and modern achievement," Vu explained. "Hence, each and every construction is based on people's needs and our observation of natural factors combined with landscape design for a true home to crop up from the land."
In January, I was asked to animal-sit the library's pets. I had met Vu some months earlier when he was leading the "Tiny House" construction workshop at Xom Bac Cau Garden in Hanoi and, to be honest, my frustratingly cynical tendencies and pathetically urban reference base laced my curiosity with doubt. Perhaps we are led to believe in the impossibility of truly sustainable living, for surely the concept of self-sustainability does not feed into a capitalist market economy. Is it all too good to be true? All I know is that in the space of 24 hours, Vu had us ripping our own yam out of the ground for dinner.
As Montresor puts it: "The experience is amazing mostly because of the people running the space, a super friendly group of young and talented people that are taking things slow and stress-free, because that's how you should take life."