He is floating; Le Anh knows how to twist with grace, as if any of the 650 muscles of his body weren't absolutely contorted around a cold, long metal tube.
His entire body hangs without falling while the aesthetics of the posture trick us into believing his gravitational point comes only from his waist. A mixture of balance, confidence and small clothing, otherwise, he wouldn't be able to maintain himself upside down. Wearing high heels doesn't make it any easier.
Next to him is Tuyet Mai Dang, an intimidating force while performing, her body truly transforms into an instrument of the music that is playing. She stares at the pole as if it was her prey; a full demonstration of flexibility and skill. She is strong and has shown a samurai discipline so far. She makes a total contrast to the green sweater and modest dress she normally wears — to the point I couldn't recognize her the second time we met for an interview.
What Le Anh and Mai have in common is a passion for pole dancing. More than just a stereotype, this sport has earned a place as one of the most popular fitness and leisure activities around the world during recent years. Although it's quite new in Asia, it has made its way to Vietnam, and Hanoi is no exception.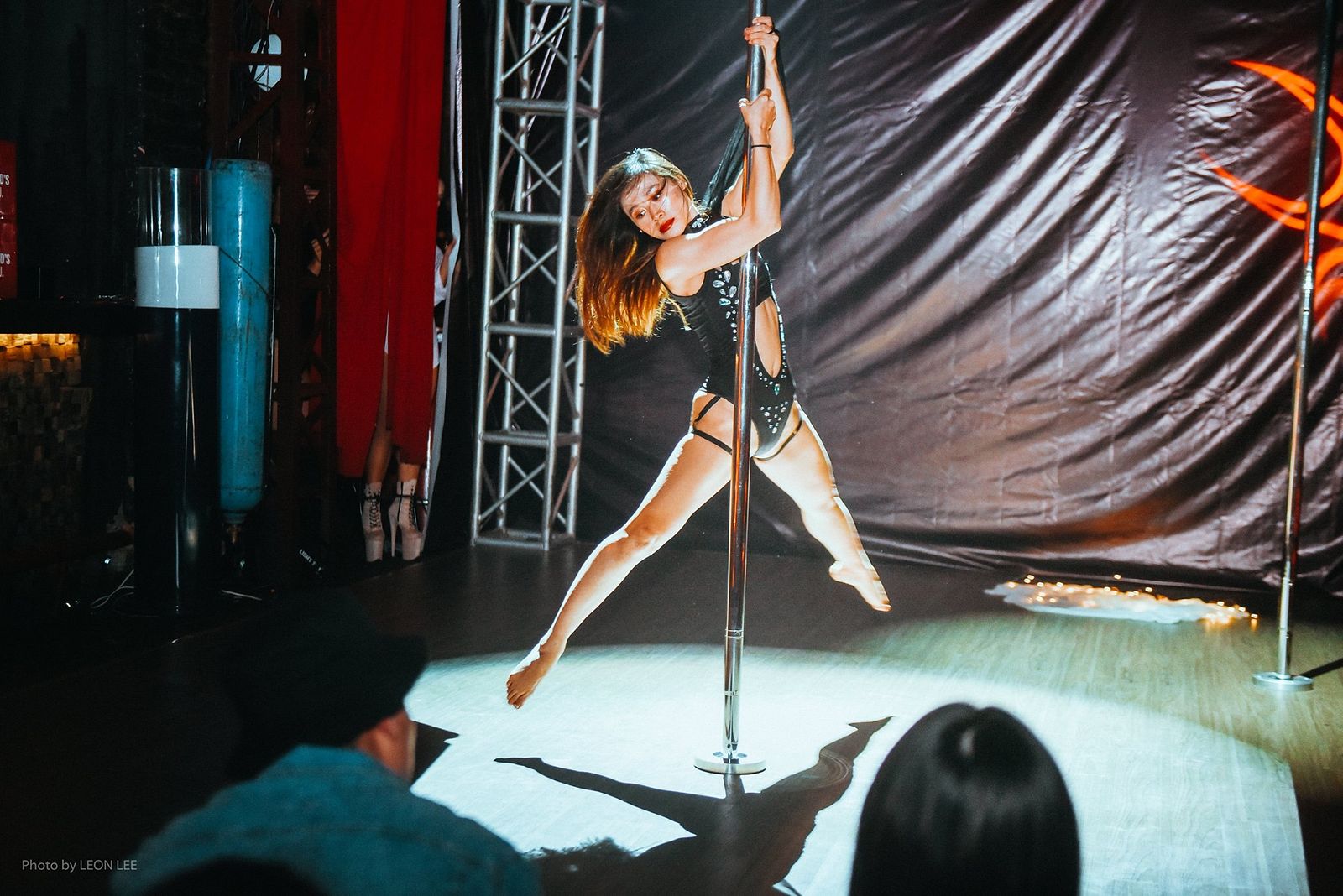 "Without saying a word, you can tell a story. The best instructor I had guided me into feeling the music and how to align that into body movements," Mai said. "You give the story that you feel. This has helped me to develop my musicality and to see dancing as a manner to express myself."
Mai speaks about pole dancing as a way of living. She's 29 years old and has been practicing it for almost two years. "At the beginning, it's very difficult to get used to the bruises, my legs were full of them, but after that, you understand that the reason why you have to go through that is because your skin needs the direct contact with the pole or you will fall. What changes the game is the way you relate to it," she says while sipping her hot bạc xỉu at a coffee shop.
Pole dances hit her in the middle of the night with the spark of a new idea, like other artists, and pole dancing has become a way of expressing her spirit through the language of movement, in her own words: "You allow music to happen and then you become what you are dancing. Some people like to be provocative, others sensual, but the real thing is just to let yourself be guided by the music."
Although Le Anh considered pole dancing more of a sport in his early days, he has found the art of it after practicing for three years. "If people have a passion, their lives would be more meaningful and not so monotonous, life is not about coming to work every day," says the 20-year old whose goal is to make it to an international competition to be held in Singapore next year.
"It has an indispensable role in my life. Practicing pole dance is my daily routine. Every day before I start my day I get on the pole and practice freestyle. That boosts my day entirely, it makes me happier, more confident about everything, gives me energy and makes me feel optimistic about life," Le Anh adds. He is currently studying a Bachelor Degree in International Business.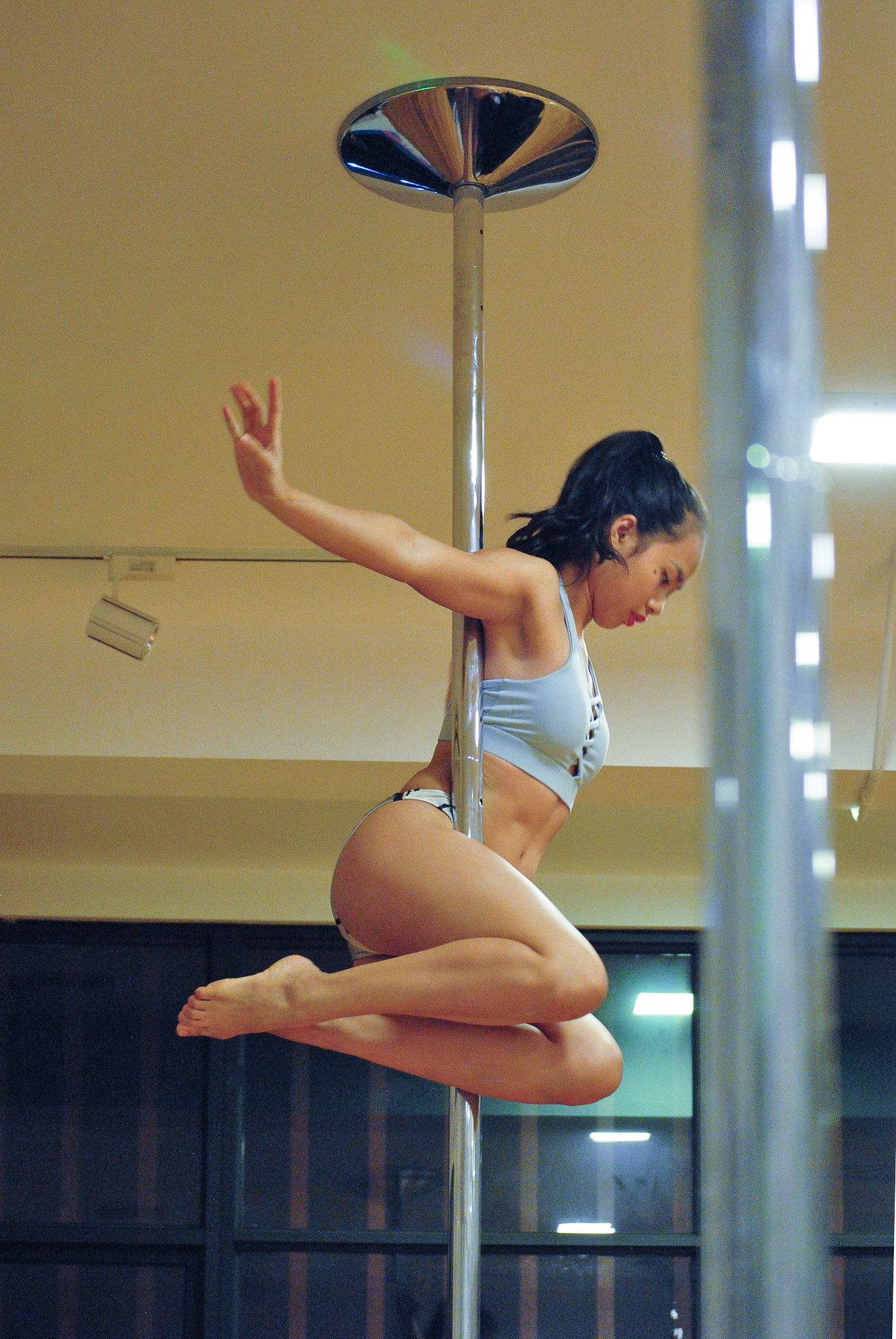 Mai confesses that one of the techniques she enjoys the most is called 'push and pull.' "You pretend that the pole is a person, you seduce it, you push it away. It's like flirting with someone," she explains. Despite advancements, there remains a prejudice against pole dancing as a sport or art, and that is why many people find it provocative, as the only thing people know about it is probably what they have seen in movies, which generally have a negative or vulgar connotation.
Still, pole dancing is quite a sensual activity. When I question Mai and Le Anh about where they would place it on the spectrum from vulgarity to sensuality, they say that sensuality comes from the subtle movements of your body and the combination of a tool like the pole. "It doesn't need to be provocative unless you have the total intention of it," Mai clarified.
For both, the hardest part was the beginning, as their family and relatives couldn't understand their fascination with pole dancing. "My mom used to ask me, 'Why? Why did you chose pole if there are so many other types of dancing?'" Mai says. Le Anh's story is similar.
At first he was criticized on his social media accounts by relatives, but after posting pictures and videos on a daily basis, they became fans. "I didn't know you were so flexible," his parents told him after seeing him perform in the annual showcase of pole dancing in Hanoi, which is celebrated in mid-December.
"I just had to show her some videos on Instagram and she realized that to be a poler is to be an athlete. She is proud of me now," Mai continues. Her experience has also opened her mind to different styles of dancing. "Exotic pole is another category of it. This one is more provocative, but after practicing for two years I realized that this kind requires certain mastery and acrobatics, so I'm not closed to try it someday," she shares.
"Everyone can try it, any kind of shape, size or body type. It is so inspirational to see my classmates who are over 40 years old and have kids trying it, as well as larger girls who have so much more confidence and self-love. I feel so inspired by them," says Mai.
Before pole dancing, Mai hadn't tried any other sport, and Le Anh has a background in martial arts, but as he explains, "I didn't feel the connection I feel with pole dancing, it really suits my personality."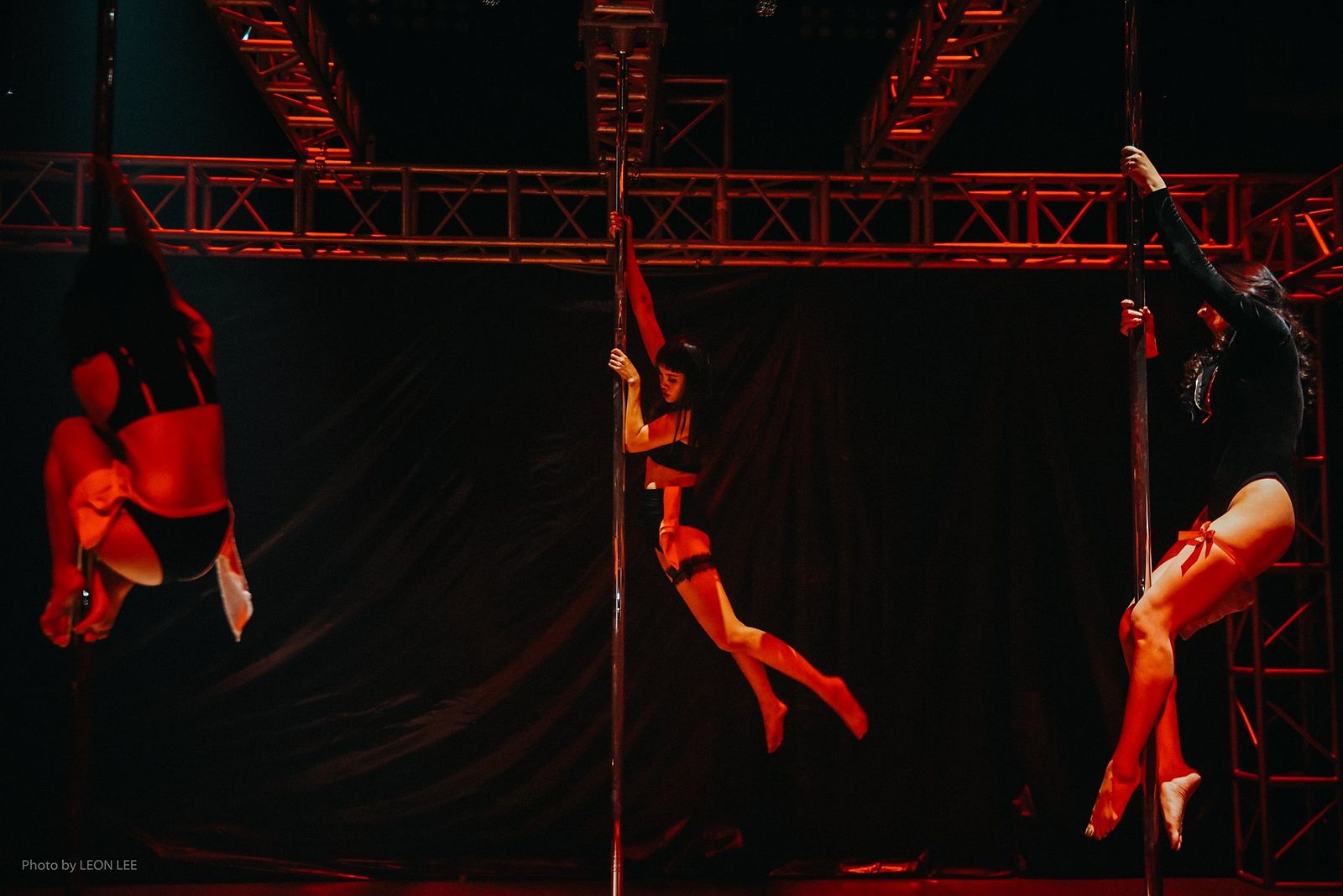 What these two professional dancers agree upon is the empowering experience of challenging yourself through technique, discipline and performing art that requires the opening of your senses to transmit an emotion or a feeling. As Mai reminded me, through her passion she embraces her sensuality, and doing something with it is quite an empowering experience:
"I do feel the empowerment of my femininity, of our beauty, our movements. Every time we go to the studio we can see how everybody's body shape changes, of course for the better, and after training for a while you get stronger. When we look at the mirror we feel so much love. We started to love ourselves more!"
Top photo: Le Anh on stage. Photo by Leon Lee.