Nguyen is the first female artist to win the art prize since its establishment.
On June 29, the Singapore Art Museum announced Phan Thao Nguyen, a Saigon-based contemporary artist, as the winner of its Signature Art Prize for her 'Tropical Siesta.' The Signature Art Prize is a triennial award established by the Singapore Art Museum and the Asia-Pacific Breweries Foundation in 2008, Southeast Asia Globe reports. The award recognizes the best contemporary art in Asia-Pacific and Central Asia.
In 'Tropical Siesta,' a group of children was asked to reenact several observations noted down by Alexander de Rhodes — a French Jesuit missionary who is often credited as the founding father of the romanized Vietnamese script quốc ngữ — in his book History of the Kingdom of Tonkin in 1650. The artwork relies on painting and film as seen in two juxtaposing videos.
The setting for 'Tropical Siesta' is an imaginary rural area populated by only children. Nguyen said she wanted to create a false utopia where the scenery is beautiful, yet the realities are far from perfect. Via this project, Nguyen challenges the idea of a public history, while critiquing the exclusionary politics of modernization and transformation in Vietnam as exemplified by the romanization of Vietnamese.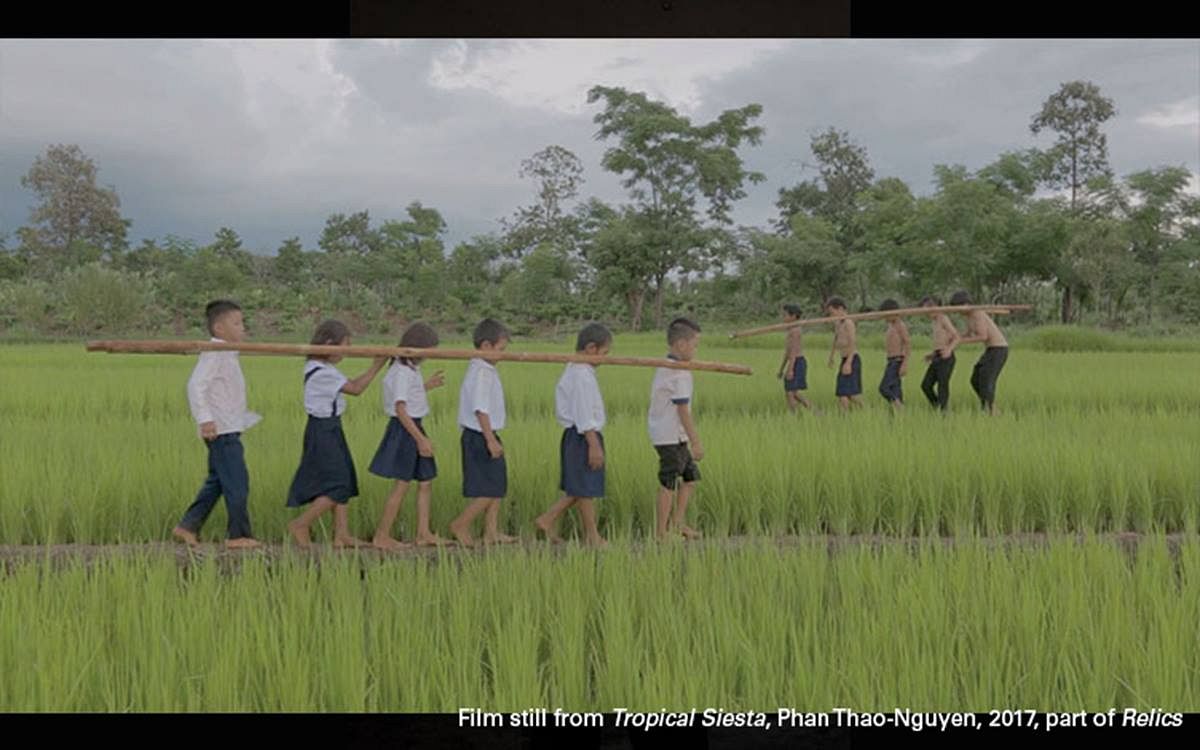 "We usually think that it is a must to find a character, make them into a monument, and let them become the hero or someone who could represent our many ideologies," Nguyen told Hanoi Grapevine, adding that the romanization of Vietnamese is not a work of one man, but rather a cumulative effort.
Nguyen also said that the content for the video came from her personal understanding of Vietnam, whose transformation also brought about ruptures and pain. "It is not something people mention often, but the truth is comparing to other countries, Vietnam suffered immensely from wars, from colonialism, or even right now, from other social issues," Nguyen added.
Nguyen will spend part of the prize money supporting the children in Gia Lai Province that had helped to produce 'Tropical Siesta,' so as to improve their current living conditions.
In total, 113 artworks from 46 countries were nominated for the prize. The shortlist included 15 finalists selected by a panel of art experts before the four winners were picked. The winner of the Grand Prize received SGD$60,000, the two Jurors' Choice Award winners received SGD$15,000 each, and the artwork that has the highest number of public vote received SGD$10,000.
Check out an interview with Phan Thao Nguyen by Post Vidai in the video below:
[Top photo via Rolex: Mentor & Protége]
---

Related Articles
---