Trần Lâm Bình's new experiment with lacquer, sơn mài, offers a refreshing perspective into life during the pandemic, and Vietnamese identity in the context of globalization.
Moving beyond his comfort zone, Bình's series of lacquer paintings invites viewers to ponder deep questions and be open to his compassionate outlook. Being alone yet longing for love, grieving yet hopeful, searching for individuality without losing touch with community, striving for the global without uprooting the local: this is where Bình stands in his stories.
The unusually large size of the paintings reflects Bình's ambition. His technique of working with lacquer, meanwhile, innovates this national art form without revolutionizing it.
"I do not mean to create a breakthrough, but to offer my own interpretation of the medium," said Bình. He introduces contrast to the subtle colors of traditional lacquer by adding industrial materials that glitter. He also projects his complex emotions on to the lacquer surface. The rich texture is a combination of roughness and smoothness, shades and shadows instead of lacquer's conventional shiny look. As his artistic peer Lê Võ Tuân observes, Bình's unique interpretation of the medium brings a new perspective to the local art scene.
Bình's journey into the world of art started at Hue's College of Arts, where remnants of French influence remain. He then followed up his education at the Hanoi University of Fine Arts. I was curious how this training shaped Bình's approach to art. He shared without reluctance that while college training provided him with a foundation, his dedication to work is almost like answering a higher calling.
Originally from Quảng Bình Province, where none of Bình's family members have a background or interest in arts, Bình's commitment to walk his own path made him confront his parents quite a few times until he got them on his side. "I do not think that I am influenced by a particular art tradition. Whenever a new idea occurs, I'll work with a chosen material to realize it. I may change the mediums, but the voice is always my own. I am still striving to establish my identity as an artist," Bình told me in Vietnamese.
The new lacquer paintings are the fruit of two years of work, a self-isolation project in a studio in the outskirts of Hue. His days started at 6am and ended around 10pm. In addition to lacquers, Bình created two giant wooden oil lamps with traditional patterns. "It was the inner flame that kept me going and shining through this journey," he said. Notwithstanding their beauty, the lamps can invoke a sense of melancholy in the eyes of the viewers.
'Love in Covid Time' is Bình's response to the pandemic when it broke out. The painting presents a range of images that are familiar to audiences across the globe: toilet paper rolls, the serious faces of the US and Chinese presidents at the time. Bình and his girlfriend are interwoven into the background, either kissing or alone in their facemasks. It seems, however, that the painting is not born out of a clear intention. It is Bình's eclectic reflection of a bizarre time in history instead. It is his way of making sense of the external chaotic world.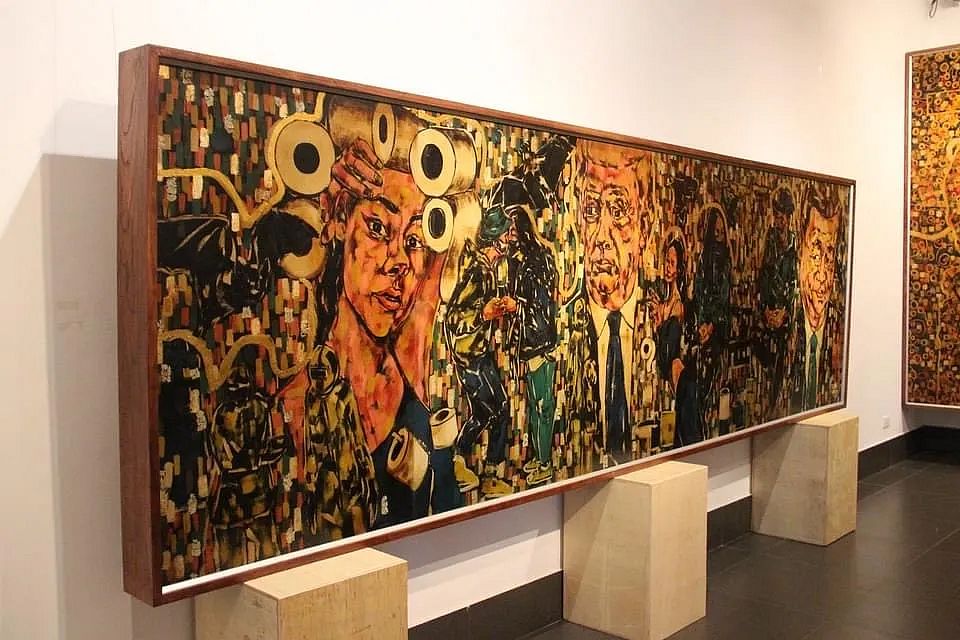 'Girls and facemasks' is another painting that expresses Bình's grief for beauty and womanhood in the pandemic. What gives the painting a distinct Vietnamese flavor is the image of a beautiful woman in traditional áo dài that changes from a natural look to one covered in a medical mask. Unlike the above painting, this one sends a hopeful message, as Bình surrounds the woman with hearts and text of "the light that keeps shining."
'Cosmetic surgery' also presents a nostalgic mood of grieving natural beauty, although it is not pandemic-related. Bình's voice in this painting is bold. He does not like the way modernization and cosmetic surgery influence women's body image. He certainly does not shy away from engaging in nudity to deliver that message. 'Inner world,' or 'Nỗi Lòng,' adds to Bình's fascination with women and identity. The different looks that he painted of his female friend show an elusive and shifting boundary between her interior and exterior worlds.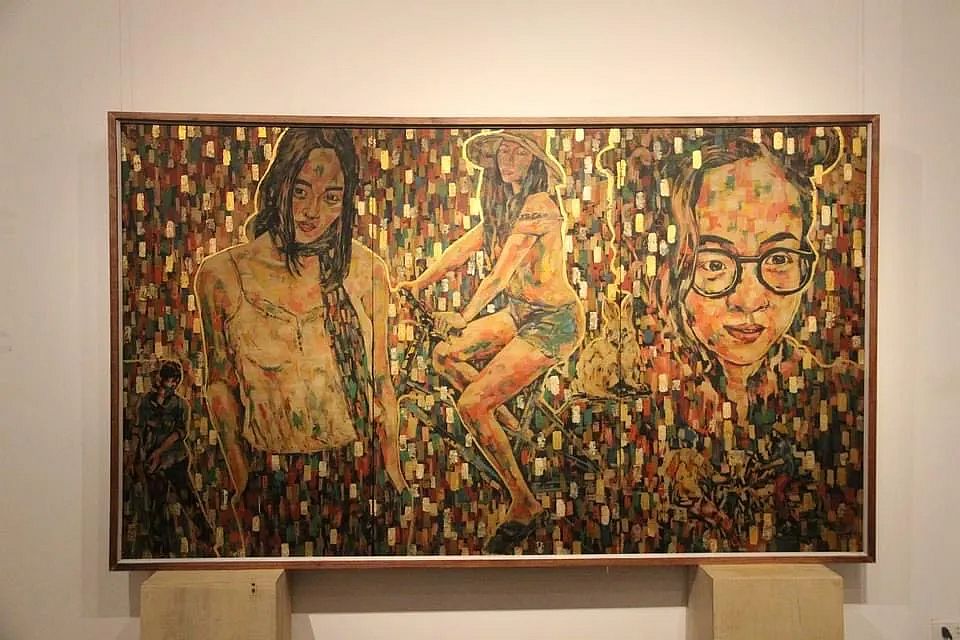 Making ends meet, 'Mưu Sinh,' presents Bình's compassionate outlook to his fellow humans. It acknowledges those working in the streets by bringing them into art. Bình's signature use of silver lining creates a connection between people from different walks of life. The community is the fabric of life, in which he is both a member and an observer. It is not a surprise that his message aligns with the artist community. Phạm Văn Hạng, a sculptor, praises Bình's vulnerability yet empathetic touch.
'The Emperor's Dream' is perhaps Bình's most ambitious work. While the title may provoke one's thoughts about royalty in the 21st century, the large mural is Bình's depiction of Vietnam's history and cultural identity. Its surreal look represents a continuity between Hue's last royal families and his generation. Time flows, albeit slowly, without interruption. Keep going and looking forward, Bình's intention is to continue the theme with more pieces. "I will work on three or four sequential projects in the next couple of years," he said.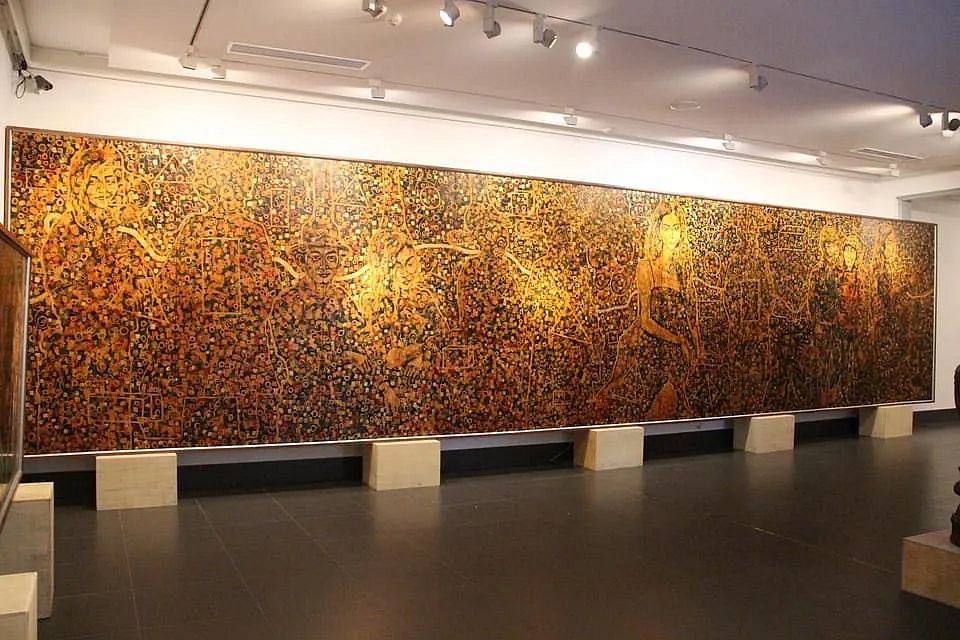 "I have been to Europe and America, yet Hue's beauty is always the source of my inspiration. I attempt to bring about the cultural identity of Vietnamese people and their resilience against all odds in this painting. I can only be open to the future when I respect the past," Bình shared passionately. The sublimity is the patriotism. The flow of images in the sequence painting symbolizes nước, the flowing water that creates a river, and also đất-nước, the country that is formed by its land and water.
I am looking forward to seeing how Bình lets this story unfold in his future paintings.
To see more of Bình's work, visit his website.