In 2014, a group of restless young Vietnamese set up Nirvana, Hanoi's first-ever punk streetwear store. In a city known for politics, and where the thickness of history constantly reminds us of the past, their brand stood out like flames on a wedding dress.
Back then, they say, the punk aesthetic was perceived as "weird." Like many outfits trying to break new ground in Vietnam, they struggled to make sales. In the beginning, most orders came in from overseas.
With no prior knowledge of marketing, the team created a lookbook, branding and clothing lines, all defined by their deviating style. Eventually, people started to recognize and accept this new aesthetic. In 2018, the group expanded and formed Antiantiart, a production house based in Hanoi, and cemented their appeal with edgy, cyberpunk-inspired videos.
Following the launch of their first showreel, graphic designer Ngo Phuong Linh sat down with Antiantiart founder Phuong Vu and other team members to discuss hustling, authentic expression and anti-beauty sentiment. The following interview was edited for clarity and translated from Vietnamese.
How many people are on the team?
There are 10 of us. There's me [Phuong Vu], Huyen Anh…She's cool. She takes care of our art direction and graphic design. Moc, he's our videographer, I met him at a dance show. Ba Viet, our editor. An Khang, he's a coder who creates and manages our AI. There's also two members who couldn't make it today: Thai Linh, another Nirvana co-founder, and Tikay, who is our 3D artist. Previously, we worked with Plaaastic.
You guys developed AI that can make art for you? How does that work?
Yeah. Some stuff takes a whole day to edit. AI takes minutes. I can upload a Dong Ho painting and add some other elements and the AI will create an art piece with these elements in a Dong Ho style…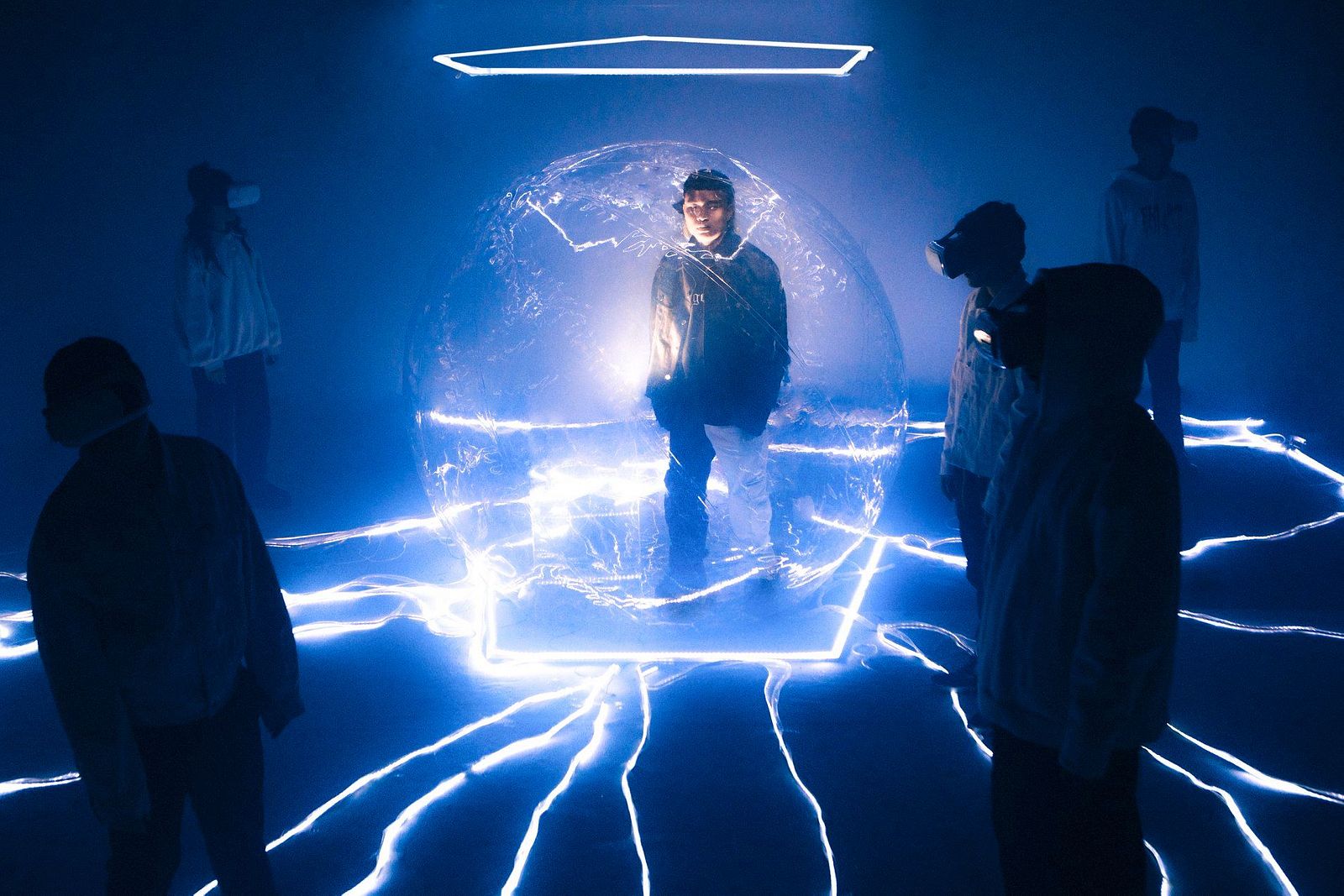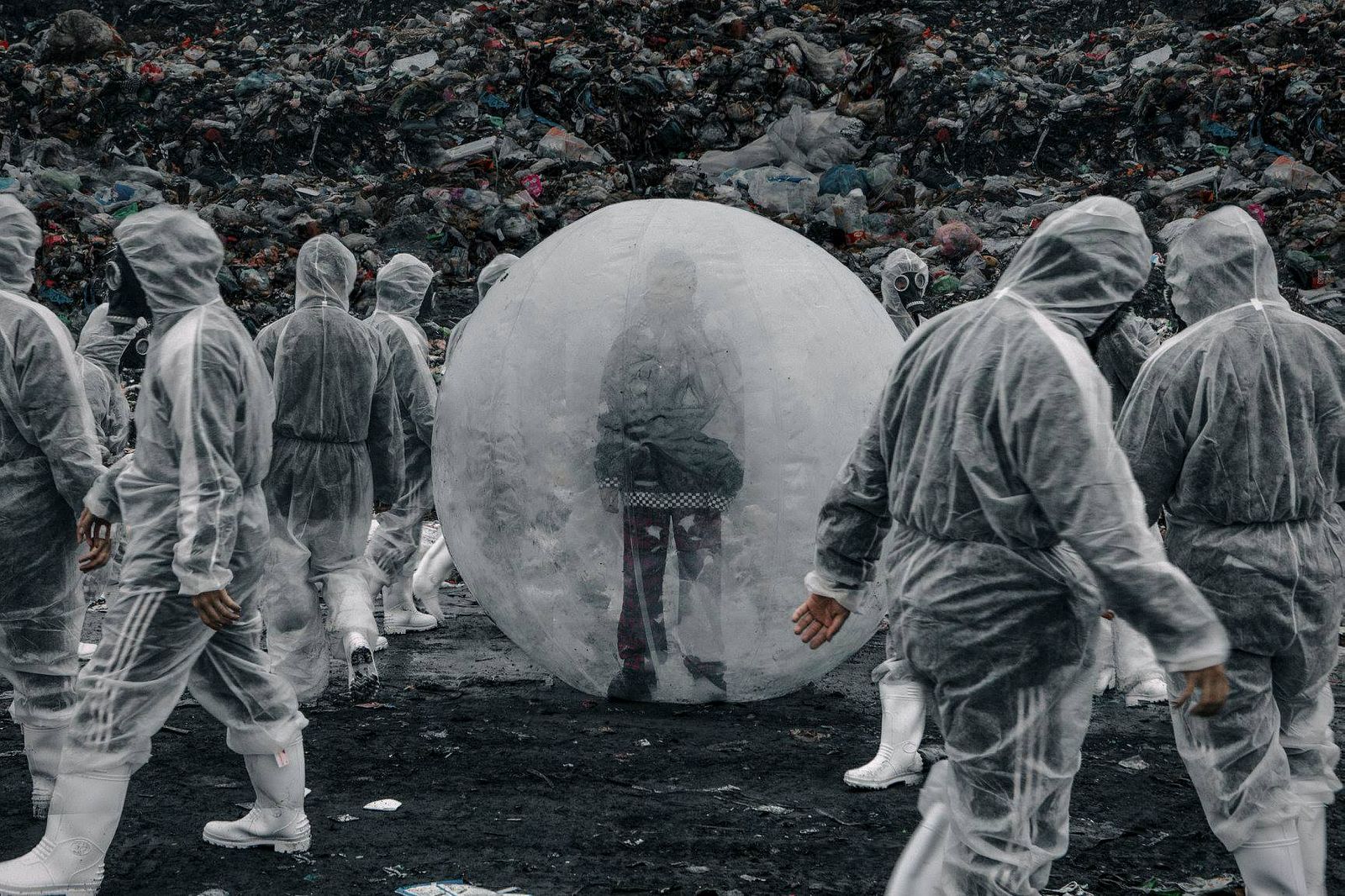 So how did everything start?
Honestly, it's been a long journey. I remember being a hustler. My background was nothing artsy at all. I studied journalism. Actually, I'm still in school. Man, it's taking so long to finish. I used to sell stuff — everything from cell-phones, motorbikes and ringtones to thrift clothes. I used to dance with Thai Linh in Last Fire Crew, then we started Nirvana together. I started with only VND700,000, but we're still going. Before that, I remember just taking photos with my phone. My friend would say "really nice photos you took." Later, he gave me a film camera, the first I've ever owned. It was like someone just handed me a dream. I started taking photos and I've never stopped.
How do you all work together?
Initially, we were just shooting for a lookbook and making content for Nirvana. We didn't make money selling clothes back then, but we always had an urge to make art. Everyone in the team is an expert at something — I'm the guy that brings people together. After some time, people began to recognize our work and contacted us. But when people reached out and ordered us to make art in a certain way for them...you see that's a problem, right? We didn't want to do that. We're better doing us.
Sure. And what about the videos now?
This showreel features all our work since the beginning. Everything is just an expression of our world. You know we're a bunch of amateurs, right? We didn't understand the process before. When a client came in with an impossible budget, we just looked at each other and thought "Damn, but we have so many ideas, let's just find a way to make it happen." We often undercharged; some of these videos were made with a VND5,000,000 (US$230) budget.
So you really can create good visuals without a budget?
It all goes back to the core idea. We are known as this crazy-ass group that's always up to no good. If we want fire, we make a fire in the park...stack up TVs on water…blow up a mannequin if that's what it takes…and real fire. One time we were trying to do a three-second film of me burning things in a toilet, but we didn't know there was a gas leak under the floor. As soon as I lit the fire it blew up, everybody ran away and I don't know how I'm still alive after that. We ended up having this amazing footage. We're very unprofessional, in a sense: no planning, no process whatsoever, everything made from scratch. But it's super fun and we love doing it.
What's been your most valuable experience?
I think it was when I was working with Plaaastic in 2012. I took most of her photos. This was before Nirvana. If you knew Plaaastic, she was this unstable person but brilliant and talented at the same time. I remember being irritated and would disagree with her about a lot of stuff, but then she had this thing about her, this vision that I could never argue with. And eventually, I just followed her direction. Now that I think back, I'm very grateful for those times. She was like a mentor to me, taught me a lot about fashion photography, and was a very good friend of mine.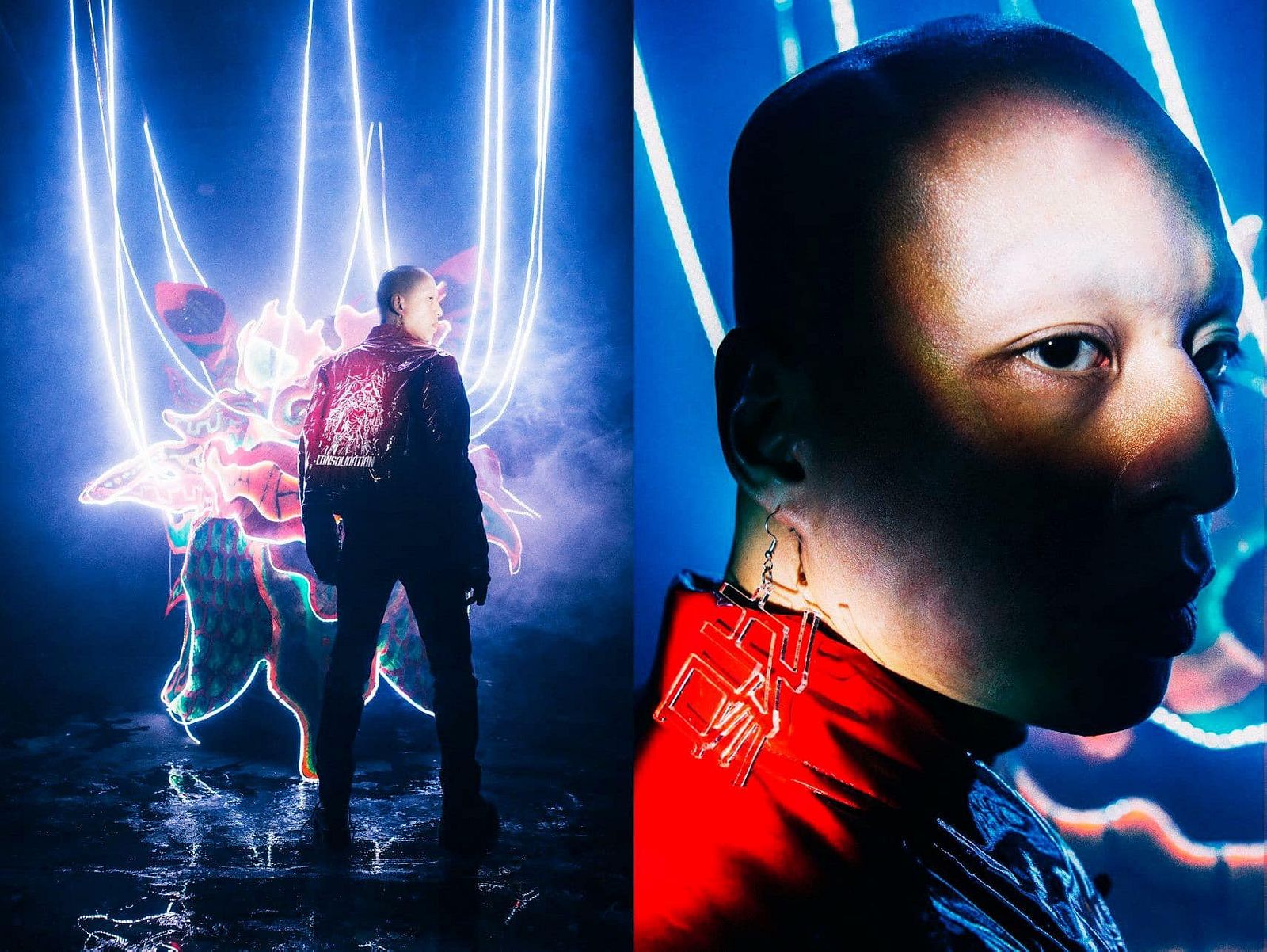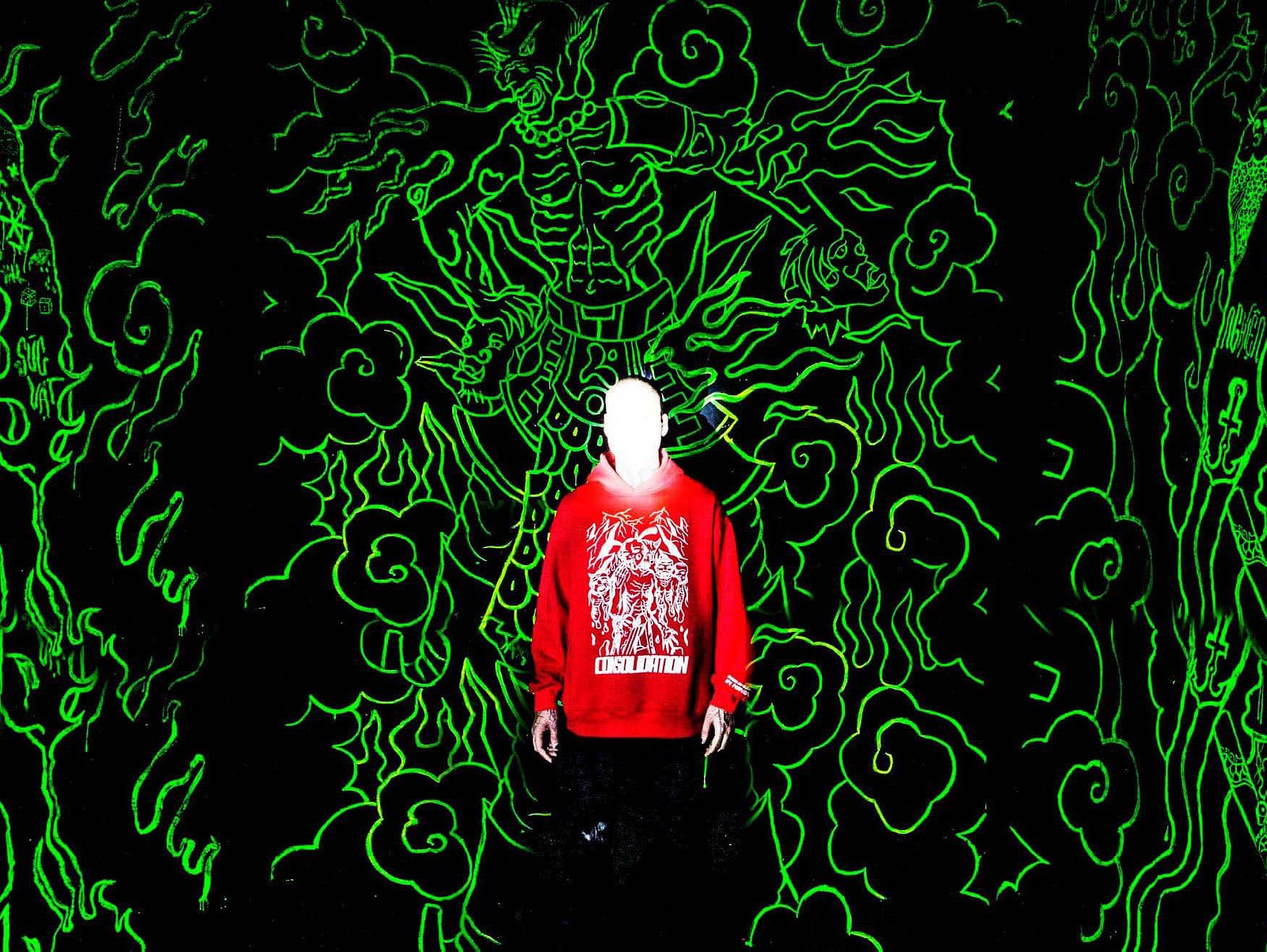 How do art and fashion relate to one another?
For me, nothing is entirely separate. Everything is connected. Art is the most extreme way of viewing something. At least, that's how it is for me. I don't have a standard for beauty or ugliness. Of course, when taking photos you have to watch your aperture and shutter speed, but there's no standard for having a vision, right? You could say Antiantiart's aesthetic is ugly and trashy. I agree it's anti-beauty. We push ugliness to an extreme to create art. It's like a paradox somehow.
You guys had your first exhibition, titled Hợp - Consolidation, in January. Most brands nowadays run towards western culture, but your exhibition made me feel proud of where I come from. What was the main idea behind the exhibition?
Thank you for that. You know, Vietnam has a complicated history. Hundreds of years of occupation, a mixture of influence from France, China, America...Most artists here struggle to find their own voice. I'm more interested in our tradition. I think that if we focus on what we already have, what our ancestors gave us, and reinvented something new for our own time, we'll create something uniquely Vietnamese. But the core idea was hell...like when you're young and your parents tell you to behave or else you'll end up in hell.
What does the future hold?
We just want to make more art and work with more local artists in the future. Hopefully, we'll expand to Saigon. Actually, we need a bigger space for our store and production office. I don't know, we'll see how it goes. We've created our world and put it out there...I guess we'll continue living in it.
---

Related Articles:
---