On February 20, VICAS Art Studio opened its latest exhibition, the endearingly named 'EM CHÀO CÁC BÁC!' ('HI THERE, CITY FOLKS!') Featuring new paintings from artists Doan Xuan Tung and Nguyen Nghia Cuong, the display explores the dichotomies between urban and rural life and examines the social, political and emotional consequences of this divide.
Each artist focuses on one side of this rift, expressing not only how it affects them personally, but also the communities they grew up in. Cuong lives between city and countryside but feels more rooted in Hanoi. His paintings depict rural people through a vibrant, playful and satirical style. Tung was born and raised in the country and moved to the capital to study. In his art, he takes a cynical, pragmatic view of urban life. His subjects, all crammed within the frame, are faceless, with grey skin formed by numbers, articles and advertisements.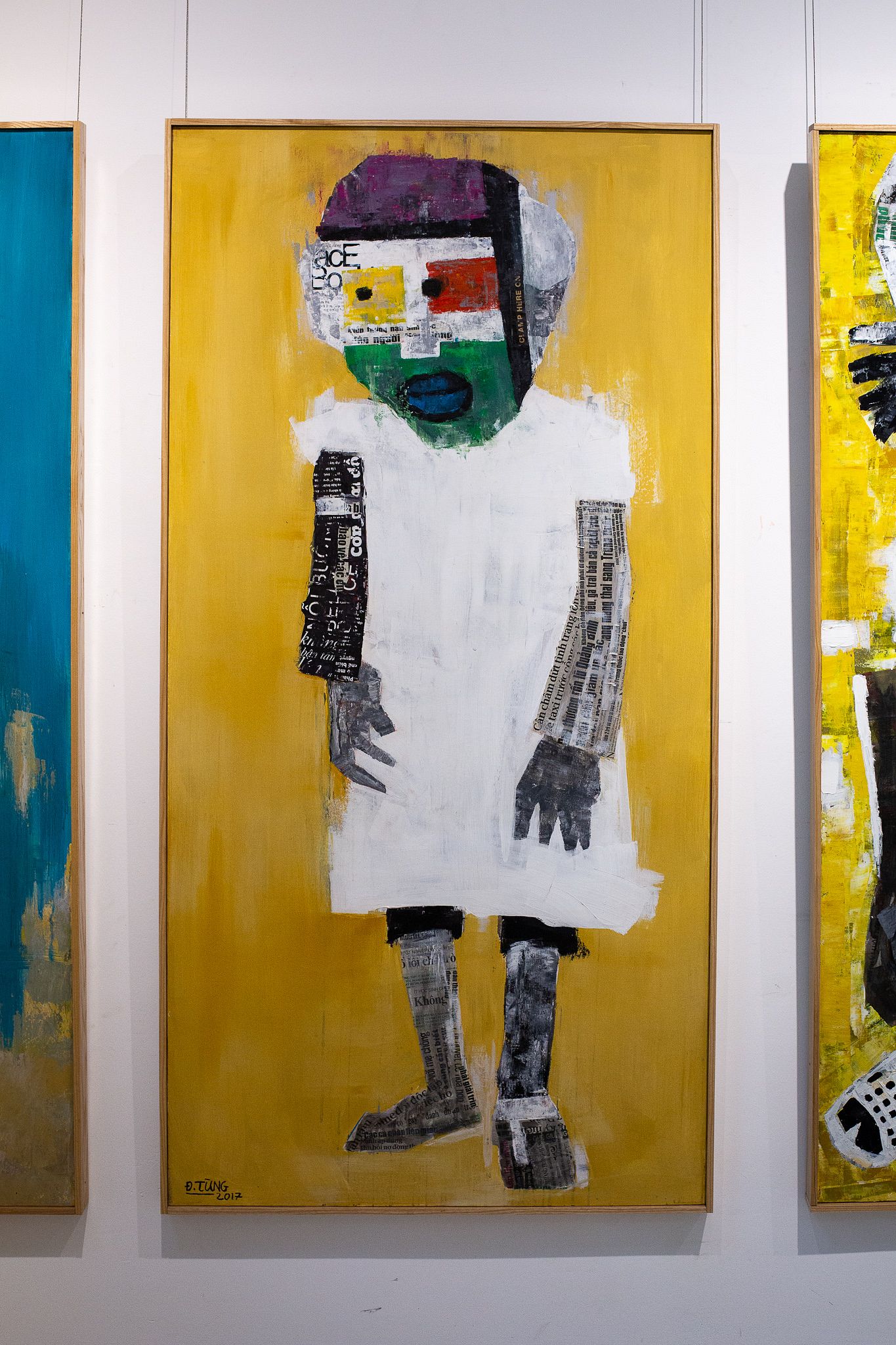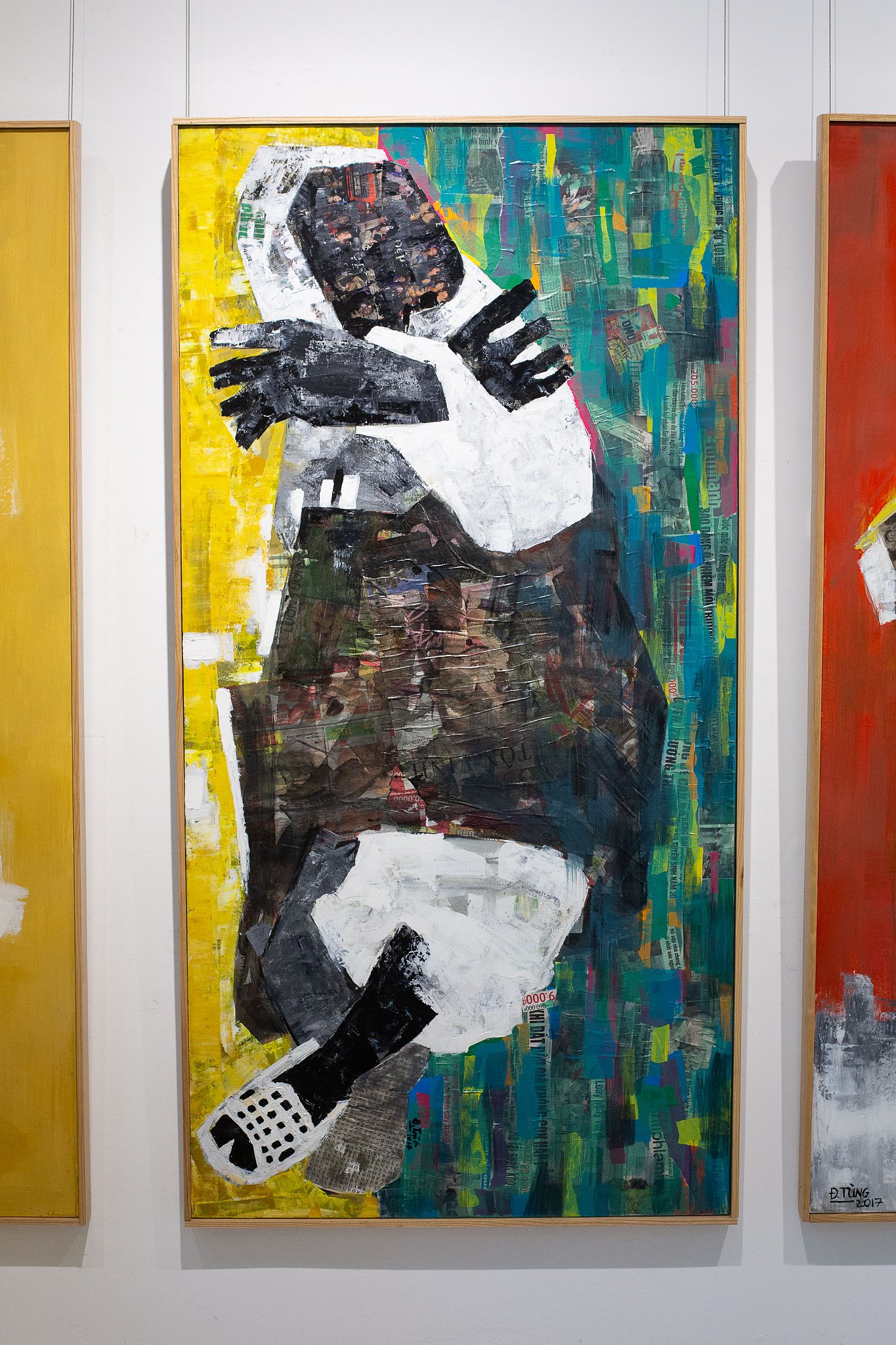 In an interview with Urbanist Hanoi, Cuong credited VICAS' curator for the artistic partnership with Tung. "It was his idea to place our work together," he says. "Initially, he wanted to call the art exhibition 'tỉnh và quê' which means 'city and countryside', but he was afraid that would conjure up negative comparisons between life in the city and life in the countryside."
"Tung's art is very personalized because Tung lives in Hanoi," Cuong added, "He brought the 'nhà quê' in him, that rural lifestyle. It doesn't matter where he goes or where he lives, he always lets that energy show. He squats like a Vietnamese person, and the way he talks is rich in the style of the country. Whereas, after a period of time in the city, I decided to come back to the countryside, and a lot of my work has this critical outlook on city life."
The majority of Cuong's paintings focus on either one or two subjects. Through his abstraction of form, vibrant color palette and lively play with subjectivity, he creates a sense of freedom within the bounds of each canvas. He dances between gentle mocking and admiration of characters he's encountered in the country. Evidently a perceptive and empathetic character, his process of creating art, he said, is akin to bookmarking moments from his day and capturing them.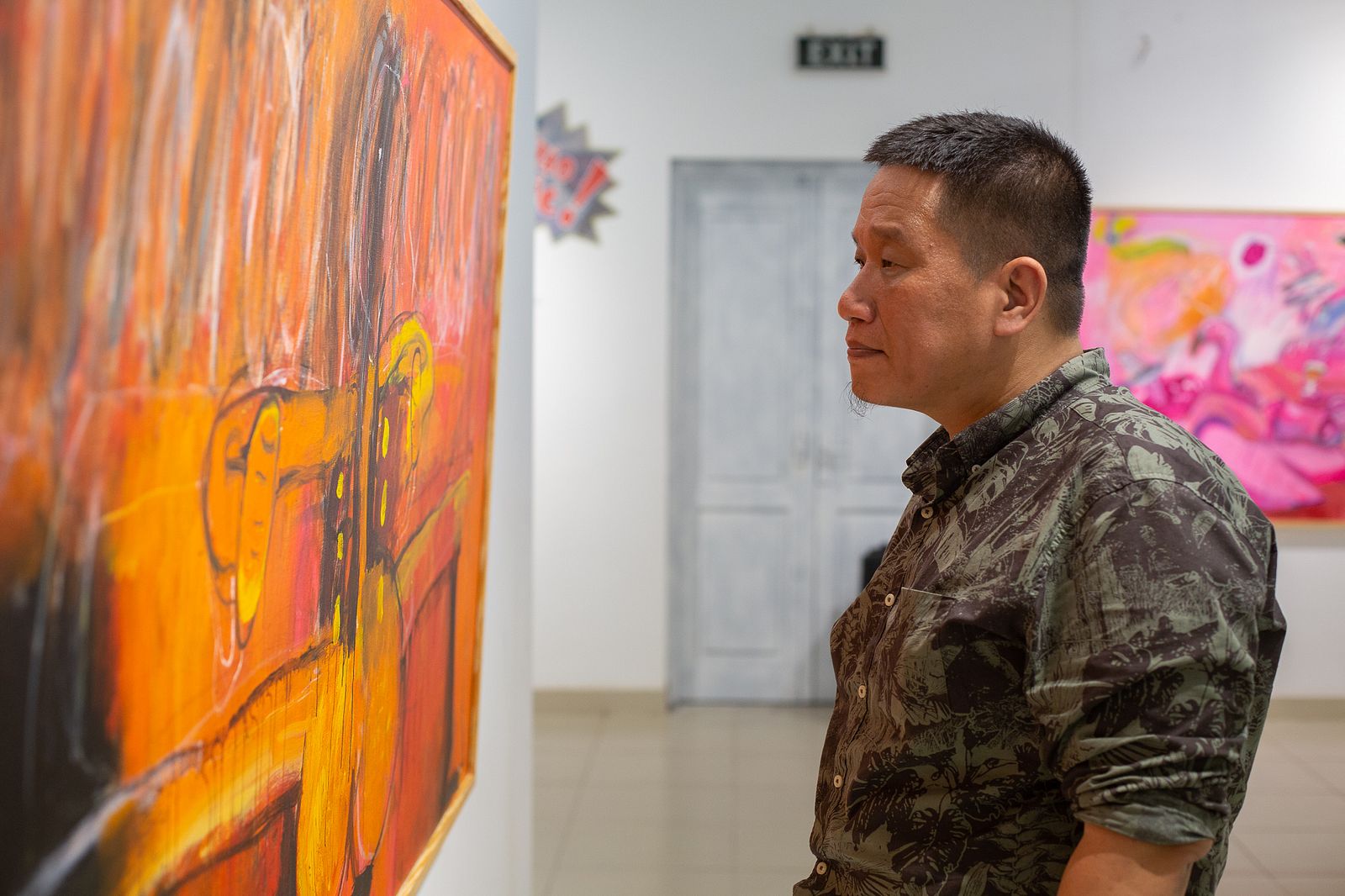 "My art is like a diary," Cuong said. "I don't have plans for my subjects or what I will paint that day. Most of my art is very impulsive. For example, I go to the market and the people in the market look at me and say 'the clown is here', so I go back home and paint a clown. I visited Long Bien Bridge and I saw girls taking pictures on the railway. They even lie on the tracks to take pictures, which is obviously very dangerous. I then went back home and I painted women on top of Long Bien bridge. Everything is very impulsive, personal and individualized because I record the things that I see."
Tung's subjects are infused with familiar characters, objects and settings from the city, from bia hơi stools and jugs to commuters packed into a confined bus. Originally from Hung Yen Province, he came to Hanoi as a student and describes himself as an immigrant who, like everyone else, is just trying to survive in the city. It is those who struggle that he relates with: families traveling together in the early morning or students forced to live in incredibly cramped accommodation. In his world, he sees both beauty and tragedy; these conflicting themes coexist in his art and manifest through a multitude of nostalgic or quotidian imagery.
"I have a painting called 'về nhà' (coming home)," he explained. "It depicts a certain time in my life when I was a college student here in Hanoi, and at the end of the day I would go to my residence and everyone would gather together, tired after a long day. The artwork depicts what I saw, yet it is also symbolic. I like to put my own spin of realism into my paintings, and that explains all the documents on the paintings. Those reflect the pressures of life that affect people: gas bills, water bills, electricity bills, breaking news…everything that is happening around you."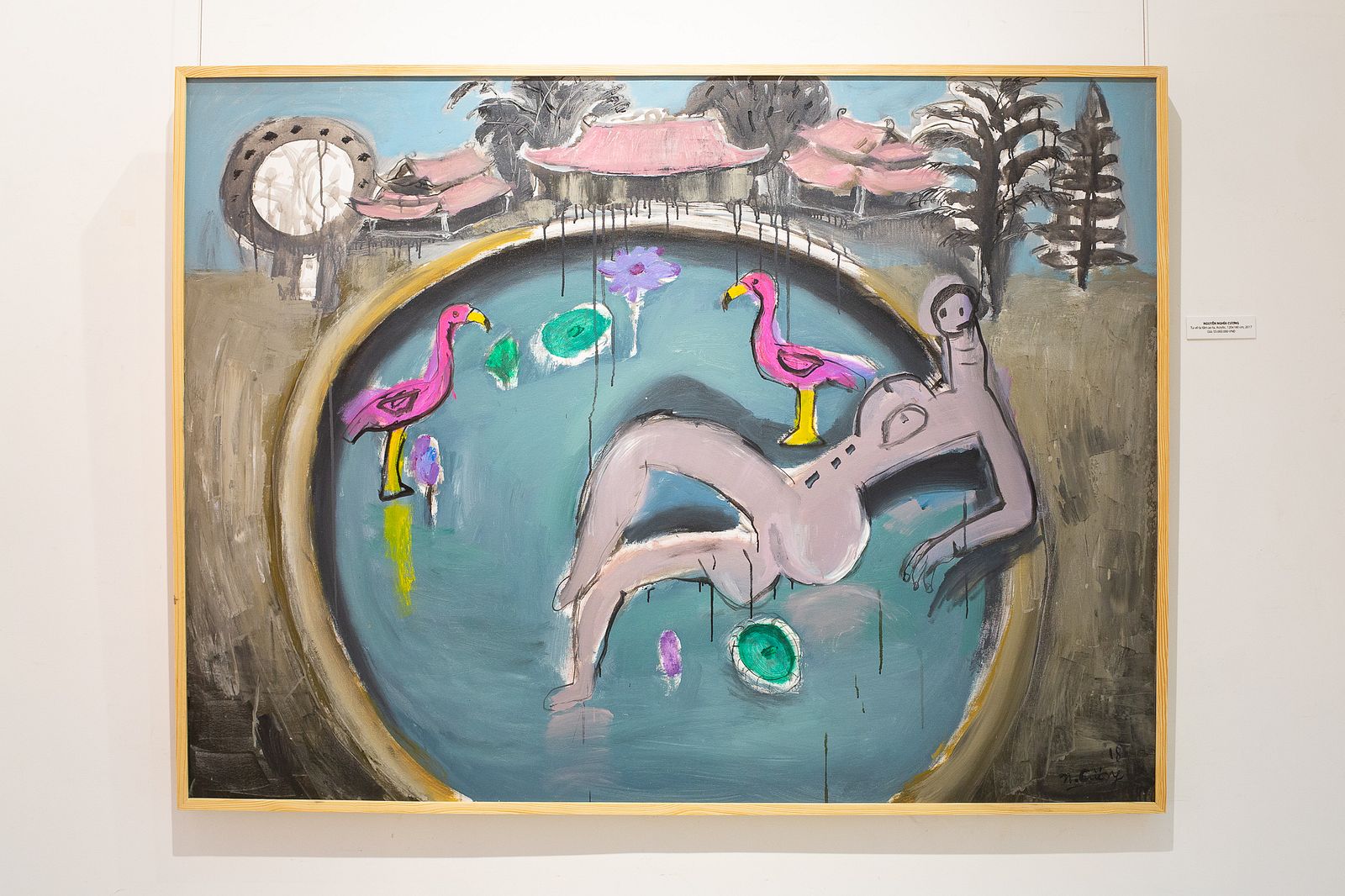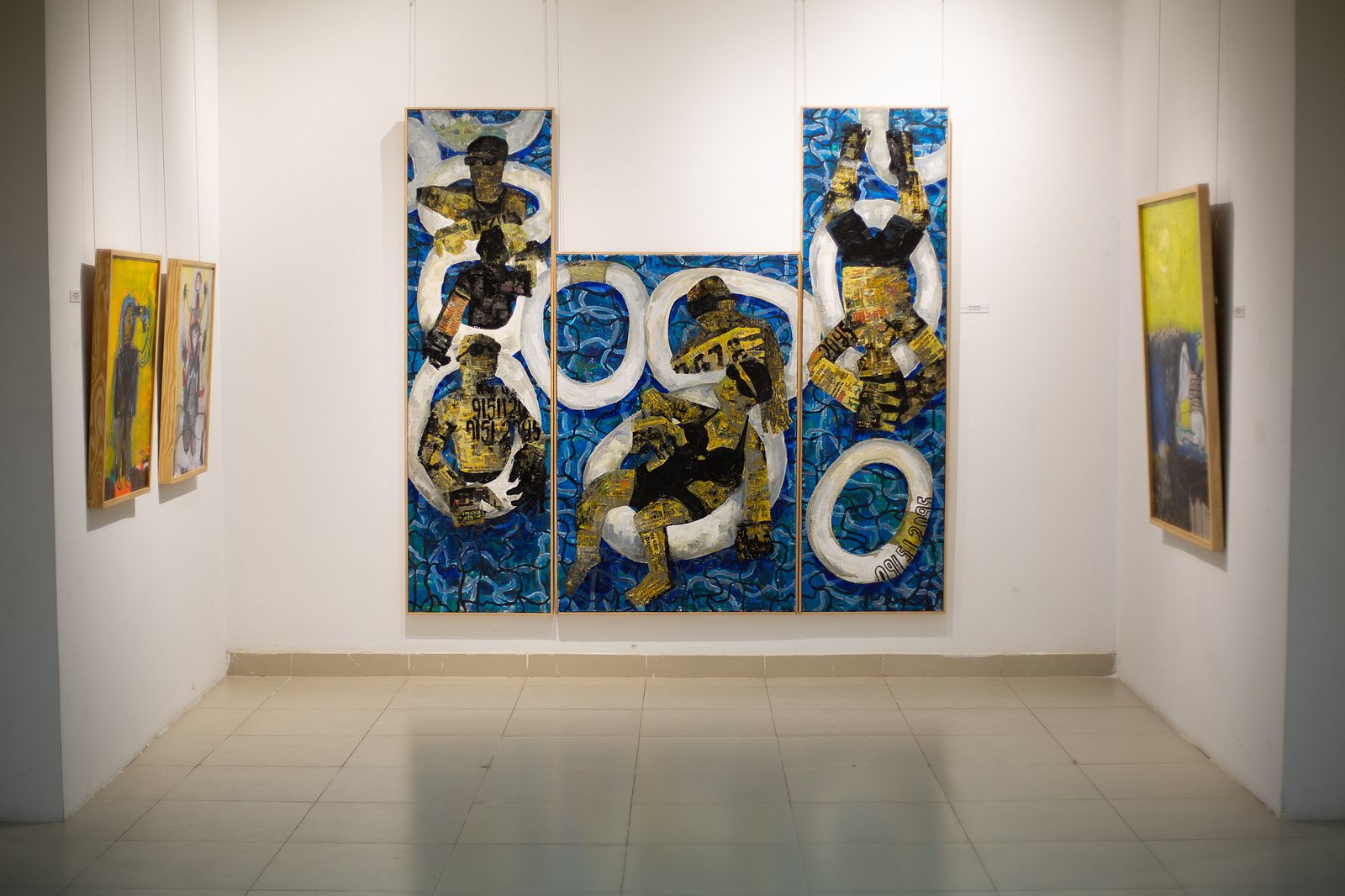 Stylistically, the difference between the artists' work is immediately apparent. When comparing, for example, Tung's painting of patrons at a waterpark, all floating on rubber tubes with no room to swim, with Cuong's pink flamingos dancing on blue waters in the countryside, the variance is clear. Yet, within this space, the artworks complement each other through their common thematic preoccupations, albeit taken from a different angle.
While vivid, the primary hue within all of Tung's paintings is grey. "The use of vibrant color palettes draws people in," he said. "It makes people want to invest their attention in the paintings, so I use orange, jet blue and grey. This combination gives the work this very serious and bright character, which engages people."
"You can also see my use of dull colors because workers and laborers wear old worn clothes and I see the value in them," he went on. "I've seen workers walking past neon boards and lights in their faded shirts. It's a gray area...even though the city is extremely modernized, how modernized is it actually when it comes to its people?"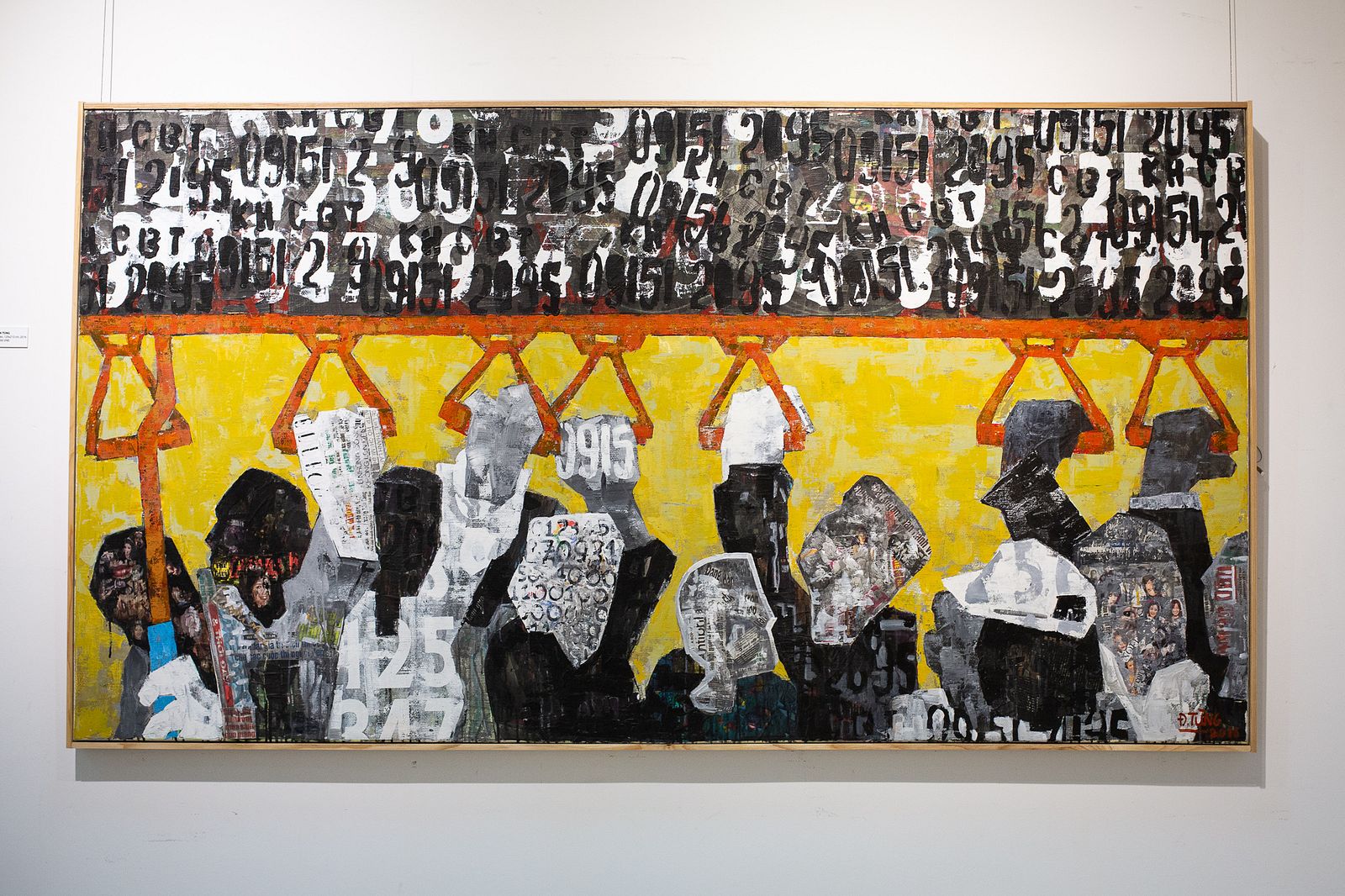 Still, the Vietnamese capital will continue to develop at breakneck speed, and when asked where or how they will continue to create art, the two men's responses differ. "An artist can draw anywhere," Cuong said. "They don't have to stay in the city…they can be anywhere. It's already the fourth Industrial revolution. Everything is connected – we are living with the internet. It's like the saying 'ly nông bất ly hương', which means that even if you don't live in the countryside, surrounded by agriculture lifestyles, it is still in you, the spirit is still in you."
"I do have plans for the future," Tung added. "I will be more experimental with my work, but I will still follow my artistic inspiration, which is vulnerable people in society. It is almost something that's been passed down to me, my family heritage. My mother loves literature and art. Ever since I was a kid I was told stories like Victor Hugo's Les Miserables, so I was heavily influenced by his work. Although my methods might become more experimental, the core values and the main subjects will always be the same: the lives of people who struggle."
'EM CHÀO CÁC BÁC!' ('HI THERE, CITY FOLKS!') is running from February 20 to March 12 at VICAS Art Studio (32 Hao Nam). The event opens from 9am to 5pm.
[Top photo: artist Doan Xuan Tung]
---

Related Articles:
---